If you're looking for detailed information regarding each of the activities included in this October Morning Work packet, please click on the link below to see the corresponding blog post.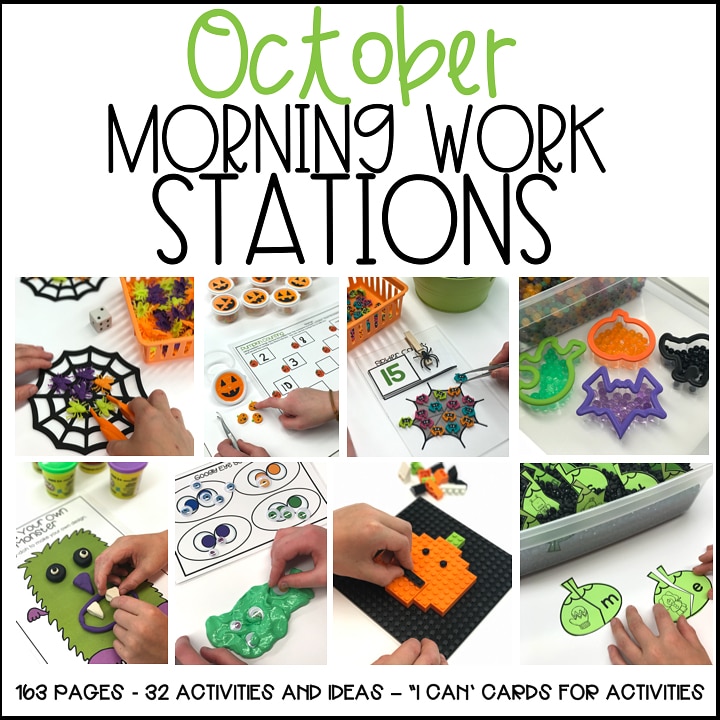 This post does contain some affiliate links for your shopping convenience. I do receive a small commission when someone purchases an item after clicking on a link. These commissions help with the cost of maintaining this blog and allow me to continue bringing you valuable content, activities, and ideas.
October Morning Work Stations
Materials Used In Activities
I always encourage teachers to use what they have or use what's cheap. However, there are always teachers who would like to locate specific items that I may have used in activities. So I created a list below to help. Just click on any highlighted text to see where I secured various items.

The following is a list of items used for October's Morning Work Stations.
1. Trace and Cut Lines
Child-size scissors
Tracing and cutting sheets -available in the packet.
2. Tracing Cards
Laminated tracing cards – available in the packet
Dry erase markers
3. Cutting Straws and Making Patterned Necklaces
Thematic colored paper straws – You can find these at Walmart or Hobby Lobby.
Child-size scissors
Black yarn (I place a small piece of tape on one end to help with stringing.)
4. Measuring With Links
Laminated measuring cards-available in this packet
5. Linking Letters in Your Name or Words
Laminated and hole punched letter cards-available in the packet
Laminated link word cards (optional) – available in the packet11
6. Linking Numbers In Order
Plastic links
Laminated and hole punched number cards-available in the packet
7. Linking Letters In Alphabet Order
Laminated and hole punched letter cards – available in the packet
8. Hole Punches To Represent Numbers 1-20
Number book – available in the packet
9. Use Dough to Make Pumpkin or Monster
Play-doh
Laminated monster and pumpkin mats – available in this packet
10. Use Dough to Represent Numbers and Ten Frame
Play-doh
Pumpkin number mats – available in the packet as either with or without ten frames completed
11. Use a Push Pin to Follow The Dotted Line
12. Rescue The Aliens From Putty
13. Find The Hidden Googly Eyes and Sort
Googly eyes – From the Dollar Tree
Sorting mat – available in this packet
14. Find The Hidden Googly Eyes, Sort and Count How Many
Googly eyes – from the Dollar Tree
Soring and Counting Mat – available in this packet
15. Pumpkin Roll Game With Tongs
16. Pumpkin Self-correcting Ten Frames
Pumpkin erasers – Target, Dollar Tree, Walmart
Orange Pompoms – if you can't find erasers
Pumpkin Ice Tray – Dollar Tree, Walmart
Pumpkin Ten Frame Mat – available in this packet in case you can not locate the ice trays
Laminated self-correcting ten frame cards
Thematic Clothes Pins – I glued wooden pumpkins (Hobby Lobby) to clothespins
17. Catching Flies Counting Game
Foam webs – Hobby Lobby (or you can use a copy of the laminated web playing mat in this packet)
Plastic Flies or I purchased mine at the Dollar Tree
Dice
18. Googly Eye Grab and Spin Number Recognition
19. Webmaster Game
Small basket with holes in the side so you can thread yarn to make a web
Small plastic spiders – Dollar Tree or Walmart
Yarn
20. Poison Spiders Number Recognition
Medium-sized spiders with numbers written on the belly and one with a poison mark
21. Sticker Picture
Thematic stickers
Sticker picture (one per child printed on paper) – available in this packet
22. Gel Bead Sort
23. Gel Bead Roll and Win
24. Lego Masterpieces
Lego picture challenge cards – available here
25. Letter Construction
Transparent shot glasses in thematic colors – Dollar Tree
26. Sensory Bin Number Match
Small plastic tub
Bulk black beans
Fun thematic pieces (plastic spiders, erasers . . .) – Dollar Tree
Laminated Ten Frame Bat/Moon Number Match Cards-available in this set
Thematic Clothes Pins – I glued fun little wooden bats (Hobby Lobby) to clothespins
Twine – Target
27. Jack-O-Lantern Count and Record
Small round plastic containers – Dollar Tree
Orange and black paint pens
Pumpkin erasers – Target Dollar Spot or Walmart
Laminated recording mat
Tweezers
28. Ghost Containers Sort, Add and Record
Small round plastic containers- Dollar Tree
Black Sharpie
Erasers from Target – either cats and spiders or skulls and spiders
Laminated recording mats- available in this packet
Dry Eraser marker
Tweezers
29. Climbing Spiders
Paper straws in Halloween colors – Hobby Lobby or Walmart
small container to use as a base (I used a plastic black shot glass)
Clay – Put this is the bottom of the class to act as an anchor and a weight so it doesn't fall over.
Spider rings
Dice
30. Pumpkin Sounds/Letters Match-Up
Small-sized container
Black beans
Thematic filler (spiders, bats, erasers . . . )
Laminated and cut apart – Pumpkin letters
or
Laminated and cut apart Pumpkin sounds
31. Self-correcting Counting Spiders and Googly Eyes
Googly eyes – Dollar Tree
Spider erasers or plastic spiders – Target
Laminated playing mats-available in packet
Laminated self-correcting playing cards – available in the packet
Thematic clothes pins – I cut off the backs of spider rings and hot glued them to clothespins and then I glued on googly eyes to clothespins
32. Spooky Spider Patterns
Spider buttons (or colored pompoms)
Tweezers
Laminated self-correcting pattern cards -available in the packet
Thematic spider clothes-pins-I glued on the black spider buttons to my clothespins
Laminated playing mat-available in packet