How are you feeling about the fall? Personally, I want my students to be safe so I am all for anything I will need to do to make that happen. However, that doesn't mean I'm happy about social distancing or the amount of work it will take to make it happen. So I've been trying to concentrate on how I can make social distance learning-friendly resources that will still keep learning hands-on and still work those fine motor muscles that have been neglected during the Covid-19 quarantine season. I have a great freebie today that I think accomplishes just that.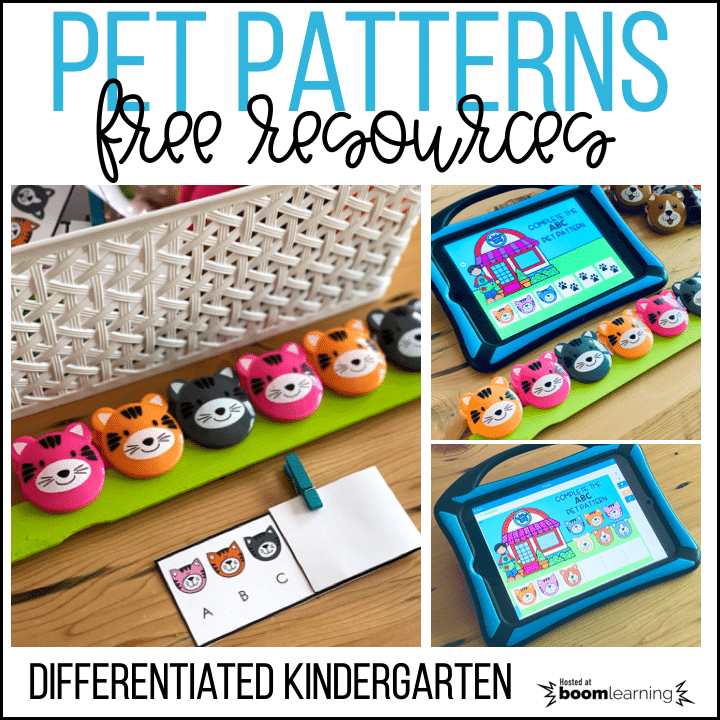 This post contains affiliate links and I will be compensated if you make a purchase after clicking on my links.
SOCIAL DISTANCE LEARNING-FRIENDLY
As I think about the fall and what kinds of activities are going to be the safest and acceptable for my students, I keep hearing '6 feet apart,' 'no shared materials,' regular cleaning and disinfecting . . . In the back of my head, it sounds like a recipe for paper/pencil worksheets! Friends, you and I both know this isn't acceptable for kindergarteners. There has to be something we can do to get their hands moving. (And honestly, my heart is breaking about the six feet apart thing, but I'm not even going to address that until I hear it from the Michigan Department of Education's horse's mouth!)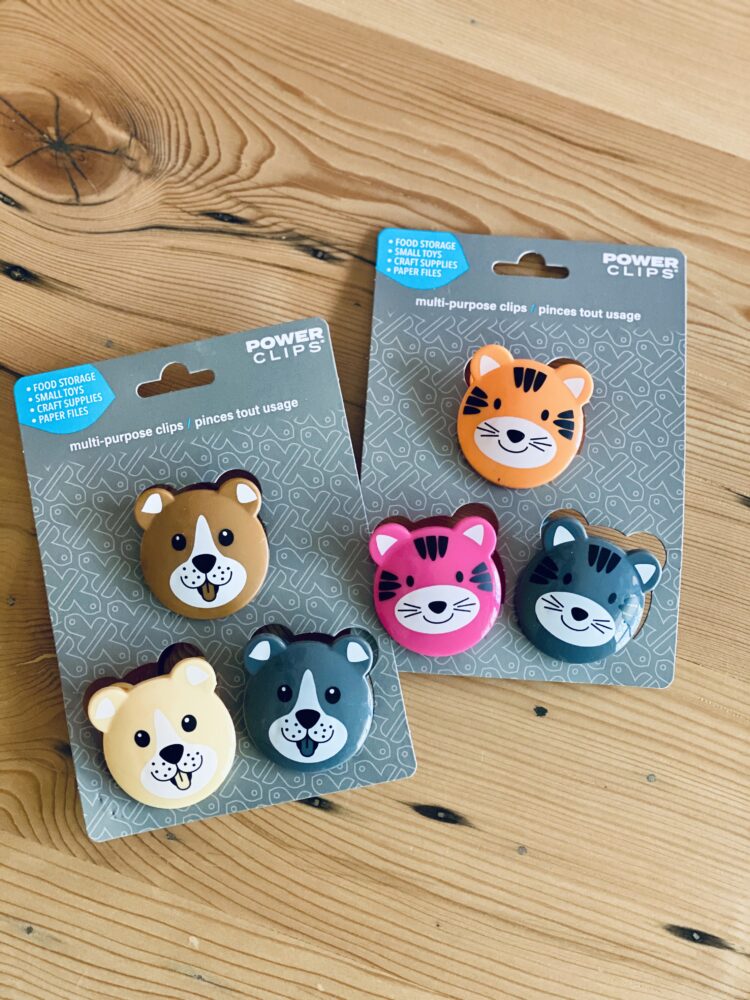 So I found these lovely little pet clips from the Dollar Tree that are going to help me create an activity to meet all the guidelines -whatever they end up being. You can get insects and ducks and frogs, but for this activity, I chose the dogs and cats because it goes great with my Pet Themed Morning Work Activities.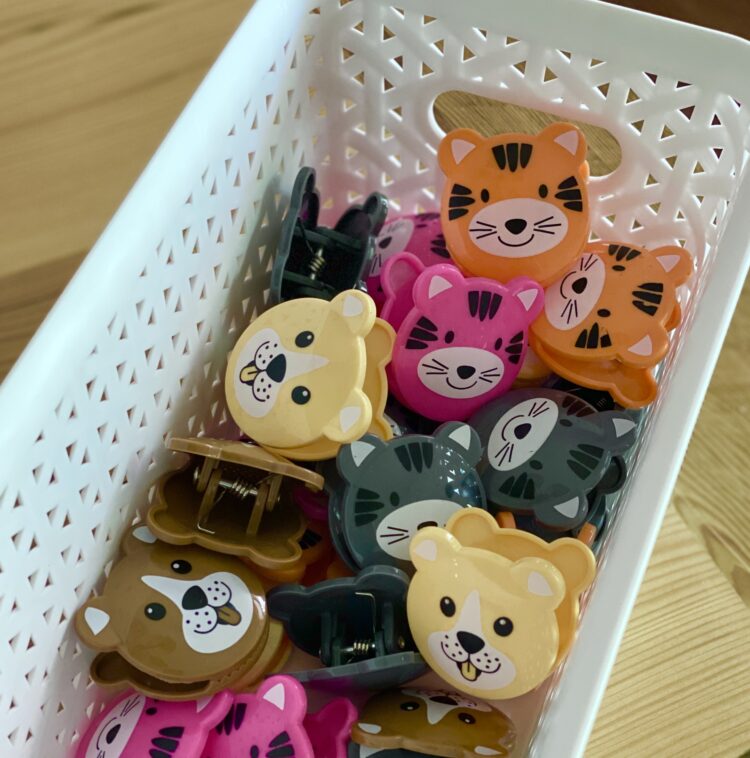 What makes them perfect for social distance hands-on learning is A) they are inexpensive, B) you can throw them in a tub of bleach water and dump them on a towel to dry and they are ready for the next student and C) although I am giving you an activity that addresses patterning, I can use these little clips for number recognition, adding and subtracting activities in the future. So whenever I can use manipulatives for more than one activity it is always a bonus.
THE ACTIVITIES
Because I have a feeling that one size is not going to fit all when it comes to social distance learning, I put together three different options with these items in mind. I am hoping that at least one of these will meet the needs of your classroom.
Self-Correcting Pattern Cards
If you have followed my blog for any length of time, you know that self-correcting cards are not something new. I use these literally every day in my class for math, phonics, and reading. You name it! There's a self-correcting card activity for it. I adore them because they are self-correcting, which means they give students immediate feedback without needing a teacher to tell them if they did the activity correctly or not. Plus, when I can couple them with some that make them use their hands, we are building valuable fine motor muscles.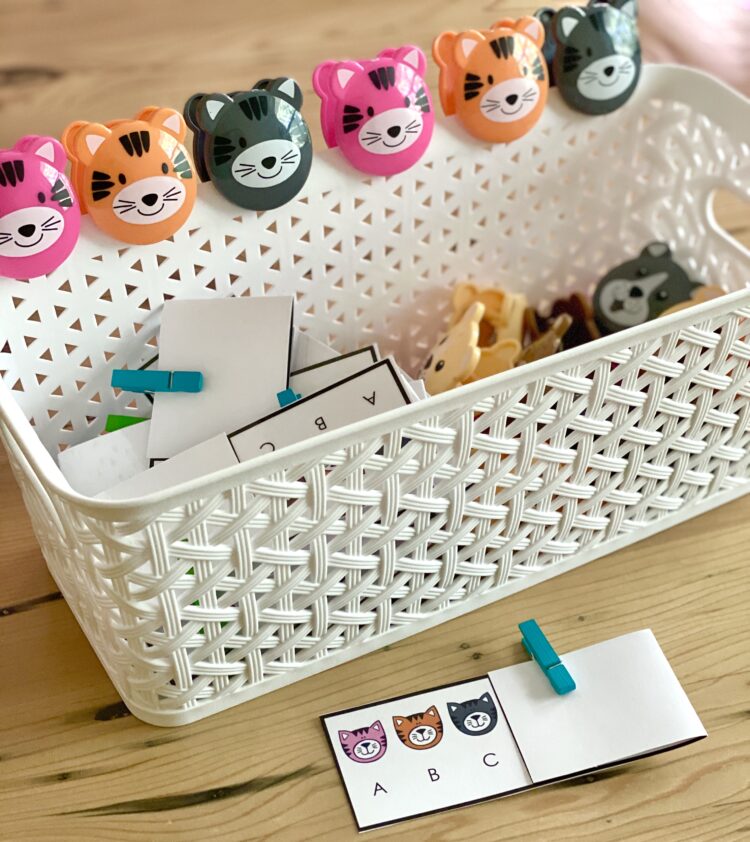 Materials Needed
Pet Clips (I purchased 2 sets (there are three in each set) each of the Dogs and Cats for each student I want to use this activity at one time.)
A small tote to store clips and cards. I would get a simple plastic shoebox tote.
A paint stick (I painted mine green with Craft Acrylic Paint and simple sealer so that it can be wiped down if necessary.)
Printed and laminated self-correcting cards
Small plastic clothespins
How to Play
Students simply select a card, reproduce the pattern shown and continue adding clips to complete the pattern.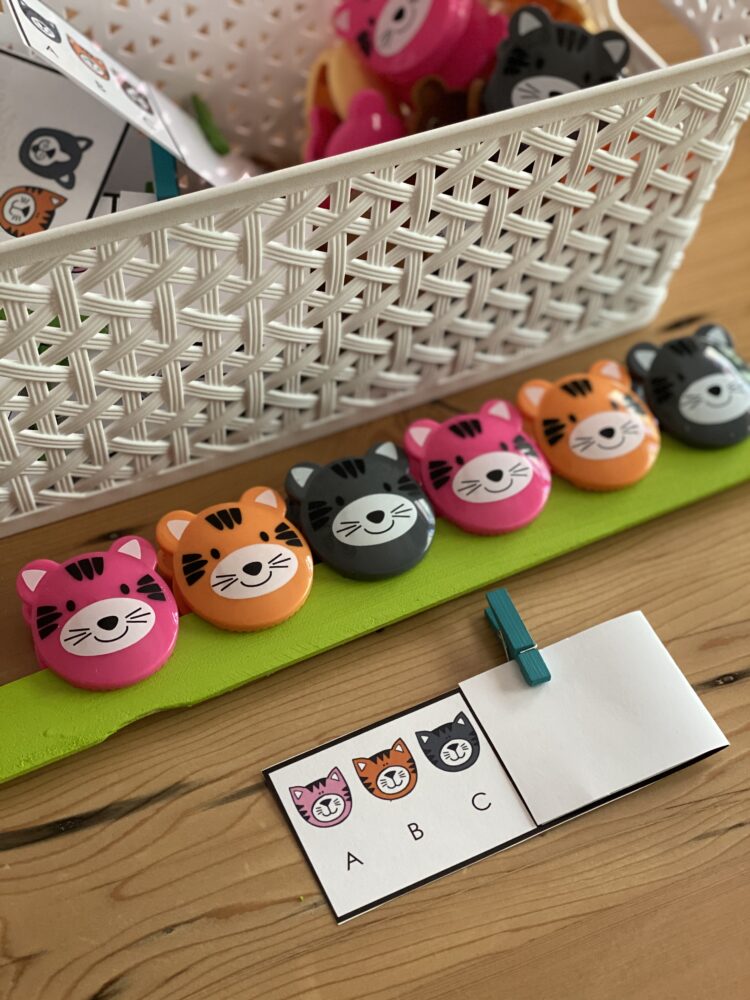 When they have the pattern completed, they remove the clothespin and reveal the answer to see if they are correct.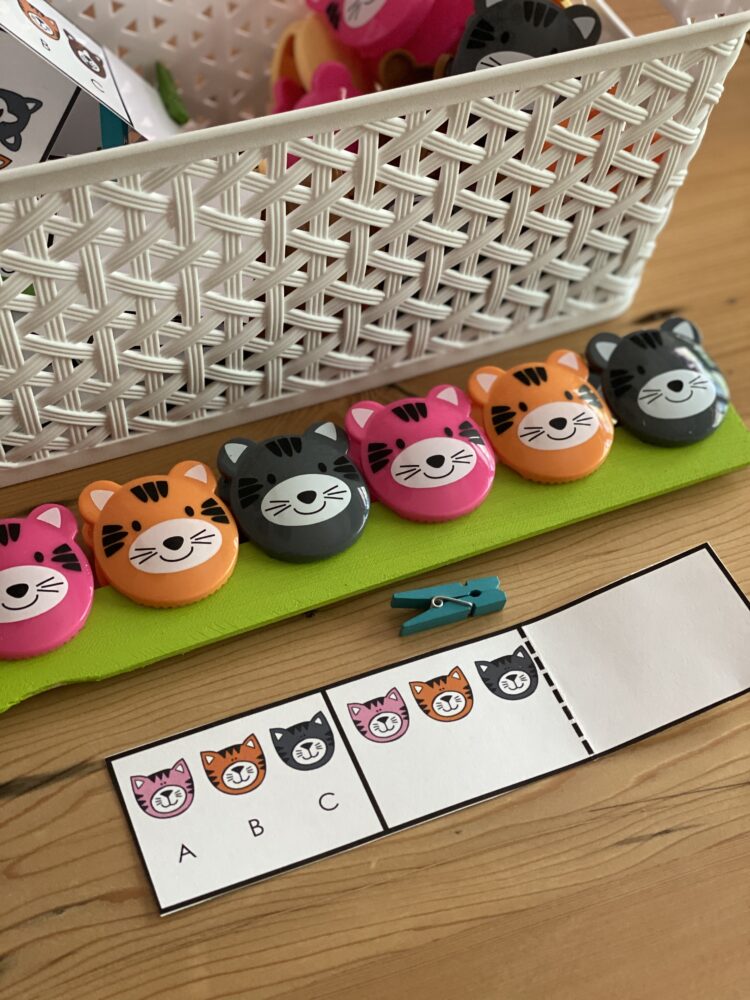 Keeping It Social Distance Learning-Friendly
Self-correcting cards are a perfect independent activity, however, you still need to complete a few extra steps to keep it social-distance learning ready. In between student use, toss the pet clips and clothespins in some bleach water and slosh them around to disinfect them.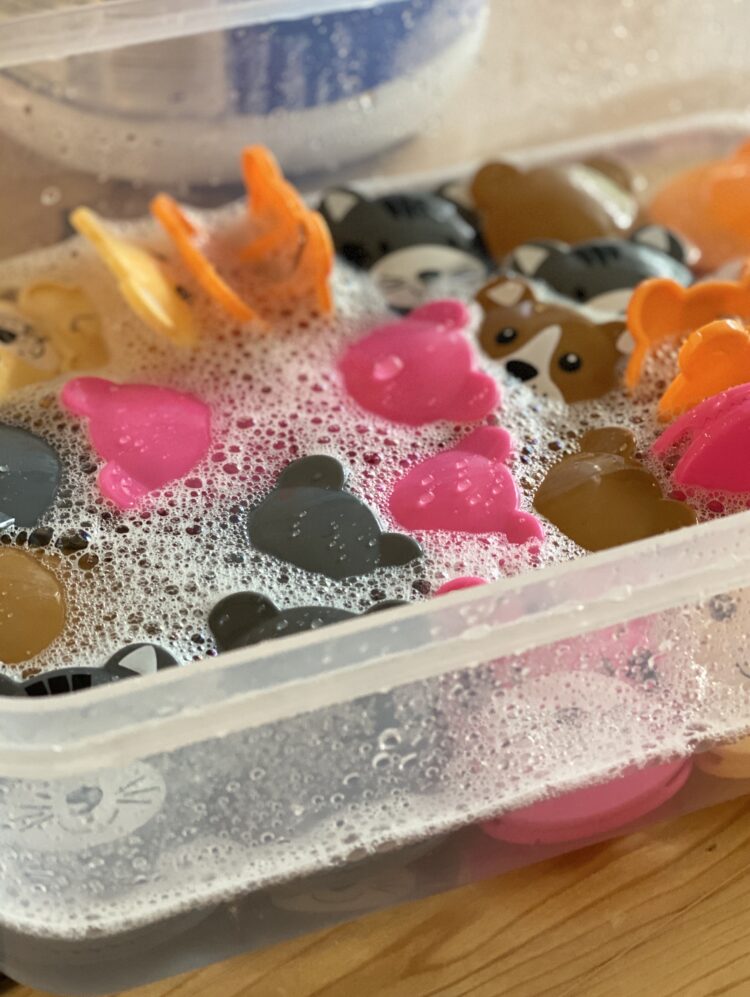 Lay them out to dry and they will be ready for the next student who needs to use them. And as for the cards and stick, because they are laminated, you can totally wipe them off with a Clorox wipe. Does it take a little extra work? Yes, but I think it's totally worth it to let students use their hands.
Self-Correcting Google Slides
If you're not too keen on using the self-correcting task cards with your students, but still want them to enjoy hands-on learning that gives them that invaluable fine motor practice, the same idea can be accomplished but with the use of a Google Slides presentation.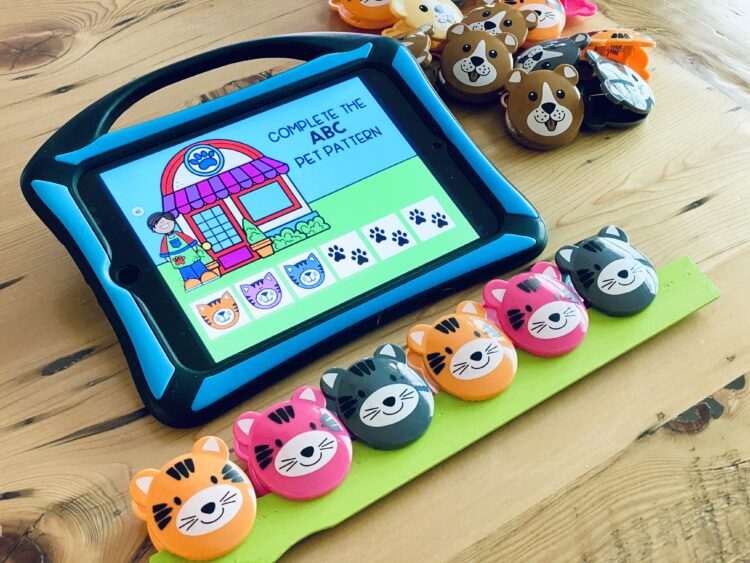 How It Works
Students will use those same pet clips and stick but this time, instead of using the laminated self-correcting cards, they can use a google slide presentation to prompt them to complete a task and give them feedback.
You'll receive a link to the Pet Pattern Challenge Task Cards presentation in the freebie I am offering. It will prompt you to make a copy that will load into your google drive. When you open the slides, you'll go to the right-hand corner to select "present." When students view this as a presentation, they will hear the prompt that tells them to create and continue the pattern. When they have completed the pattern using the manipulatives, they can then click to have the rest of the pattern appear and give them instant feedback as to whether they completed the challenge correctly or not. Then they click the screen again to see the next challenge.
Keeping It Social Distance Learning-Friendly
Of course, the pet clips can be tossed into a bleach-water bath for disinfecting between students. Then all you really need to do is wipe down the stick and whatever device the student used to access the google slide presentation. I used an iPad mini, but this can also be used with a laptop or chrome book.
Pet Pattern Boom Task Cards
Finally, if you have students learning from home that could use this activity but don't have access to the clips, or perhaps you have students that need a bit more practice, you can also assign these Pet Pattern Boom Task Cards.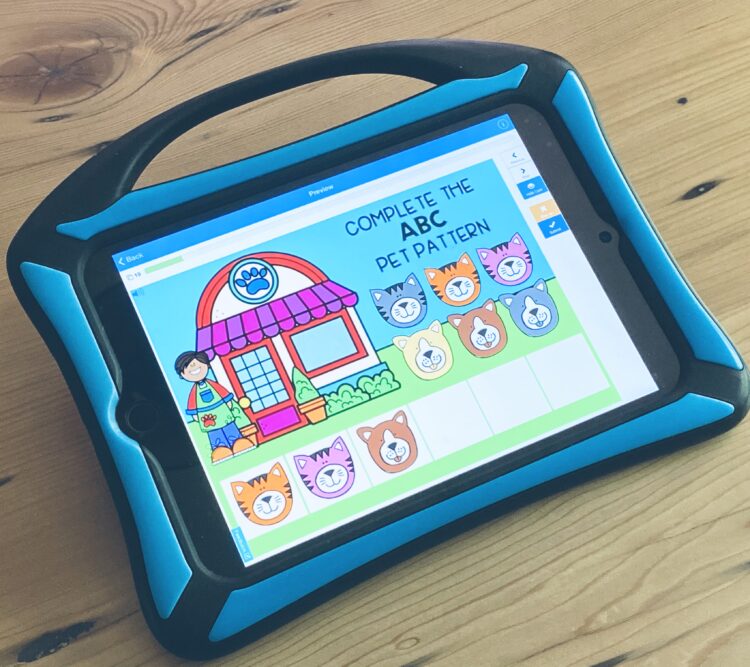 No fine motor work is involved, but they are very interactive and it will give your kiddos practice patterning. I love that the verbal directions are there and they are self-correcting. Kids just like them because they're fun. Check the quick video below to see how it works.
The other thing I really like about Boom Cards is that I have been able to make some fun companion decks to fine motor activities that I already use in my classes. So for instance, I use these Alphabet Mats in my class every day in one way or another.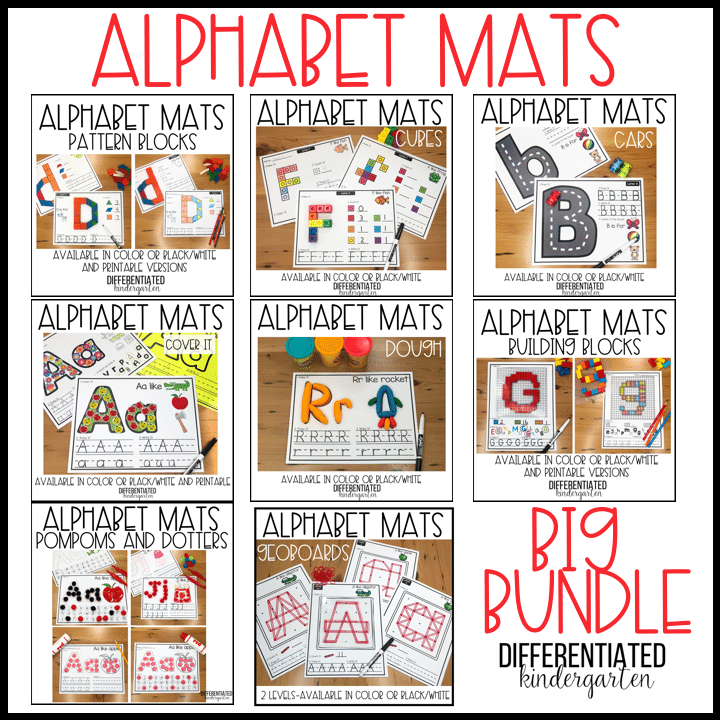 Well, I made these Boom Cards that are incredibly similar. This way if we do end up closing for a day or two for snow or if a student has to stay home to quarantine or whatever, they will be able to do these digital versions at home and get some valuable practice and keep their skills sharp.
Here's a quick little video that kind of shows you what I mean. I didn't go through everything, but it will give you a nice sample.
If you'd like to know more about this Learning Letters Boom Task Card Bundle, you can see them HERE or click on the picture below.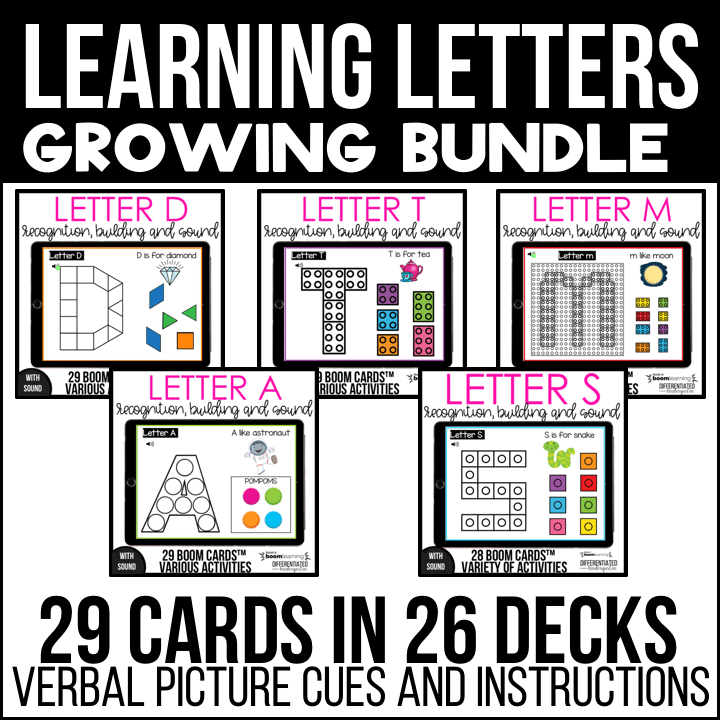 If you haven't tried out Boom Cards, it's really easy to get started. Just sign up for a teacher account HERE. There are many options but if you're just starting out, just sign up for the free one to get your feet wet. Then once you click on the link in the downloaded freebie, it will add the item to your Boom Library where you can select and assign it to your students.
It's really quite slick. If you haven't had a chance to play around with Boom Cards, I would highly recommend it.
THIS IS HOW TO SECURE YOUR FREEBIE
So in order for you to get the self-correcting cards, google slide presentation and Boom Deck for Pet Patterning, all you have to do is subscribe to my email list below and an email will be sent to you with a download button. Once you hit that download button, the file is automatically loaded into your computers 'download' file. (Always make sure you check your SPAM folders as well. Sometimes my emails get lost there.) Just complete the form below and you'll be all set.
And if you're in search of other pet themed activities like this, I encourage you to check out my blog post outlining all my pet themed morning work activities. You can find that by clicking HERE or on the picture below.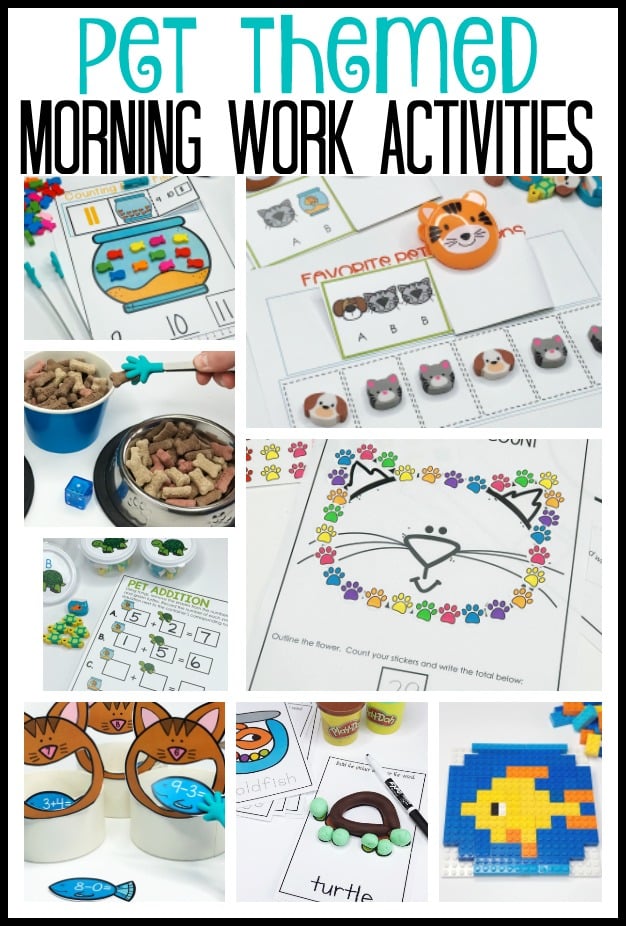 NOW WHAT?
So what's next? Next, you tell me what kinds of other activities you are hoping to see from me. You can help me out by dropping me an email at differentiatedkindergarten@gmail.com or sending me a DM on Instagram or Facebook. Speaking of which, as I'm making new activities and sharing ideas over the next several weeks in anticipation of social distance friendly teaching this fall, please make sure you are following me on Instagram, Pinterest and Facebook, so you don't miss any goodies. Also, if you haven't visited my Boom Store, make sure you go and visit that place and 'follow me' so you'll get updates on other activities and freebies I load there. Just click the banner below.
I hope these activities are helpful. We are in this together friends. I'm hoping I can offer you some help in these uncertain times. It's what teacher friends are for . . .