Magnets are a staple tool in any early childhood classroom. Mine included!! But the struggle is how to use them after the newness and novelty of sorting them and making your name with them has worn off. I struggled with this too, so I came up with an activity that could grow with my students and challenge them as they move throughout the year. And best of all, they are totally independent! I love that!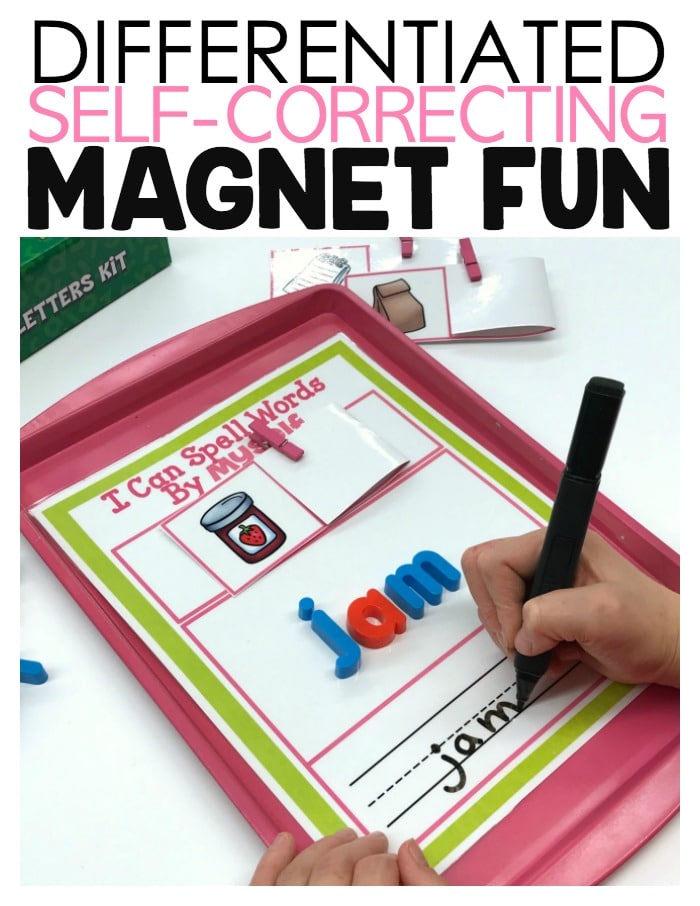 WHAT YOU'LL NEED:
I have a small classroom, so making my stations mobile is a must. Dollar Store cookie sheets do the trick and if you add a little spray paint . . . well, all of a sudden they are something special.
If you need a how-to, check out Princess, Pies and Preschool Pizzazz's tutorial HERE.
or Make-Take-Teach's how to paint cookie sheets HERE.
The other thing you'll need, of course, are magnets. Now I have my favorites if all I want to do is engage kids. Those are these awesome little puzzle letter magnets. If you ever see them, snatch them up.
They are hard to come by, and you can't always find them in lowercase letters. And I do give my students the option to use these later on in the year, but for those first of the year, still getting acquainted with proper letter formation activities, my heart belongs to Lakeshores Letter Magnet set.
It's HUGE. And the organization makes my kindergarten teacher heart go pitter patter.
In addition to magnetic letters and a cookie sheet or someother metal surace, you'll just need a dry erase marker and eraser (I use cut up pieces of Mr. Clean Magic Erasers), some clothes pins, and some self-correcting word cards and a response mat.
Putting the self-correcting cards together is super simple. All you do is print, laminate, cut, fold on the dotted line and secure the card shut with a clothespin. Students select a card and place it on the top of their mat.
They then use the magnets to build the word.
Next, they use the dry erase marker to write the word.
And finally, they open the card to determine if they have built and written the word correctly. It's immediate feedback!
When it's done all together, it might look something like the video below:
And because I want to make sure students at all levels are challenged. I also have sets for diagraphs, bossy R, blends, magic e words and many other sets as well as math concepts. In this free set that I'm giving you today, you'll find cards for CVCC words as well as CVC words.
It's the same idea of building the word with magnets . . .
writing the word . . .
and checking the word to see if it is correct.
If you'd like to try this activity with your own students, just scroll to the end of this blog post to claim your free sample! It includes both cards and playing mats for CVC and CVCC words.
FROM LEFT TO RIGHT:
Magnetic Letter Name Search Sensory Bin //Powerful Mothering
Elkonin Sound Boxes // Playdough to Plato
Self-correcting Magnetic Word Work // Differentiated Kindergarten
Alphabet Magnet Beginning Sounds Center // The Letters of Literacy
Pull and Trace Alphabet Magnets // The Kindergarten Connection
Magnetic Letters Sequencing Cards // Sara J Creations
Secret Code Seasonal Words // Mom Inspired Life
Editable Sight Word Mats // Mrs. Jones' Creation Station
Letter Identification Alphabet Train // Stay at Home Educator
Beginning Sounds with Magnetic Letters // Pages of Grace
Number Word Mats // Fairy Poppins
Sorting Magnetic Letters // Fun-A-Day
Magnetic Letters: From Beginning Sounds to CVC Words // Liz's Early Learning Spot
Magnetic Letters Nouns Game // Teach Me Mommy
CVC Word Spinners // Sweet Sounds of Kindergarten
Magnetic Letters Center for All Year // The Simplified Classroom
(Not Shown) Seek and Find Magnetic Letter Matching Game // Schooling a Monkey
Use the form below to claim your free activity. Once you enter your email address, a confirmation email will be sent to you. Once you confirm your membership to Differentiated Kindergarten's mailing list, the freebie will be downloaded directly to your computer's 'download' file.

Hope you enjoy it.