Before I get started, I'm going to warn you, this is gonna be a big post. I have a ton of stuff to show you, I have questions that I want to answer, and I want to give all the information I can. So grab yourself a beverage, make yourself comfortable and get ready.I recently polled my Facebook readers, because I was curious about how many kindergarten teachers especially, still use sensory tables or some kind of sensory 'play' in their classrooms. I was so incredibly bummed by the number or teachers that have been mandated by their administration to remove sensory play from their curriculum. The reasons? "No time . . . no room . . .not rigorous . . . not academic . . ." So I'm on a mission to save our sensory tables.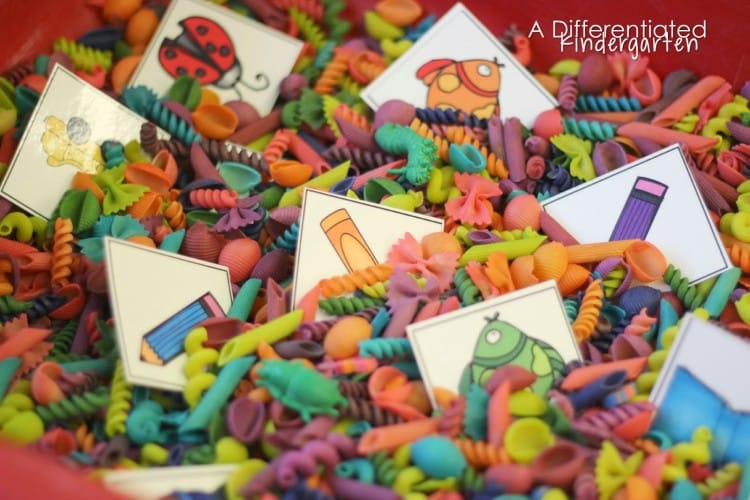 I'm here to plead with teachers, administrators and anyone who will listen to . . . "please do not neglect your sensory tables." This is a serious plea. Hear me out, before you abandon those lovely tables full of gloriously colorful, squishy, scratchy, soft, hard, pointy, smooth, bumpy and smelly materials.You know I'm going to need to talk to you a bit about how sensory tables allows you to differentiate for your class. I have to, because here's the thing, sensory work is not only academic, but it also addresses a student's learning profile and their interests! ( . . . and when you're really good . . . you can meet their level of readiness too.)
I know you've seen these visuals before, but these little posters really bring it all together and show why we need to keep these valuable early childhood activities alive in our classrooms. Differentiating isn't JUST about meeting academic readiness. (Don't tell them I said this, but I think some administrators think that's all differentiating really is . . . I'm a lucky one that has an administrator that knows better! ) It's also about keeping these little guys engaged, feeding their interests and setting the hook for learning.
Our learning profile considers the different ways that we are most comfortable learning, how we demonstrate our understanding and our intelligences. If you look at the Multiple Intelligences chart below, you can see all kinds of MI categories that would benefit from sensory work.
(If you'd like a copy of this little poster to remind you the different multiple intelligences, just click on the picture to grab a copy. )
Kinesthetic learners need the movement and feel of the sensory table. Linguistic learners enjoy the dialogue associated with working with other students at the sensory table. The interpersonal learner loves working with other students. The spatial learner develops stories and scenarios for play based on the contents of the table. The logical/mathematical learner loves the sorting and classifying of materials. Depending on the materials, the naturalist can even be engaged by a shell collection or different types of rocks added to a sensory table. I could go on, believe me. What I'm trying to say is, it's differentiation at it's finest and isn't that what every administrator wants to see happening in your classroom. I think there has been this misguided notion that sensory work is 'fluff.' So in an effort to bring about a different notion, to give sensory work the reputation it deserves, I'm here to offer you some visual proof that a sensory table work is not only academic, but it can be aligned to Common Core Standards, address learning profiles, interests and readiness levels of students.
Here are just a few ways I've used them in my classroom.
(I want you to notice as I go through these, much of the time my sensory tables are actually totes and buckets. That's because I almost always have more than one going at a time. You don't have to have an actual table for every sensory activity.)
Two students working at these stations were 'digging up dinosaur bones' with real and nonsense words written on them. It was differentiated by readiness so that some students were digging up 3-lettered words and some were digging-up 4-lettered words. I could have different levels of academic readiness working at the same time. By the way, this is purchased Crayola sand on clearance at the end of the summer and Milk-Bone Dog Biscuits painted white. I used a Sharpie to write the words. They've lasted for 3 years. Seriously!(RF.K.2)
These little water orbs are perfect for the beginning of the year sorting activity, and they are cheap. I'm talking dollar store cheap. We sorted them by color, counted them and even used them to weigh common classroom objects like scissors and markers. (K.CC.B.5, K.CC.C.6, L.K.5a, K.MD.A.1)
I love bringing in seasonal themes to make my sensory table even more engaging.
November in Michigan means deer feed, and I can always get a dad or two to donate a bag. I like using these because after students find all the rhyming cards, they can shuck some corn. Don't laugh. It's highly addictive AND great for fine motor. Really!!! (RF.K.2a)
I use fall colored rice for another sensory tub that I use around the same time of the year for sorting syllables. And this time, I added some fine motor work by having students pin their sorted cards under the correct number of syllables. It just adds that little extra bit of fun and interest to keep them engaged. (RF.K.2b)
Christmas means evergreen plants. (Always be careful with allergies and your table materials. It's really important.) My room never smells better than when I have various evergreen boughs in my table. Last year I put these small seasonal items in the table along with the boughs and students had to seek, sort, count and graph what they found. When they finished, they could use scissors to cut up the needles of the bough…smells GREAT and wonderful fine motor work. (L.K.5a, K.CC.B.5, K.CC.C.6)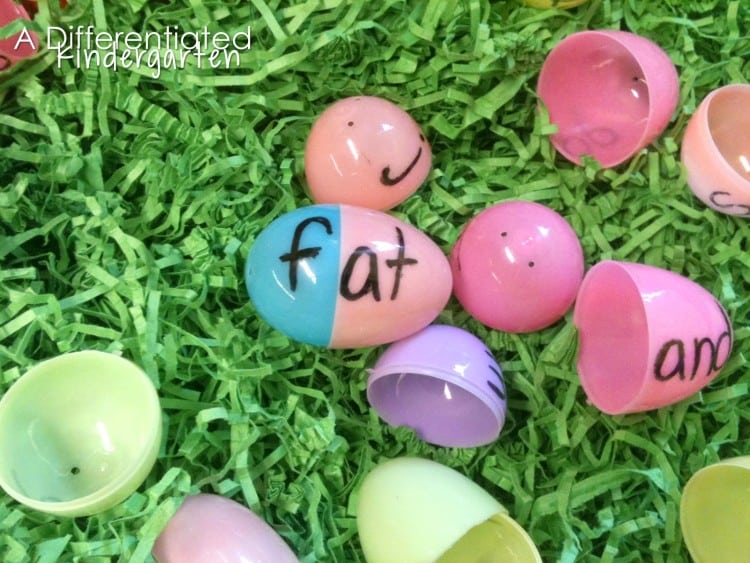 I often use whatever is available and on hand when the need arises. This fall when I was working with my Word Family sorts, I wanted to spice things up a bit so I grabbed a bucket of acorns for my guided reading group to dig through and sort word families. (RF.K.2.c)
During our study of polar animals, these little guys were in our table along with some tinsel, fake snow and Styrofoam. Students retold facts they learned about polar animals through retelling. It was one of the most favorite sensory stations all year. (SL.K.2, SL.K.4, SL.K.6)
Getting Started
So now you're asking yourself, how do I get started. Where do I put the stuff, won't it be expensive, how do I keep it under control? Let me try and answer some of your questions.
The Table
Yes, a sensory table is a wonderful thing to have to do sensory work. This is mine. It's NOT my favorite, but it does the job. It has a lid, a removable tub and the tub has a drain. But let's face it, for being a big piece of furniture in my room. It's kind of ugly.
If I had my choice, I would get one of those heavy, wooden ones with two tubs and a shelf on the bottom. Now that would be AWESOME.
But let's face it, you don't REALLY need a table. I have two of these short sided tubs and I've been known to use a small box, tote or bucket. You really don't need anything new or fancy to make sensory activities work in your classroom. And your kids won't care what you use. Trust me.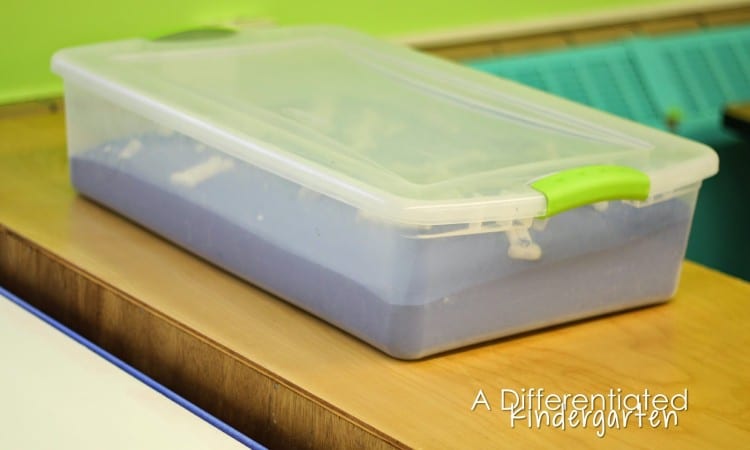 Materials
This is a big one. I know many of you worry about the cost of filling a table or a tote. However, you can get really creative and it doesn't have to break the bank. I've also had teachers tell me that when they are planning for sensory materials, they often add the items they are needing to their newsletter and parents can often help them out.
I actually keep a list of ideas and items for each month of the year in my planning binder. They're part of my Getting Started with Sensory Table Activities Pack and will be included in each new monthly Sensory Table pack as well.
I like to use items that will last a couple of years. I have my kids wash their hands before and after they use the table so in my mind, there aren't as many germs (right?). In any case, colored pasta is always a good way to start the year because it is large and with it you can easily teach clean up procedures. And the color . . . I love using the neon colored food coloring for these because it just turns out so pretty.
Rice is also a good material to use. In the winter months, just white is just fine, but of course, dying it makes it spectacular.
Green for St. Patrick's Day with discarded gold carnival tokens (I printed real and nonsense words on them.) Who doesn't like searching for gold?
Natural items are fun and cheap. I can usually wrangle a couple of boys to collect acorns each year for me, but you can almost anything you can find outside.
Colored sand just makes things POP!
How about some garbanzo beans painted gold as in leprechaun's gold for St. Patrick's day? And hey, a pot for your gold is the perfect container for some St. Patrick's Day sensory fun.
Staying Organized
There's a couple of tips I've picked up from using sensory tables over the years that will help you stay organized. First of all, I like to keep all of the items that a student is going to need close at hand. Under my table you'll find a small drawer system, my extra sensory tote, and other materials I may use for that particular set of materials. I change things out as the contents of the table changes. You'll also notice I have some command hooks hanging from the sides.
I do that so when and if there are response sheets (I like to laminate mine when I offer them.) that go along with the activity, students can have a place for their response sheets without putting the clipboard IN the table.
In the top drawer of my container, I keep my response sheets and instructional/I Can cards. If they are differentiated, there will be three different envelopes with coordinating colored dots. I also have clean up materials (Don't you love my Dollar Tree dust pan and broom?), various containers for sorting (I'll show you how those work in a minute, and things like scissors, hole punches or any other materials that correspond with the tasks cards for the materials that are in the table.
I often allow my students to choose how they want to sort their items, either in buckets (Stick a little velcro on the back of the cards and on the bucket for quick change over of sorting labels.) this sorting tray (Dollar Tree . . . again!) or from a rope with clothes pins. Everyone loves a little variety.
How will my students know what to do?
I have instruction sheets for the main activity. They look something like this.
or if there is a response sheet it looks like this:
But I also have modeled the activity prior. When students complete the activity, they have a set of task cards that I have chosen for them to use and that make sense to use with the materials in the table. Students can look through the task cards and choose an activity.
It might be sorting, counting, cutting, weighing, measuring . . . but the part they like is THEY get to choose, and I don't have to worry about them using the materials in appropriately or doing 'nothing.'
The task cards are all aligned or address a specific skill. So when your administrator walks in and ask what on earth your students are doing at a sensory table, you have the standard right there to show them.
Getting Students Started and Expectations
As with anything, this is a station you need to model, demonstrate expectations, make the expectations visual, follow through and establish a routine. It will take some students no time at all. They will catch on the first time. There may be a few that will have to have more practice than once. They will need to be excused from the table if they can't remember how to use it. It doesn't take too many times of being excused from the table, before those students figure out what they need to do.
So is your head spinning or are you excited and ready to jump in? Trust me, you will be their favorite teacher . . . teacher of the year . . . maybe of all time when your students get to put their little paws in your table. But if you are still having some difficulties figuring it all out, don't worry. I have a packet that might help.
And I also have an All Year Long Sensory Pack which contains everything in Getting Started with Sensory Table Activities, but also will have new materials and activities added to it each month of the year through June so that you always have fresh sensory activities for your students.
If you'd like to learn more about them, just click on the pictures and it will take you to my TpT store. There is a preview there that will give you a better idea of all that is included.
In the meantime, if you have any questions or comments, just drop me a line and let me know if you find anything AMAZING to add to my own sensory table.