Hands down, one of my most favorite days of the year is definitely the 100th Day of School. But as excited as I am with this day, my students are over-the-top excited. So to curb their out-of-control enthusiasm, I create some fun, but very manageable 100th Day Stations.
SETTING THE STAGE FOR FUN
It is a celebration for goodness sakes, so I have always liked to make the day special and NOTHING sends kids into a tizzy of excitement like a simple banner and, of course, lots and lots of streamers!
But before they gain entrance into our 100th Day of Fun, I meet them out in the hall and go over a few ground rules for our first activity for the morning, because I know, once they see 100 BALLOONS . . .
it's going to be a free for all. So they get the . . . use only your bottoms, no hands, no jumping with your feet . . . just booties for busting speech and away they go!
It's loud and not really for the faint of heart . . .
but I can guarantee you . . .
it's definitely a BLAST!
ONE HUNDRED SNEAKY KISSES
After all balloons are busted and scraps are collected, it's time to search for hidden Hersey Kisses. It's so much easier prepping these activities these days because I own sons have been party to watching me prepare for these their entire lives. So when it came time to hiding 100 Kisses in my room, they knew exactly what to do.
They pick the choices spots to hide kisses throughout the room. High and low my kinder friends spent the better part of a 1/2 hour searching for Kisses. When they found one, they would bring it to me, tell me the number and then place it on our 100s chart. (Fancy huh!)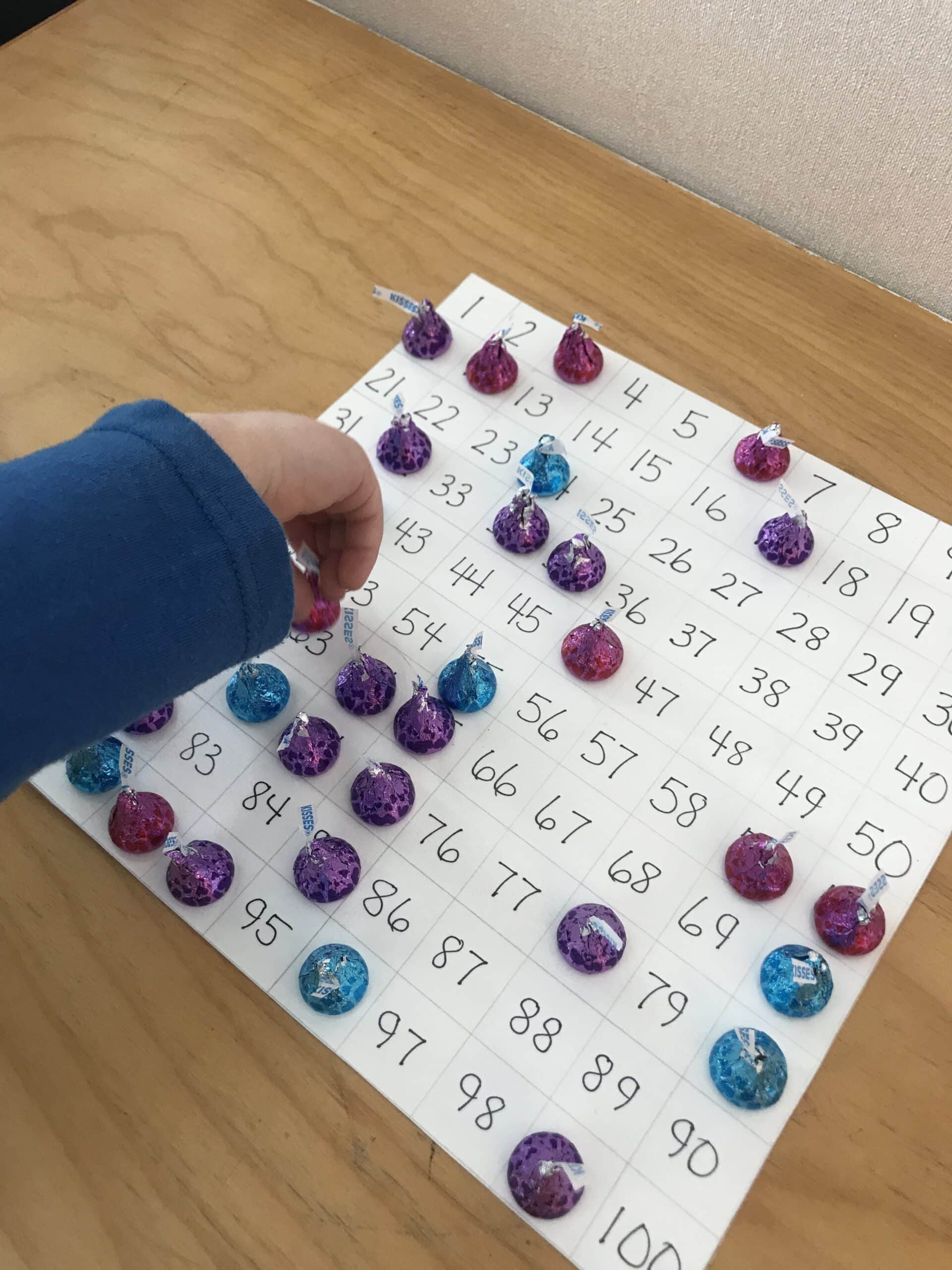 While they were able to find the majority of them in that amount of time, it took them until late in the afternoon before all 100 were located. They would be working on another activity and I would hear, "I found one." It was great fun and after so many years of doing it, I can't imagine ever NOT searching for Kisses on this 100th day! It's just too much fun!
HUNDRED DAYS SMARTER STATIONS
A special day calls for special stations and that's just what we did on this 100th Day of School. I love small group work and 100th Day is no exception. I gathered together 8 of my most favorite activities for this year's celebration.
It does seem like a bunch of work. But over the years, I've found that the key to successful 100th Day Stations is to select activities that are basically independent and need very little support from an adult.
I chose activities that were fairly open-ended. I made sure they were organized, easily assembled and well labeled for my kinders to find and manage. (You can grab my free printable station labels if you follow this blog to the end and click the Free Download button.)
I only have 20 students and with 8 stations I knew that I could put three students at each station and still have one station running at any given time. These ended up being perfect numbers. As I spread the stations out over my small room, it dispersed the noise and gave students plenty of space to complete their activities.
Each student received a 100 Days Smarter Station card. They would write their name at the bottom and circle the number of the first station they attended. From there, after each station they would check off their list and move to the next numbered station. I really thought they would need this to stay on track, but honestly, they were awesome about knowing which number they were at and which number they went to next. Having well-labeled containers helped with this greatly. Of course, using my favorite brightly colored Astrobrights Papers made finding those labels even easier when it was transition time. Plus, let's face it, they're just so darn pretty!
STATION 1: SIGHT WORD READER
Maria from KinderCraze has the BEST interactive sight word readers and I just knew she'd have one for this special day as well. I have all her bundles because, quite honestly, they are so good I use them all the time in my classroom. I knew that this activity would be independent for my students because they were familiar with the process of completing these readers and they enjoy the hands-on cutting and creating that they have do to complete them.
If you'd like to learn more about Maria's amazing sight word readers, just click HERE.
STATION 2: BUILD WITH 100 LEGOS
Next up, the ever popular build with 100 Legos. In my bin I have 100 Legos neatly secured in three separate pencil boxes.
You'd be amazed at how much easier it has made this station. Students can grab and go build in a corner of the room or stay at a table. I love anything that makes stations portable.
And I'm always amazed with what they come up . . .
STATION 3: 100 LICKS
Remember the old Tootsie Roll Commercial . . . I never got to watch cartoons on Saturday mornings when I was little, but on the off-chance I snuck a show in, I remembered seeing the Tootsie Roll Pop Owl asking . . ."who many licks does it take . . .?"
So here's my take on the very popular 'how many licks does it take to eat a DumDum (because let's face it . . . a Tootsie Roll Pop would take even longer!)
Because we are working on Tens and Ones, my students would color a ones block for each lick. Then total up the tens and ones that it took. Just so you know . . .
I was surprised that most of them actually did only lick the sucker. They were very serious about finding out the answer. You can grab the 'How many Licks Will It Take' printable at the end of this post.
STATION 4: BUILD WITH 100 CUPS
Another kindergarten fan favorite is building with cups.
Many classes use Solo Cups but I have always used the less expensive and very easy to manage Dixie Cups as a great alternative. I love that the activity is open-ended. There is no right or wrong way to do it.
Each student at this station gets 100 cups and the goal is to basically build a structure using all of them before they all fall down.
My students have been doing a ton of STEM activities this year, so I had them really think about what they had learned so far. In the end, I had some pretty successful cup builders.
STATION 5: 100 LINKS
They've been using plastic links to make number lines, put the ABCs in order and build words since the first day of school. It seemed only natural to have them build a number line using 0-100 cards and links on the 100th Day of School.
While I had three separate containers for students to work individually, they asked me before we got started if they might be able to work as teams to build their number lines.
Their ideas are always so much better than mine.
And it worked out much better this way.
If you'd like to grab a set of these 0-100 cards for your own 100th Day Celebration, just follow this blog to the bottom and click on the FREE DOWNLOAD button to get yours and all the other free printables available.
STATION 6: 100 GUMBALLS
Well not REAL gumballs . . . but still . . . they look like gumballs when you've finished.
This activity is actually from my friend Jeannie from Kindergarten Lifestyle.
I take and label my Bingo Daubers from 1-10 so my students start at number 1 and dot their gumball machines with number 1 dauber 10 times then move on to dauber number 2 and so on. It makes it much easier for them to manage and the are really good about keeping track of which number they just finished and which comes next.
If you'd like to check out this activity from Jeannie, you can click HERE.
STATION 7: 100 BEADS FOR OUR 100 DAYS SMARTER NECKLACE
You know I would have to be finding someway to get fine motor work included in our 100 Days Smarter Stations and this one gave me that. I wanted students to make something 'wearable' to celebrate, but hats never seem to last more than a few minutes, and we are a Title One school. I don't really feel like I can ask parents to make a shirt for 100 Days that they may one wear one time. So this is what I came up with.
Using Astrobrights Cardstock again, I designed these little 100 Days Smarter Discs and hole punched them. (By the way, you can pick up these as well if you go to the end of this post and click on the freebie button.)
Then I selected 10 different colored pony beads, labeled them 1-10 and had students string the first 5 sets of ten, then the disc and then the next 5 sets of ten. You can find sets of pony beads on Amazon. I had a couple of sets that I put together that gave me more than enough beads for all my kids.
Labeling the bins of beads was, again, a huge key to making this station independent. It ran so smoothly.
I also chose to use plastic necklace string and pre-tie a bead to the end of each length of string so that students could just sit down, grab their string and get started on their own.
Students easily could figure out what came next . . .
They simply moved down the line of beads adding ten of each to make 100. My only real job was tying off the necklace at the end.
STATION 8: BUILD WITH 100 MARSHMALLOWS
Our last station reflects some STEM work we have been doing this year. My kids BEG to build so I thought I would appease them with 100 marshmallows and toothpicks.
To make this as independent and easy as possible, I went ahead and pre-bagged the marshmallows and toothpicks and as well as cutting some foil to line my cookie sheets.
The goal was to use all 100 marshmallows . . . I mean . . . well as many as you can after you've sampled a few first, of course.
It was a ton of fun!
And that's it. It was a fun and, surprisingly, very easy day. If you would like to grab up some of the freebies included in the post, go ahead and click on the button below. It will have you enter your email. (I suggest you NOT use your school email, because schools often block email servers such as the one that will send you this freebie. ) Then you will be sent a verification note. Once you verify your subscription to my newsletter, the file will then be downloaded to your computer. Just check your computer's 'download' file and you should find it there. All you need is some of your favorite Astrobrights cardstock and a printer and there you are. Remember, check your SPAM file if you don't see the file in your email right away. Sometimes your filters will send it there.
PIN IT