Fishing for Sight Words is going to be your new favorite activity. Trust me. Students love it and you'll love that you can edit the sight words to fit everyone's readiness level.
Winter Break Tasks
Winter break never seems quite long enough does it? You probably had big plans to revamp your entire schedule, create some new games for your students, reorganize your classroom library or start a new behavior management system . . . but then those long lazy mornings were just so nice, and hanging with family was such a pleasant distraction, or that new series on Netflix simply sucked you in for a full three days. It happens! I totally get it. That's why I'm here to help you out with a little sight word fishing freebie that will set you on the right road for the New Year and engage your students by Colorizing Your Classroom at the same time.
Color is a commodity in short supply during the long, cold, white days of winter in Michigan and many other parts of the country, so any time I can engage my students with something fun and colorful, I take full advantage. A FREE Editable Ice Fishing for Sight Words game using Astrobrights Papers is a perfect way to welcome your students back from the holidays. I've included a few affiliate links to make shopping for items in the post a bit more convenient if you need them.
I knew that using Astrobrights Papers for this activity was going to be perfect because I wanted to make sure that it was differentiated. No sight word game is fun or interesting if it's too easy or too hard. I wanted any students to be able to play it and play it at the same time as another student even if they weren't at level of sight word fluency.
In my classroom, I have my sight words leveled by Dolch Word Lists 1-11. All my students work at their own individual pace to master each of the eleven levels (220 Words) by using my sight word fluency system–Ball Words. I knew I wanted my fish to correspond with those levels, so I chose eleven different Astrobrights Papers and printed each list on a different color of cardstock. Here's the colors I chose for this activity: Solar Yellow, Cosmic Orange, Rocket Red, Plasma Pink, Fireball Fuchsia, Planetary Purple, Venus Violet, Celestial Blue, Terrestrial Teal, Lunar Blue and Vulcan Green.
You can find these colors individually or there are various cardstock assortment packs to choose from on Amazon with many of these same colors.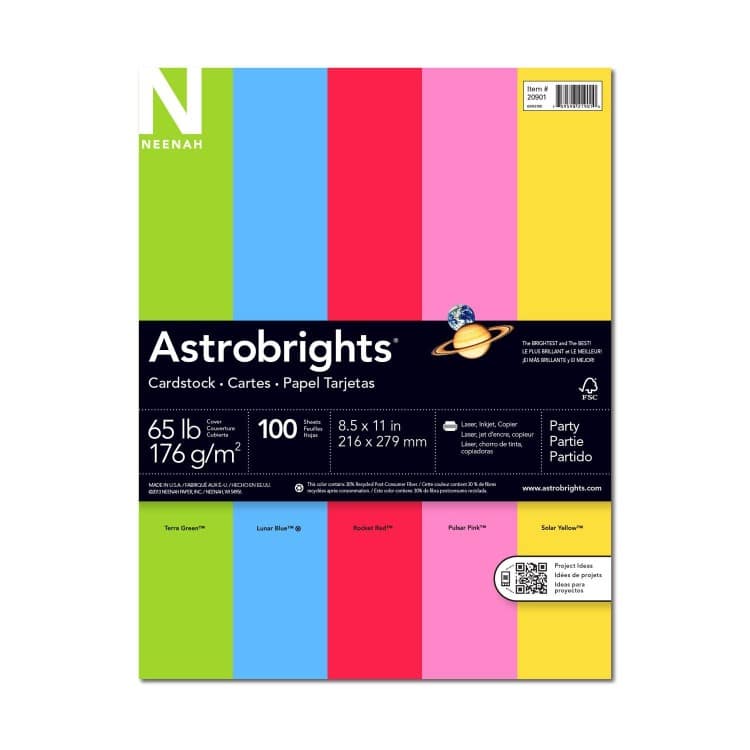 You can use as few or as many colors as you choose because, the packet is EDITABLE. That means if you use Fry words or Dolch Pre-primer and Primer or your own individually developed sight word list, it won't matter. You simply open the document with Adobe Reader, type in the words you would like your students to use where you see a blue highlighted box and print them out on colored paper.
In the end, you'll have sight word fish differentiated for your entire class. Now you just need to whip up some poles, prep your fish and create an ice fishing (or pond) experience for your student.
Poles are easy! Simply grab some nylon string, duct tape, a couple of dowel rods and some ring shaped magnets. I used these ring shaped magnets that I had in one of my science kits because they are easy to attach to a string and they were free. You can get them pretty cheap though if you don't have any of your own laying around.
Wrap your string around one end of the dowel rod . . .
and tape it to attach it.
Cut the string to your desired length and then tie your magnet to the end of it. Viola! You have a magnetic fishing pole.
Now to prep your fish, I use the shortest metal brads I can find and poke it right through where the eye of the fish would be.
Push the brad through all the way . . .
and bend the ends against the back. Your fish is ready to go.
For organization purposes, I place my fish according to color in different poly envelopes. This way students can simply grab their level of words and go. It's perfectly fine for two students who are at different levels to play at the same time.
For an 'ice fishing' center, I simply take a large square box and turn it into an ice-cube cutting a hole in the top and covering it with white butcher paper. You could also simply use a small tote for a pool as well.
Students are 'suppose' to fish by taking turns placing their fishing poles in the hole without looking. No peeking allowed (right!). Only one fishing pole in the hole at a time or the magnets will cause the poles to become tangled.
Students pull their line up to find out what fish they have caught.
If they say the word correctly, they get to keep their fish. If they can't read it correctly, the fish gets thrown back.
Students at different reading levels can easily play together. My rule is that if you catch a fish that is NOT your color, you can choose to 'steal' it from your fishing buddy by reading it correctly, or you simply can throw it back and try to get a fish of your own color to read.
Students continue to collect as many fish as they can. However, there are a few 'sharks' in the water. If you get a shark, you throw all your fish back in the water and the shark card stays out.
Play ends when all the fish have been caught. Then everyone counts up their fish to see who is the Master Angler.
It's such a fun and engaging activity and now you can really make it your own by editing it and differentiating so that's perfect for all your students. So go ahead and click on the image below to download your own FREE Ice Fishing for Sight Words Activity. You will simply fill in your name and email address and a confirmation email will be sent to you (Check your spam file in case you don't see it in a few minutes!). Then once you confirm your subscription, the file is sent to your computer. Check your 'download' file. It should show up there.
If you are looking for more great, hands-on activities for winter, click on the banner below to check out my TpT store:
I promise you, your students are going to LOVE it.
Disclosure of Material Connection: This is a "sponsored post." I was compensated me via a cash payment, gift, or something else of value to write it. Regardless, I only recommend products or services I use personally, believe will be good for my readers and truly love.