Here's the deal. Write the Room activities are one of my most favorite activities to offer students, because I know that my students need to move and this gives them a free pass to wonder all around my room. I know the idea of this puts some teachers into a complete panic, but I promise you, it shouldn't. Not only do my students LOVE it, but even more importantly, I know that I can give them write the room activities that are meaningful and challenging on their own level. When that happens, they don't even realize they're working. It's like the ultimate, 'spoon full of sugar' making 'the medicine go down.' Except in this case, it's the 'write the room' making the skills go down.
WRITE THE ROOM EXPLAINED
In case you're new to Write the Room, let me give you a quick little explanation of how it works. In my classroom, students may find this activity in their math or literacy center activities and occasionally in their morning work. I like to offer lots of opportunities for students to get up and move and this does just this that. Using these activities during small group time keeps the movement managable.
Teachers select the skill and level of difficulty that students will practice by selecting cards to post throughout the room. I have enough clipboards and response sheets so that if I have four students at a math center for instance, there will be a clipboard and response sheet for each of those students. You can decide whether you want those response sheets to be laminated to be used with a dry eraser marker, checked over quickly by a teacher and then erased for use by another student, or if you prefer, you can just make a regular paper copy to be submitted for a teacher to check later. The choice is up to you.
THE CHALLENGE
From where I stand, though, there are two real challenges with Write The Room activities. The first one is 'letting go.' The thought of letting five years old loose in your room unsupervised to complete a task is bone chilling . . . but really it will be ok. As long as you have all their materials available where they can access them, you have modeled and they have practiced the activity and expectations, they will be fine, they will stay on task and they will be engaged.
The second challenge then is . . . finding a write the room that's 'right' for everyone? There's no question, regardless of the skill, it HAS to differentiated, because you know that if you put the same task out there at the same level of difficulty for every child in your class, it will be perfect for a small population of your class. But for one group of students, it will be too easy, and they will get bored and when students get bored, they have a tendency to get naughty. Then there will be those students that will find that task too difficult. They're going to get frustrated, check out and most likely get naughty. And friends, this kind of naughty is completely on US, because we didn't give them what they need and challenge them where they are. I don't know about you, but I avoid 'naughty' at all costs. So I look for ways to engage all of my students.
THE SOLUTION
I know how difficult it is to differentiate activities and do everything else you need to do as a teacher. Really I do! So I really want to make it as easy as possible for you. Now you CAN have a write the room that is meaningful, addresses a key concept and meets your students where they are in terms of readiness. I even give you suggestions as to how it might look in your class when you are organizing the activity,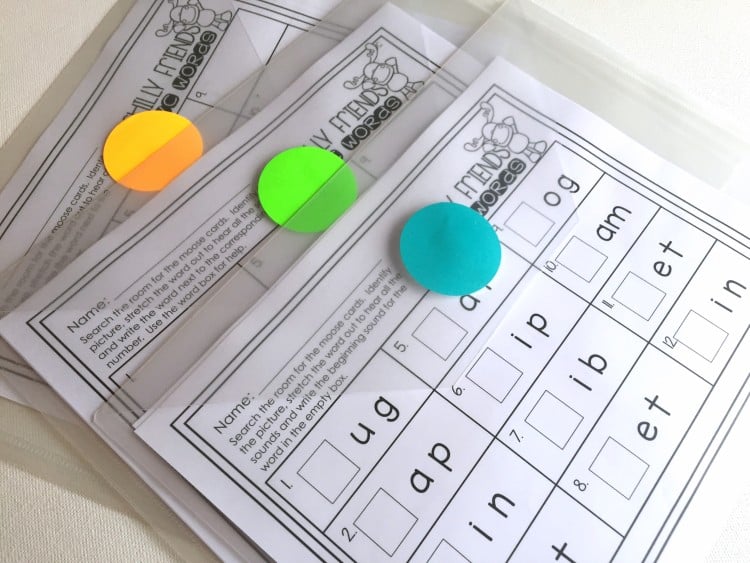 offer visual cue cards for each activity to help build independence for your students
and show you how it all might look in your plan book.

PICK YOUR SKILL
So for example, in January's Write the Room Packets, you can choose one specific target to focus on or grab all of them as a bundle.. Need to review rhyming? I got that for you. CVC, CVCC or CCVC word work? Yep, we have that and so much more. In fact, you can even EDIT . . . yes I said EDIT any of the Letter and/or Sight Word and Mystery Sentences packages to make them EXACTLY as you'd like them to be.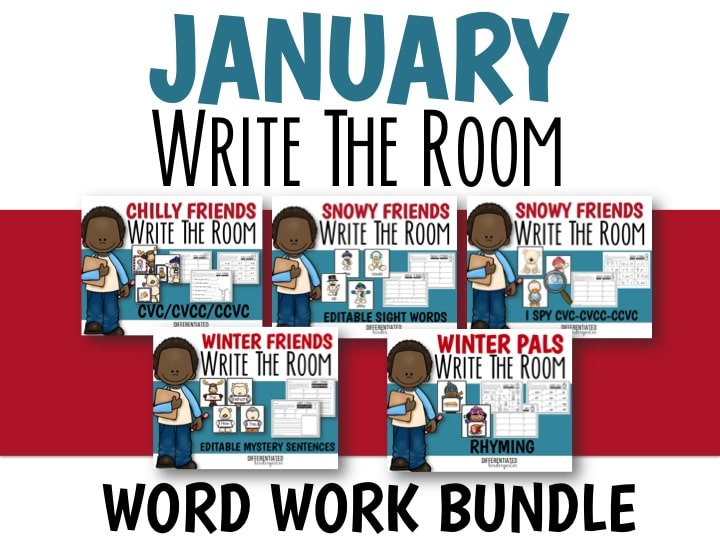 THE PACKETS
I have a TON of write the room activities available in my store. So depending on which skills you need students to focus on, you can pick up that single skills which is differentiated or choose multiple skills. Below is an example of some of the different types skills that can be addressed in your ELA instruction through Write the Room activities.
SIGHT WORDS
Every time I make a packet of anything that has to do with sight words, teachers always want it to be editable. Now you can have your write the room and edit it too.
It's really very easy. You just open the file up with your free Adobe Reader and enter the words you want on your sight word write the room cards where you see the blue highlighted box.
And so you can tier the activity for different levels, I included four different fun snowman cards so your students can differentiate which group of snowman words are theirs to find.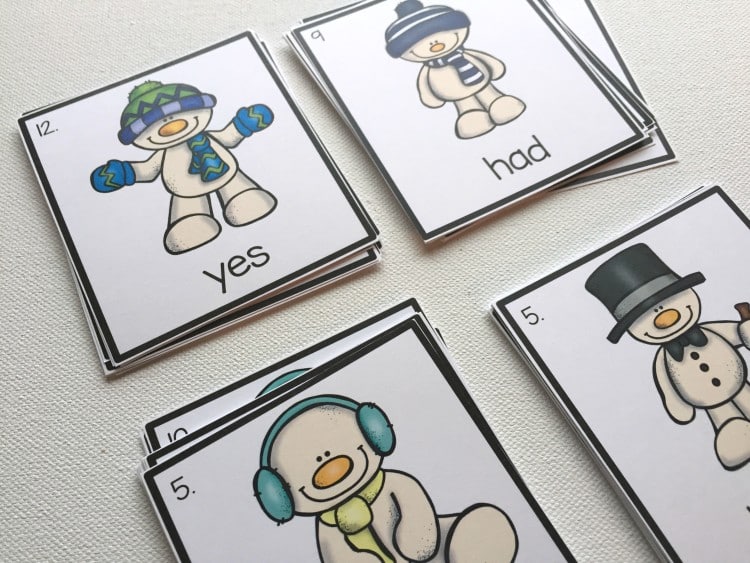 You can simply have students search the room for words, record them and read them to a friend . . .
or some teachers like the added challenge of mixing the word up as a scramble. Students unscramble the word using a word bank at the bottom for their recording sheet (yes that's editable too) and then read their words to a partner. I personally like to laminate my recording sheets, but these are all black and white printables so you can use them any way that works for you. Because I want you all to try this editable type of Write The Room activity, I've included a free sample at the end of this blog. Just sign up for my email list and/or enter your email address, and I will send you an email with the download.
CVC CVCC AND CCVC WRITE THE ROOM
Segmenting and blending sounds can be a tricky skill to master. This write the room give students plenty of practice and challenge.

There are three different sets of cards for CVC, CVCC or CCVC words. Each set of cards has its own set of recording sheets that target different skills. Maybe your students are ready to identify all the sounds and record them without assistance.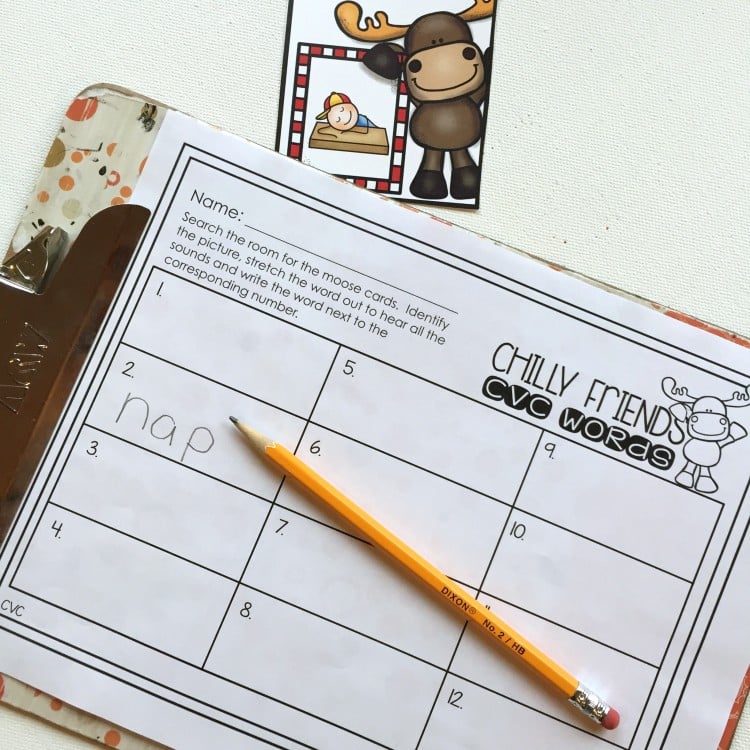 Or perhaps they need the support of a word bank to help them.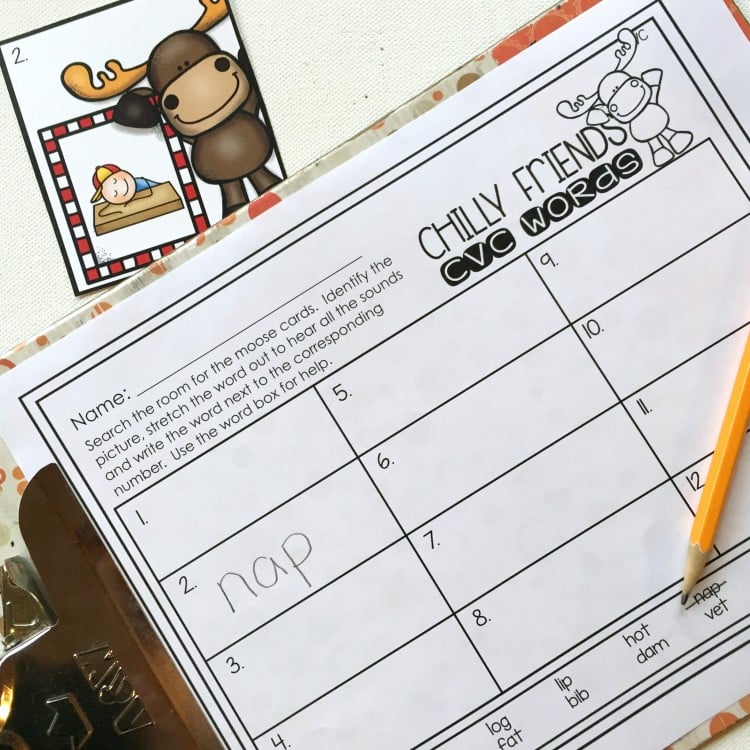 Maybe they are still working on isolating the beginning, medial or ending sounds in CVC words.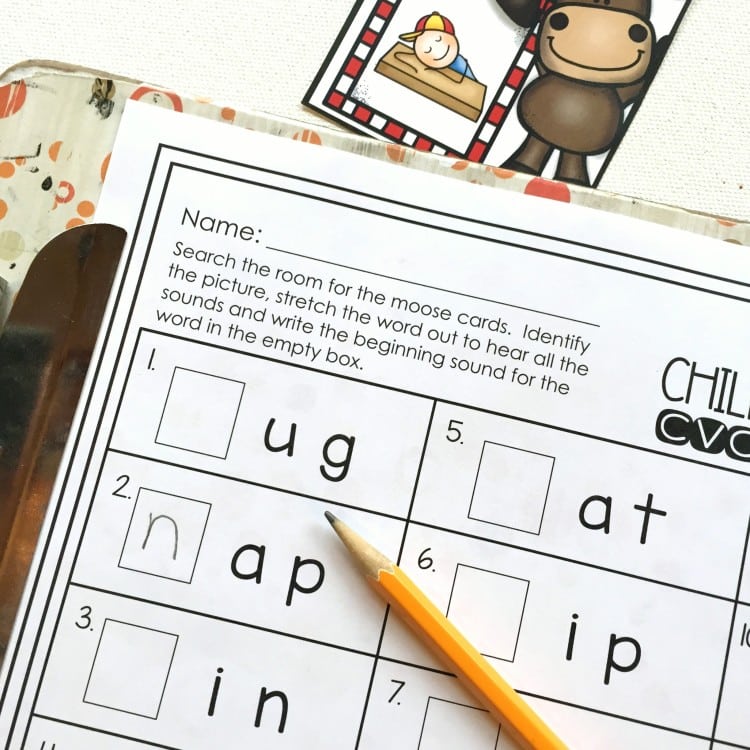 Or perhaps they are now reading these words within the context of simple sentences.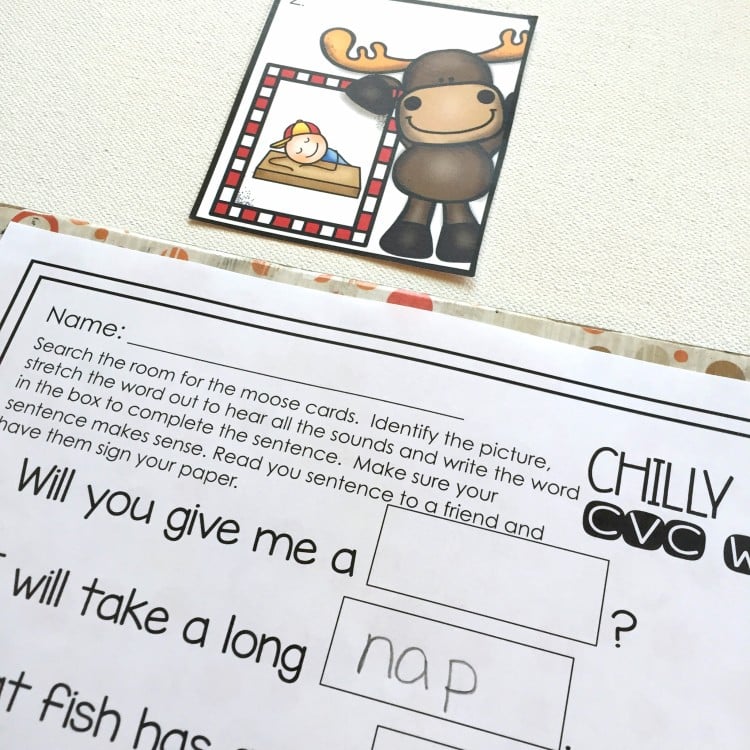 One set of cards has all these possibilities and this set comes with three different word levels! It could keep your class going for weeks!!
RHYMING WRITE THE ROOM FUN
After break, I always bring in a bunch of rhyming activities because this seems to be the one skill then never stop needing. Am I right? It always blows my mind that they can be rhyming one minute and complete forget the next day.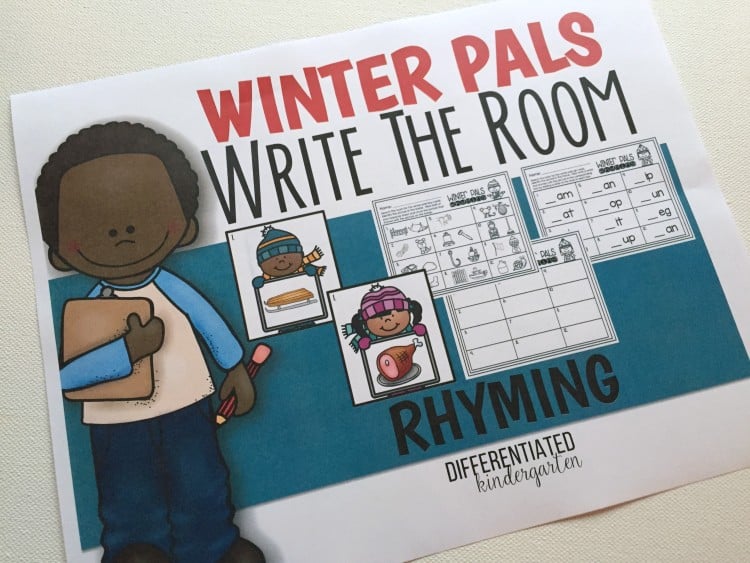 This packet comes with two sets of cards but several recording sheet options.
Students might simply look at the card, say the word and circle the corresponding rhyming word.
. . .or they can come up with a rhyming word using a word bank . . .
. . . or simply change an onset to make a new word by attaching it to the corresponding rime.
EDITABLE MYSTERY SENTENCES WRITE THE ROOM
This is the other editable packet in this January Write the Room set. Like sight words, I wanted teachers to be able to create their own mystery sentences and questions based on their students' needs. This pack has some sentences available for immediate use or you can create your own. There are four sets of character cards for your use and several different recording sheets based on your skill level and the number of words in your sentence.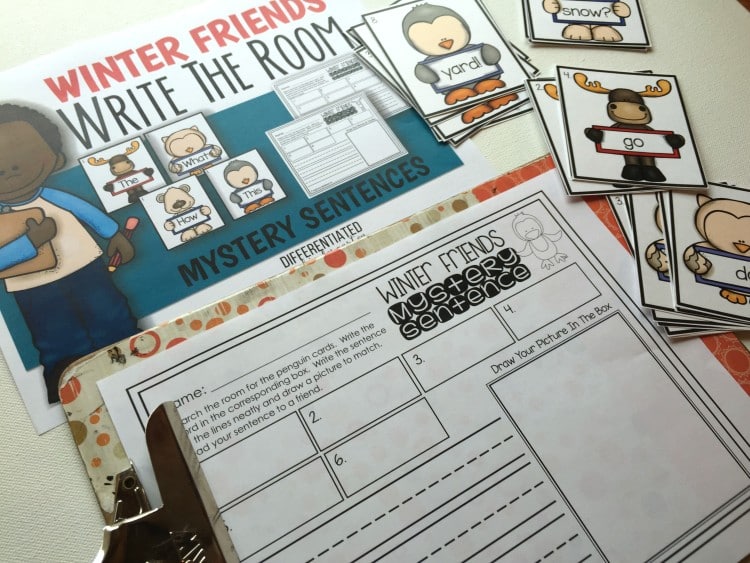 One recording sheet has students simply finding the sentence and recording it along with drawing a picture to go with the sentence, but another option has students finding the mystery question and answering it with their own sentence.
I SPY WRITE THE ROOM
I Spy activities are like dessert for kindergarteners. I could put almost any skill on an I Spy and they would eat it up, but when you combine I Spy activities with Write The Room . . . it's a double fudge triple ripple sundae folks. This is always a favorite amongst my students and this one can target CVC, CVCC or CCVC words. You choose your medicine.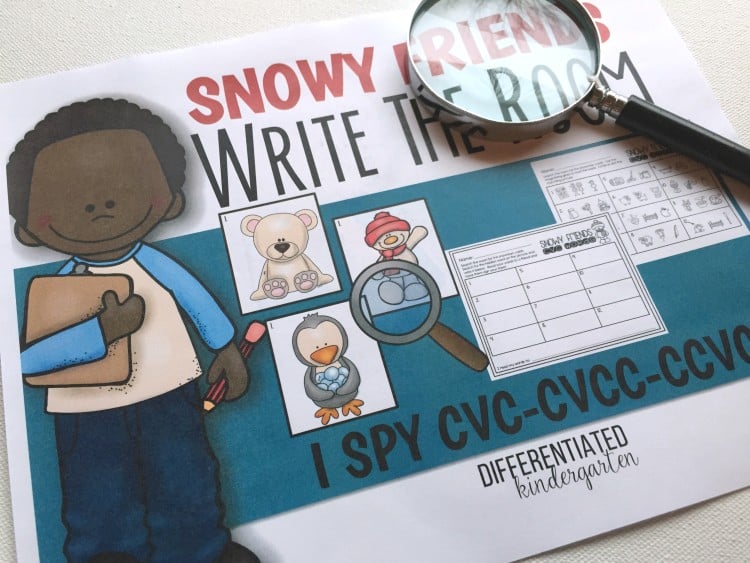 There are three different sets of cards and two recording sheets for each card. The student simply finds the write the room card, then use their magnifying glass to find the word hidden on the card. They can either circle the correct picture or write the word on their recording sheet. (I actually use small little plastic ones in my classroom with a string tied for them to place around their neck but this one works better for showing you the word on the card in a picture. If you'd like a link to see the ones I use in my class just click HERE.)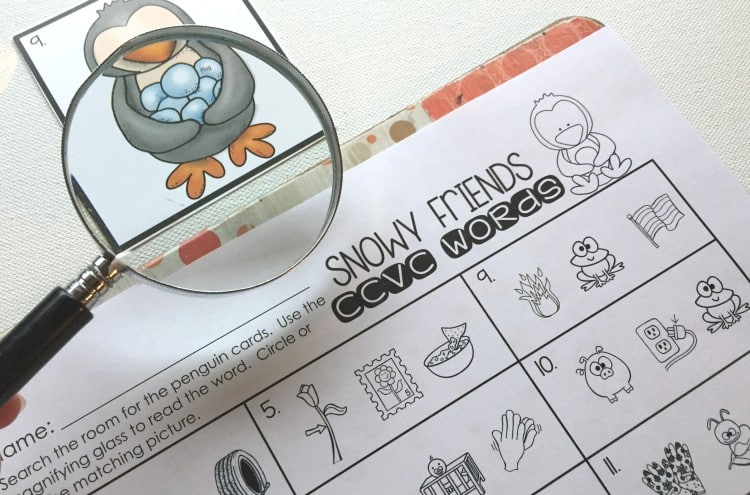 You can choose to use CVC, CVCC or CCVC or use them all at the same time. The recording sheets correspond with the pictures so your student will know exactly which one is meant for them.
I especially love how I can just change up the theme each month to make them new and engaging.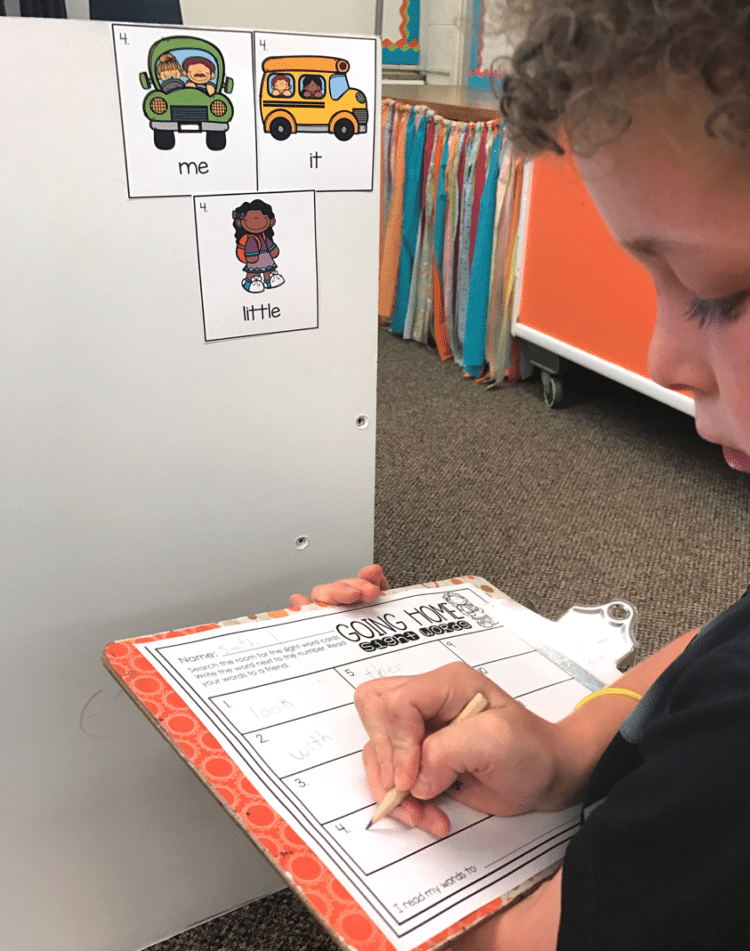 It's really that simple. I promise you. And when your administrator walks into your classroom and sees your little honeys with their clipboards walking around the room, you can assure them that they are engaged in meaningful activities that are differentiated not only by readiness, but that addresses their need to MOVE!!!! I even use write the room for MATH skills, because when something works, you use it A LOT. If you'd like to see how I use write the room for Math Statiions in my classroom check out THIS BLOG POST or click on the picture below. (There may even be a freebie on there for you to grab.)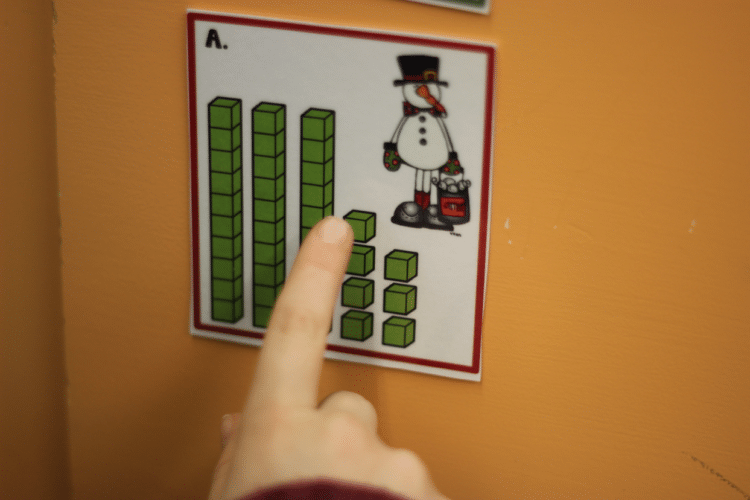 To find out more about editable Write the Room products, click on any of the pictures below.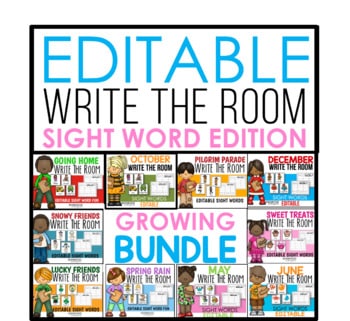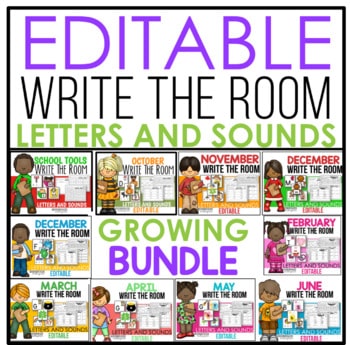 And if you'd like to try a sample of editable sight word activities to use in your own class, just complete the form below. Once you fill in your email address and then I will send you an email verifying your desire to be added to my mailing list to get ideas and activities to differentiate your own classroom. Once you verify that, the document is downloaded automatically to your computer. You will usually find it in your computer's 'download' file.