You know when you have 5 minutes before a special or lunch and it's not enough time to start something new but you want to make sure you are using every spare minute of the day . . . because that time is precious right? Well, I have an amazingly easy game that students LOVE and it's not fluff. They are actually practicing essential skills . . . they just don't know it. Hide and Seek to the rescue for essential skill practice where everyone's a winner!
Hide And Seek To The Rescue
The concept is really quite simple, you place a selection of cards with an essential skill in a small pocket chart. While students' heads are turned and their hands are over their eyes (because we all know they will cheat if you give the chance), the hider (which is me until they get the hang of the game) hides a smaller card with a picture behind one of the cards. Students then turn around and take turns guessing where the hidden item is located. If they find it, they get to hide the card next.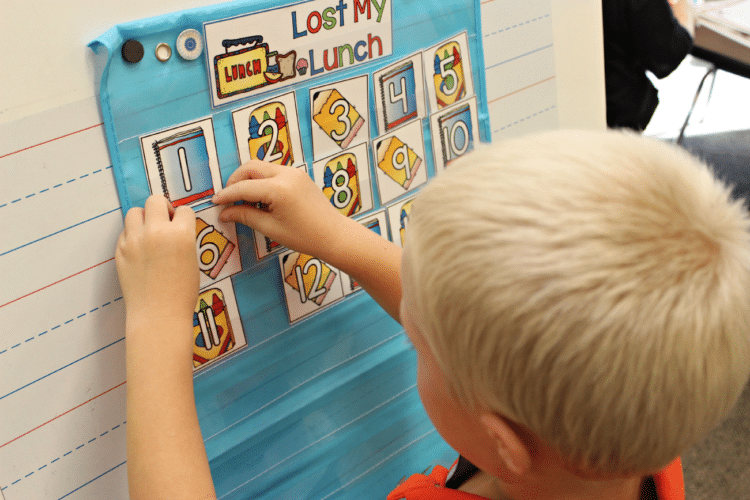 Some Specifics
This game can be played whole group and that's where I generally start the year. It can literally be set up in seconds (I actually have one up on my easel at all times).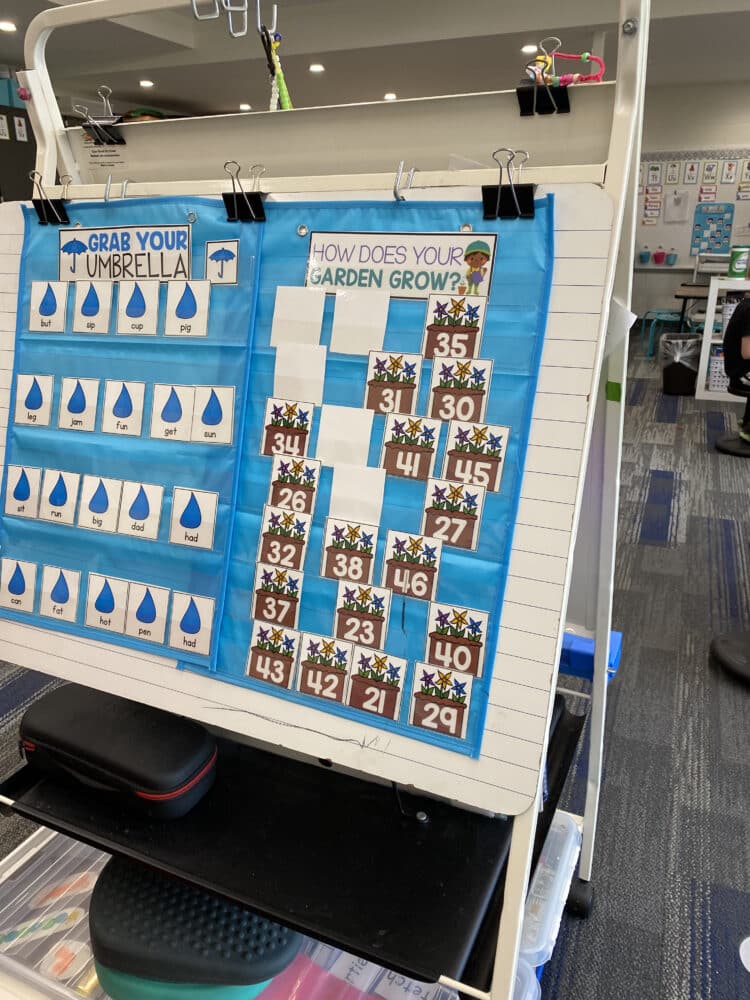 Also, as students gain confidence with the skill and the game, this because a regular "choice" for students when they have finished work during Daily 5 Stations and it is ALWAYS a Math Station activity or I'll never hear the end of it.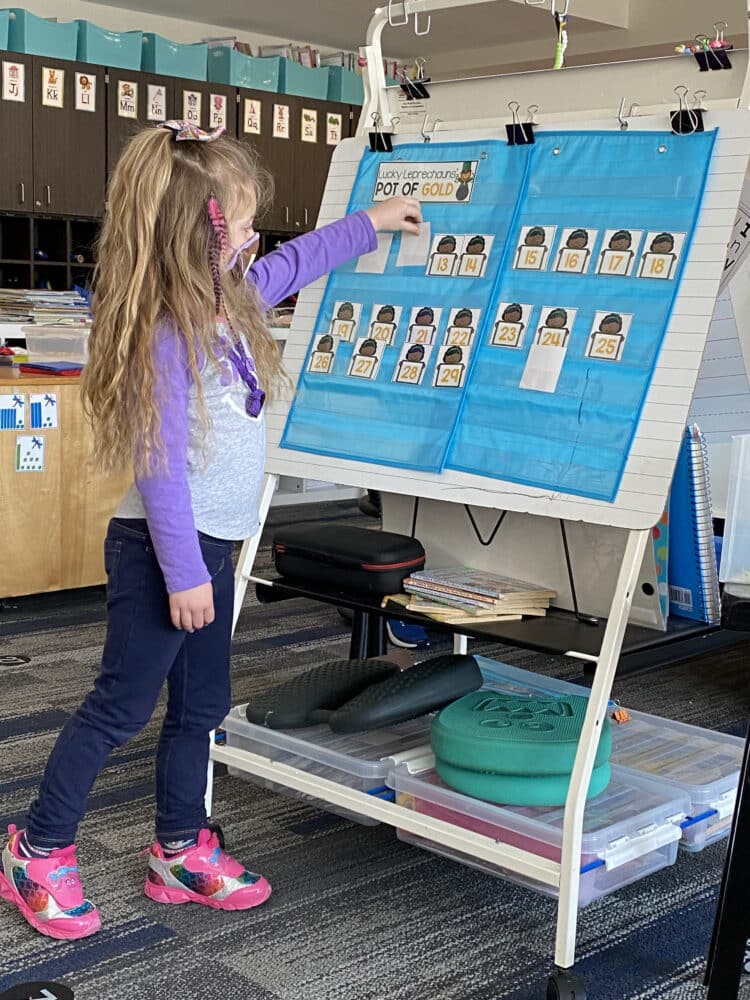 What you are going to need to play:
Other specifics to keep your sanity while playing:
all bottoms are on the floor (or chair)
students can not touch the cards unless they are the hider
they have to sit back two feet from pocket chart
students cannot just point to indicate a guessed card, they must identify the number/letter/word etc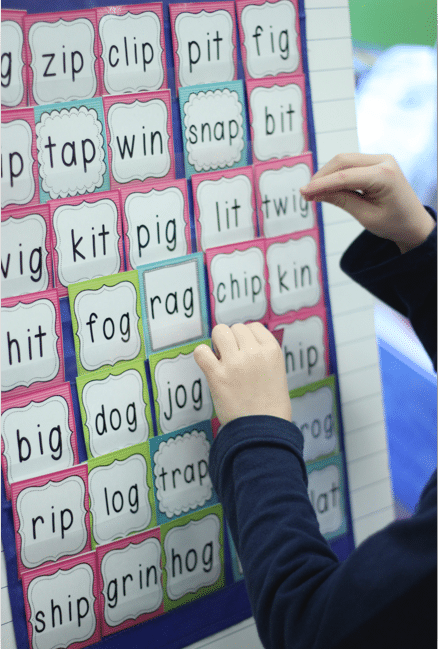 Just as a suggestion for any game you stick in your independent stations for kids, always include a little 'I can . . .' card to give them a visual cue as to what they should be doing there.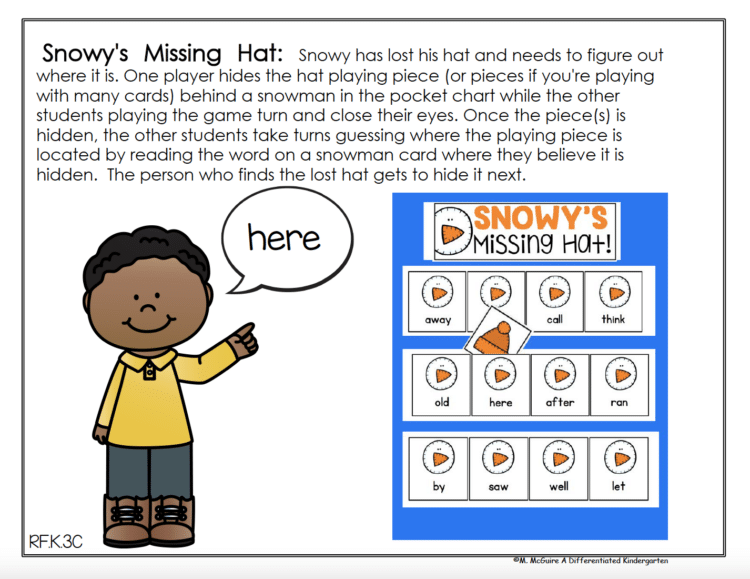 Essential Skills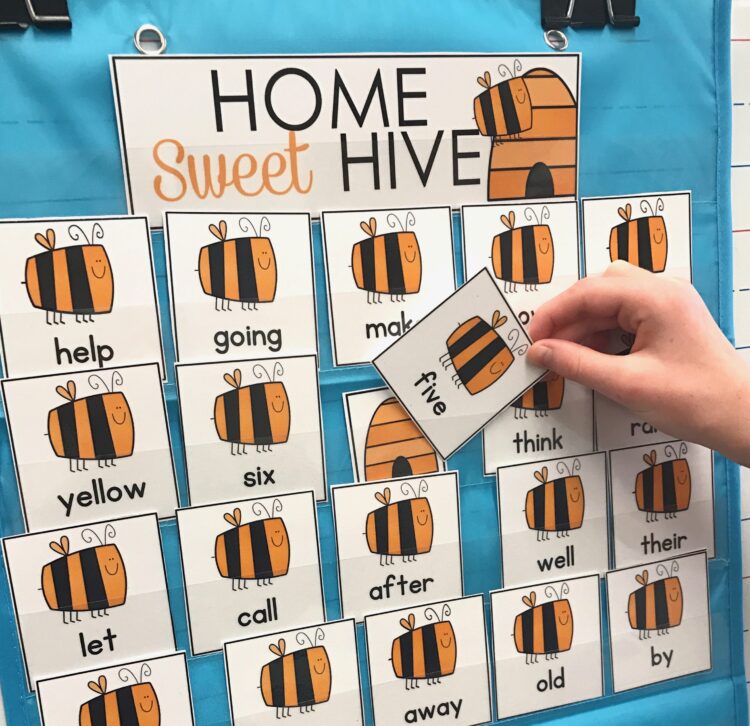 Seriously, you can use this game for so many skills. I start out the year with letters and numbers. In small group instruction, we use rhyming cards, first sounds, word family/decodable words, and I have a set for sight words/heart words/ball words (whichever you refer to them as).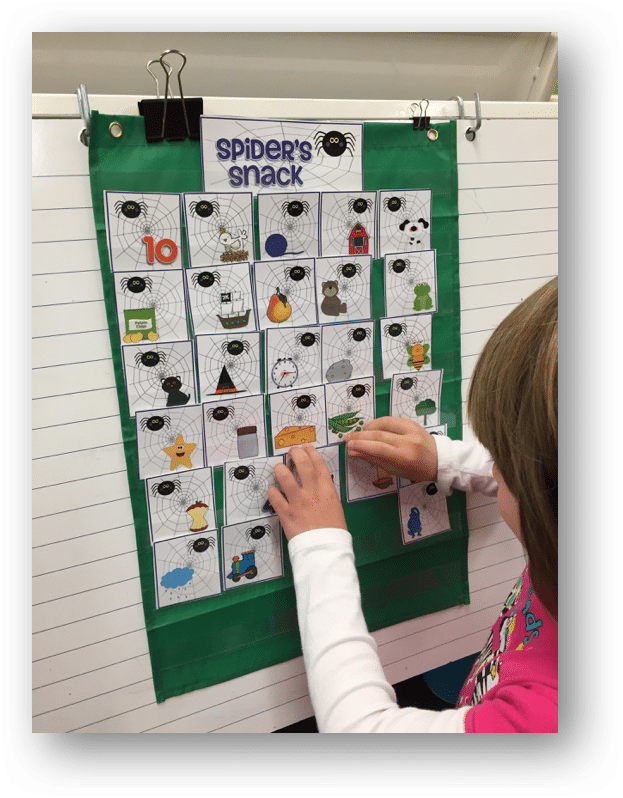 And for math, I use this game for numbers, addition, subtraction, ten frames, tens and ones, 2D and 3D shapes.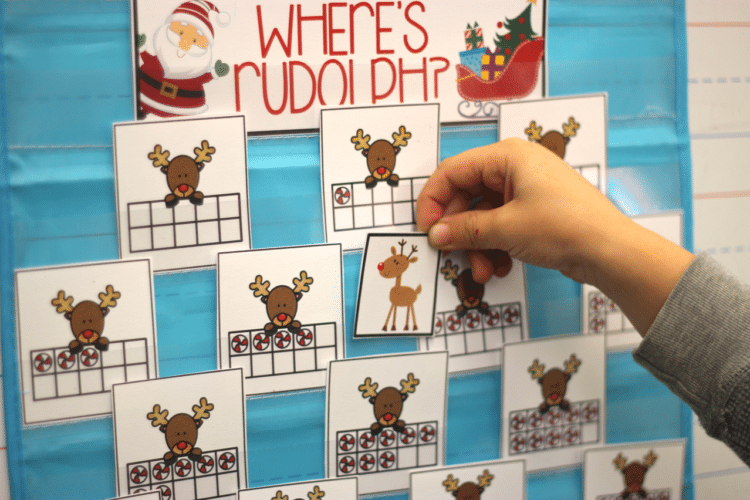 I get asked quite often, "what happens if a student wants to guess a card but doesn't know the letter or number" or whatever. Well, that's a teaching moment friends! That's when we teach them to count, to figure it out by saying the letters in the alphabet. or use manipulatives to find the addition answer.
Differentiating Is SO Easy
Remember those poly envelopes I mentioned in the materials portion of this post above? Well, those poly envelopes and a colored sticker is about all you need to differentiate these activities. And yes, your students will be able to manage those differentiated materials independently once you model it for them just a couple of times.
Because I organize my different levels of readiness by color, when students go to a math station for instance, they know that they choose the envelope with a sticker that is the same color as their Math Station name tag. One group may be working on numbers 0-10 while another is working on numbers 0-20 and maybe another is working on ten frames to 20. Everyone gets what they need so that they can feel successful while practicing and learning.
If I have a group that has mixed colors or two different levels of readiness, I let them chose between the two colors. Students will eventually determine if one color is too easy (easy makes it less challenging) or too hard (and sometimes too frustrating) and select the color best for them. This is another thing I model and teach them because I don't want all my groups to always be separated by readiness levels.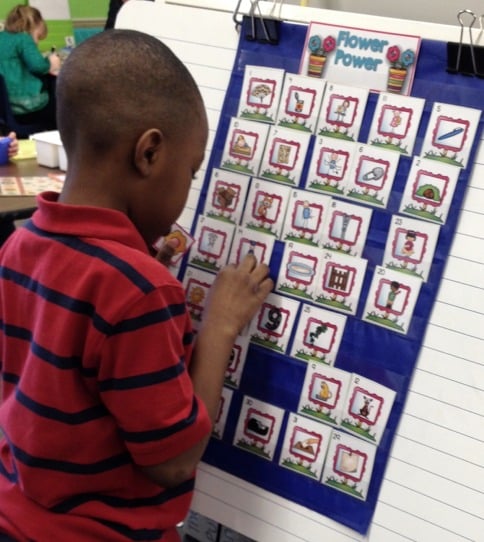 Because there are SO many different levels of readers in my kindergarten classes, I keep MYSELF organized by using color. Each level is represented by a different color. If I have 11 sets of cards for sight words when I am working with small groups, I keep those colors separated and have a handy dandy cheat sheet that keeps me organized about which color is for which reading group or level of reader. These sets are editable. So if I want to do decodable words instead of sight words, I can do that too.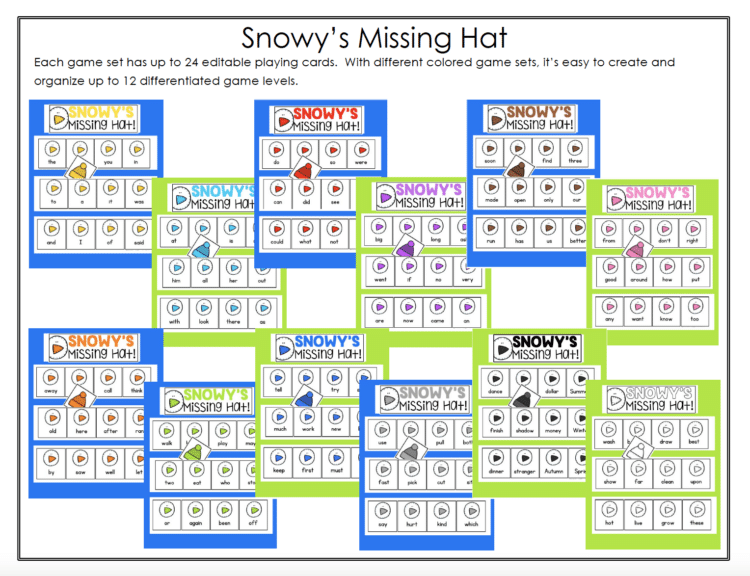 Keeping It Engaging Throughout The Year
As skills are mastered, you will move the letters cards out and introduce new skills for students to master. But another way I keep this fresh is by having new thematic cards each month which gives them new items to 'find.' It seems ridiculously easy, but trust me, I've been playing Hide and Seek since I started teaching and it IS as easy and as good as it sounds.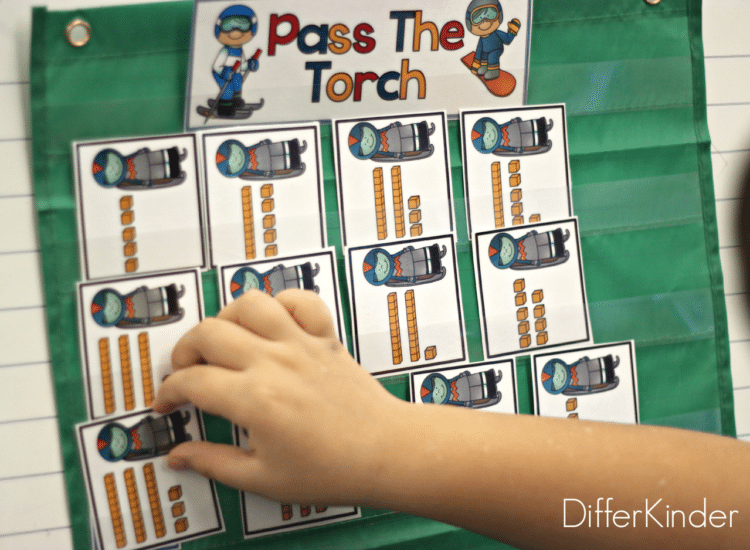 You can check out all the Hide and Seek bundles I have below. You'll also find these games in my monthly math stations and word work stations as well. But of course, I would like you to have the opportunity to try these for free. I have linked to a blog post to this one where you will be able to grab a number set and a letter set for FREE!!!! If you'd like to know more about these games, click on the pictures for more information in my blog store.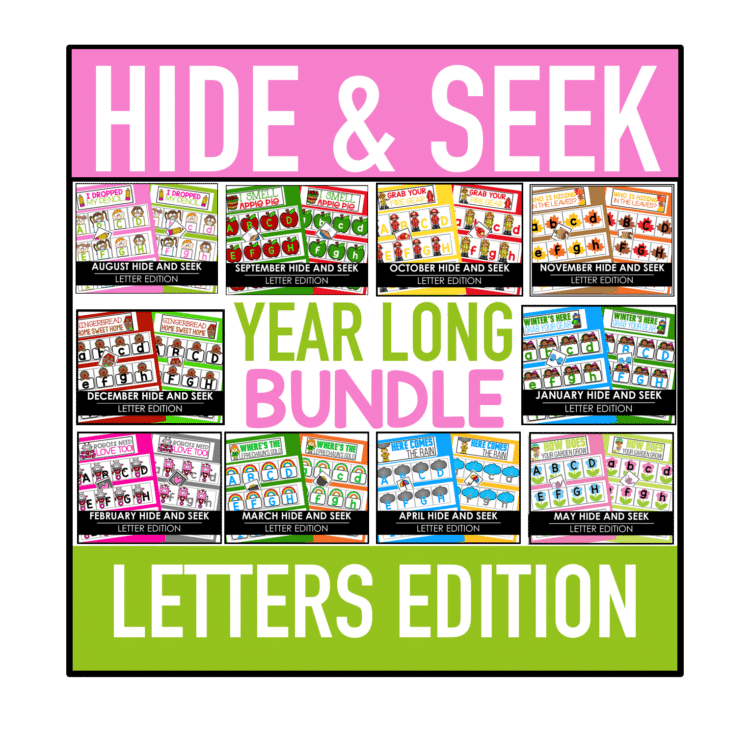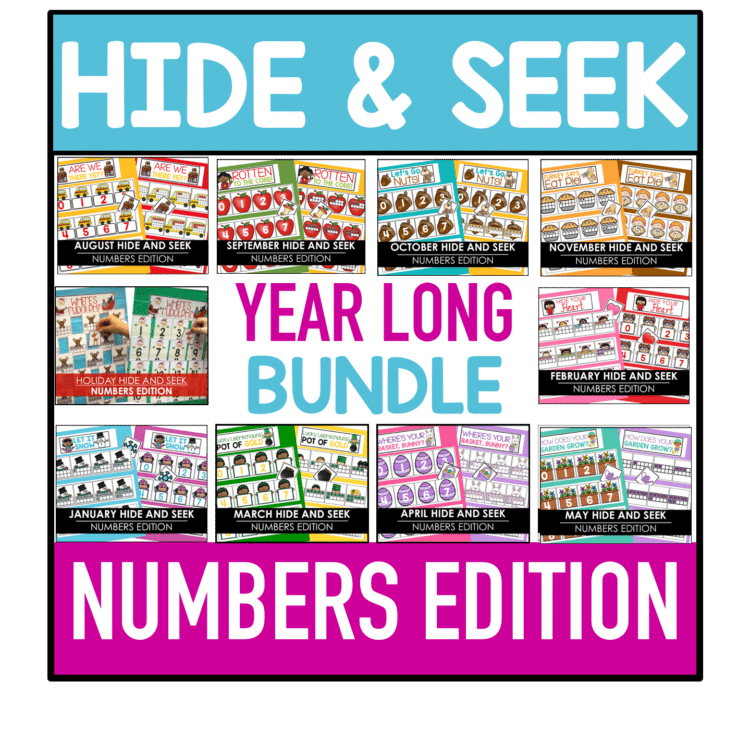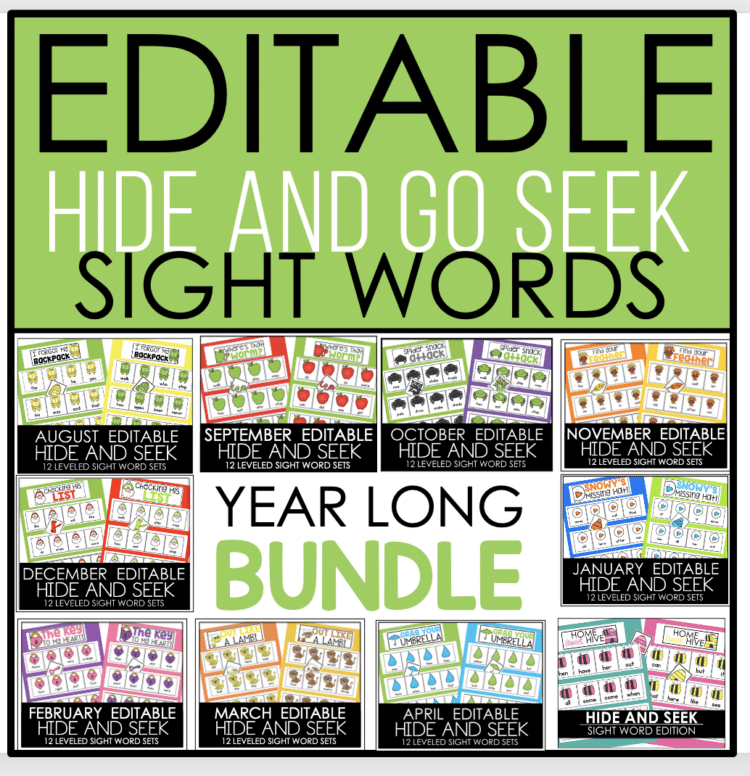 Try Them For Free
If you'd like to try the Free Letter edition, click on the picture below to take you to the blog where that is available.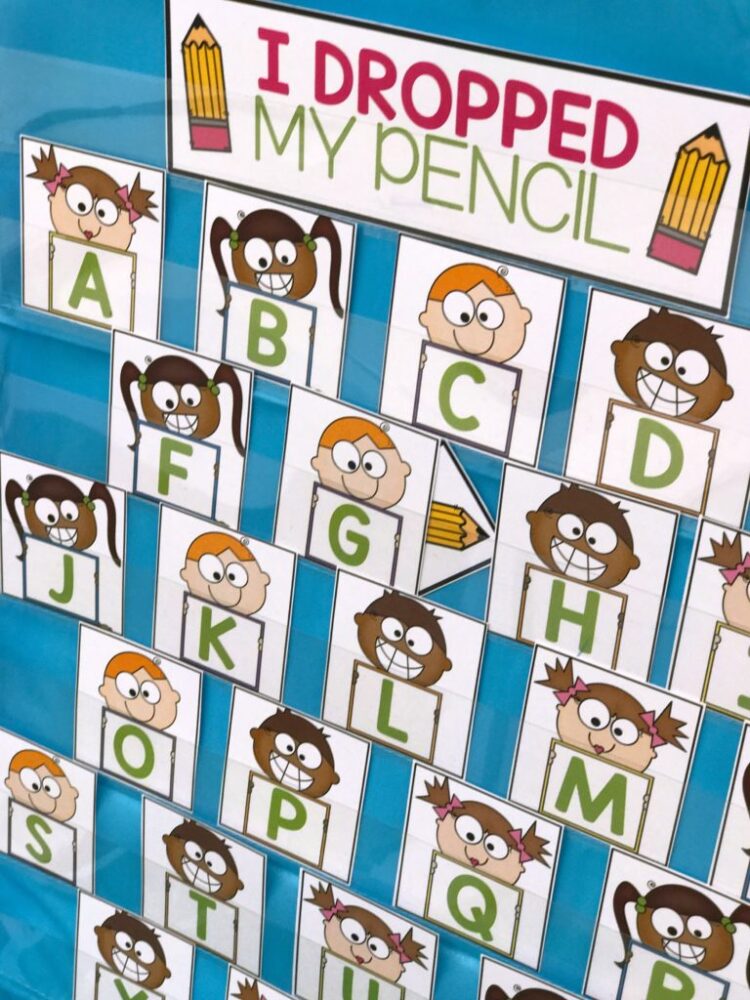 If you'd like this freebie, click on the picture below. It will take you to the blog post where you can grab it.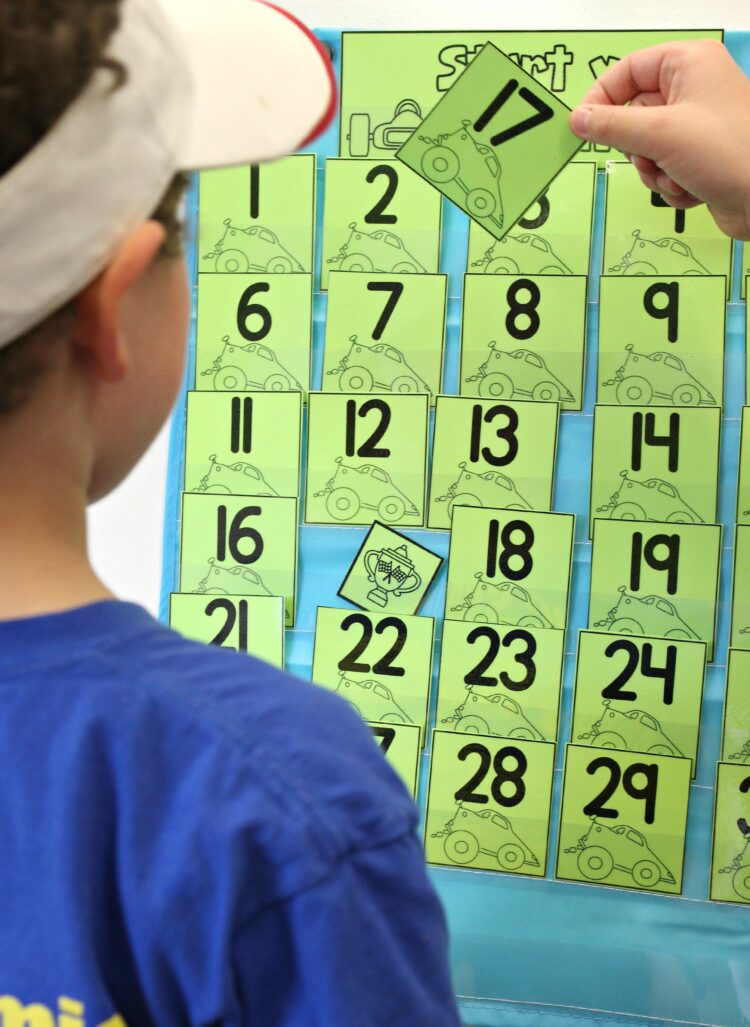 Pin It Please!
If you like what you see here, please consider sharing this pin with others!