St. Patrick's Day is just around the corner which means it's time to utilize some tried and true classroom games to keep learning fun and engaging throughout the holiday. Games are a huge motivator for students. In my own classroom, when there is a game available to play, I know my students are ALL IN. Plus, when students play games, their cognition and memory increase. These St. Patrick's Day Classroom Games for Kindergarten are an excellent way to help students practice ELA and math skills. Students have so much fun that they don't realize their learning. Check out this collection of some of my favorite St. Patrick's Day Games, see if they might be right for your classroom, and find out how you can try one for FREE.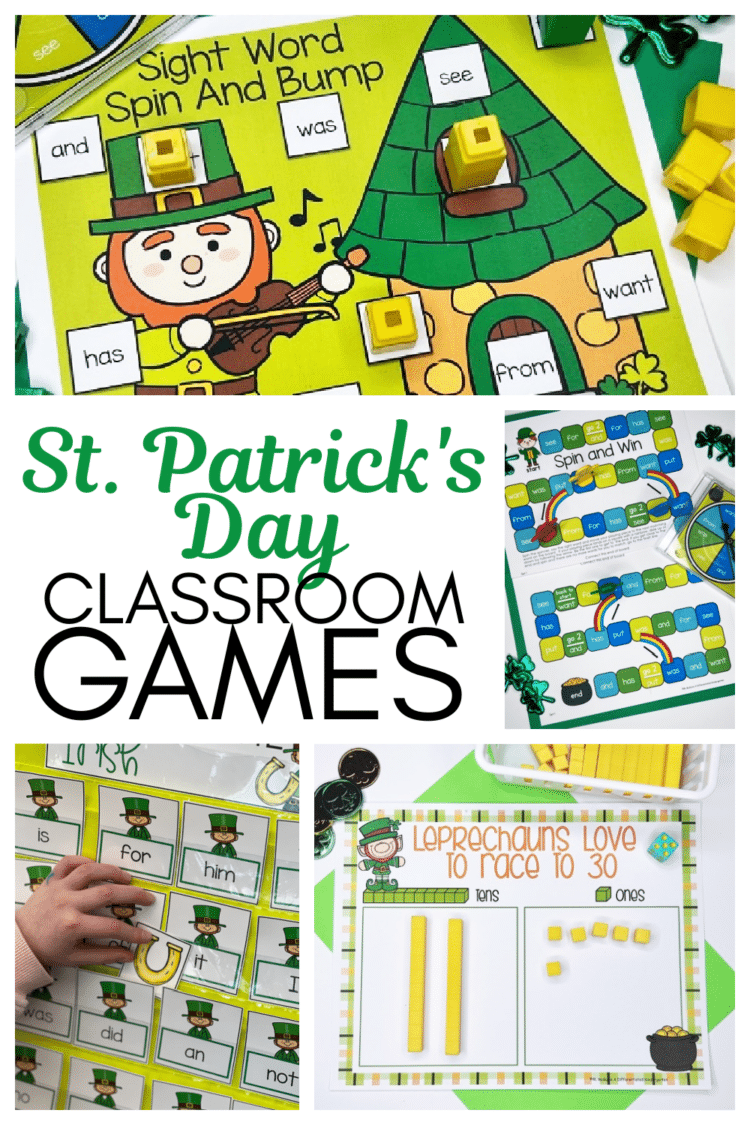 The St. Patrick's Day Classroom Games
These St. Patrick's Day Classroom Games for Kindergarten include games for whole-group learning. Whole group games are great for those times when you have a few minutes to kill before a special, recess, or lunch. There are also games for small groups that work great for math or ELA centers or for early finishers. Which is your favorite?
Grab The Gold – Whole Group
Editable

Sight Word Practice

Bringing St. Patrick's Day into the classroom is a great way to keep students engaged and motivated in March. With this Grab The Gold game, students have the opportunity to practice sight words and build fluency.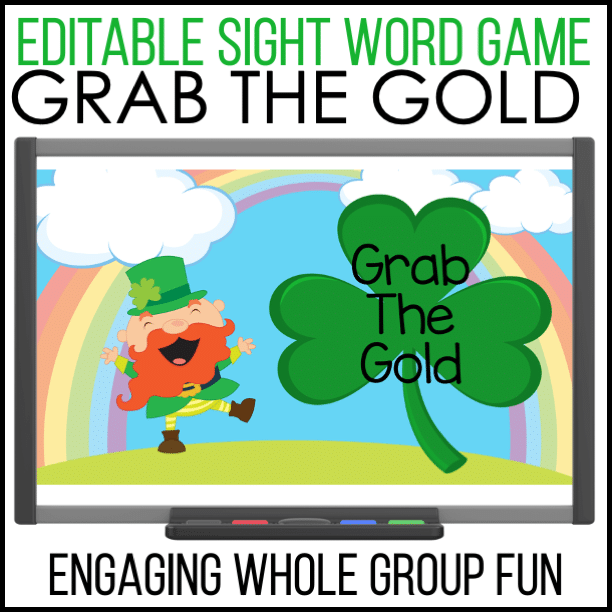 This classroom game has two teams competing to identify the word displayed on the slide. The first player to say the word correctly gets to take a piece of gold from the game pot. (I use plastic gold coins and a big plastic pot.) Along the way, they will find some special slides that make the game unpredictable – teams may get extra coins, have to empty their pot, or steal coins from their opponents.
Students love the competition of these types of games. I have similar math and sight word games for many holidays and seasons. They never seem to get old.
Find Your Mate Leprechaun Edition – Whole Group ELA Game
This is a fun and engaging whole-group ELA game that will get your students up and moving. Start by passing out cards to the students. They can look at the card and read the word or look at the picture, but they are not allowed to show anyone. Once all the cards are distributed, have students stand up. On your signal, the students will quickly move around the room trying to find the matching card for their own. When they find the match, they will sit down next to their 'mate.' We race as a class to see how fast they can complete this game and beat our previous best time! It's a perfect game when you have a few minutes and need your students to MOVE!
I also take the same cards and put them in my literacy center bins for students to play memory when they aren't being used for this whole group game. You have to love a multi-use game.
Spin To Win A Pot of Gold Math Fun – Math Center Game
This game is great for math centers. Each student draws a card from the pile and places it on their playing mat. The players have to identify the number on their card and compare it to their playing partner. Then one player spins the spinner and it determines if the player with the greater or lesser number wins. The winner gets to keep both cards. If you draw a 'pot of gold card' you automatically win! When all the cards are gone, you spin the spinner one more time to determine if the person with the greater number of cards or lesser number of cards is the overall winner.
Teacher Tip:
If you want a great way to add spinners to your classroom without the hassle of having students trying to hold a pencil and spin a paperclip in a do-it-yourself fashion, try hot gluing a transparent spinner to a CD case. It makes things so simple and it's easier for your students to manage. Find out how I do it and more details by checking out the video on THIS POST.
St. Patrick's Digraph Yatta – Sight Word Fluency Game
This game is NUMBER ONE in popularity in my classroom. It's perfect for literacy centers and it will build digraph fluency for your students. On the playing mat are a variety of digraph pictures. To play, a playing card with a word is turned over and the students rush to find the matching picture on the board. Whoever finds it first will touch the picture on the board and say "Yatta!" then identify the word. If they are correct, they keep the card. At the end of the game, the student with the most cards is the winner. It is highly addictive! Play it a few times with your students and they will be able to play it independently with ease, but be warned, they won't want to stop.
Race to Fill Your Leprechaun Hat
I love using these sweet little mini ping-pong balls and tongs to add some fun to this counting game. And how about these shamrock dice? Cute right? Well, it's super easy to differentiate this activity just by changing up the type of dice you offer your students. The leprechaun hats are from the Dollar Tree and make a perfect container to hold the balls that each player wins. I also use mini gold nuggets for this activity if you're interested. You can find them by shopping HERE.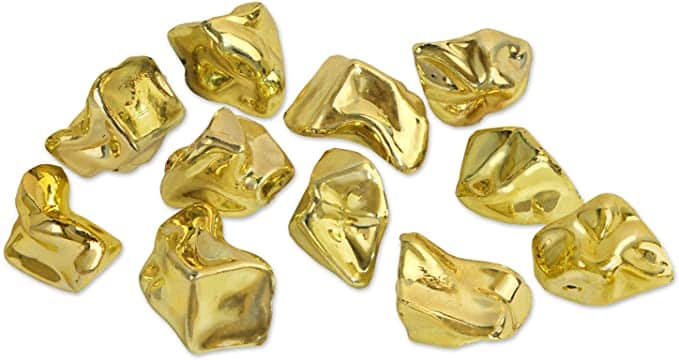 Roll, Say, Keep Shapes for St. Patrick's Day Game – Math Center Game
A great way for students to practice their 2D and 3D shape recognition skills, Roll, Say Keep will keep your students interested in identifying all kinds of shapes.
This game includes a playing mat with six spaces and cards that are placed on those spaces. Students will take turns rolling the dice and identifying the shape on the corresponding space. If they identify the shape correctly, they get to keep the card. If not, the card stays and the next player rolls. As cards are won, other cards will be placed on the board to keep play going. Additionally, there are special cards that will make students lose or earn more cards, and make game play fun and unpredictable.
Leprechauns Love To Race – Number Building Math Center Game
Building numbers with tens and ones math pieces can be a powerful learning tool. Put these tools in a game and it's a great way to build confidence with place value. Because it's differentiated, everyone is challenged at their own readiness level. They can race to 30, 50 or 100. No frustration and tons of fun.
Students use ten rods and one cubes to race to build numbers. They roll a die (or dice) and place that many ones cubes on their playing mat. The die then moves to the next player. As students continue to take turns rolling the die, they will get more and more cubes. Whenever they gather 10 cubes, they count those cubes out and trade them in for a ten rod. Play continues until someone reaches the goal number. Use different dice to further differentiate this game.
Spin and Spot a Pot – Editable Sight Word St. Patrick's Day Game
Let's face it if you're going to have St. Patrick's Day Games for Kindergarten that have sight words that don't line up to your curriculum isn't really very useful. That's why I always make my sight word games EDITABLE. This one is perfect for two players, or you could even use it as an independent activity for early finishers.
It's a super, fun way for students to practice reading sight words. You can play where two players share a sheet or have their own. Players take turns spinning the spinner, read the word, and then look for the word on their response sheet. They must read the sight word before they can 'dot' it on the sheet. When they find it, they dot it with a dotter. When playing with a friend, they can decide to play until one person gets 4 in a row or until their paper is filled. If a word is already dotted and they can not dot a space, they lose their turn. When playing alone, play until their paper is filled.
Spin, Read, Write, and Race To the Top – Editable Sight Word Game
Kindergarten students need LOTS of handwriting practice. This game will give them just that, but they won't even realize it. They'll be having too much fun.
To play, each student will need a paper with a graph printed on it. On their turn, they spin the spinner and read the word that the spinner lands on. Then they write the word in the box above the word printed on the graph. Students will continue to play until one column of words on the graph is completely filled. The object of the game is to be the first to get one of the columns filled. You can extend play by seeing who can fill the most columns before a timer runs out. You can also play until someone fills their entire paper. If you prefer, you can laminate these recording sheets, too.
Spin and Win St. Patrick's Game Board Fun – Editable Sight Words
When you are selecting classroom games, remember that board games are particularly fun for young learners. This one will keep your students racing to the end to be the winner.
You'll want to provide each player with a playing piece. I use game pieces from old games discarded, snap cubes, buttons, or whatever I can find. To play, students take turns spinning the spinner, reading the word, and moving their playing piece to the next word on the board that matches the one they landed on. If they land on a square that has a 'slide' on it (rainbow), they must either move up or down as the arrow indicates. Keep playing until someone reaches the pot of gold at the end!
Leprechaun Sight Word Bump
Bump games are one of the many classroom games that have been around forever, but they are usually played with dice. This one will give students the opportunity to practice sight words instead.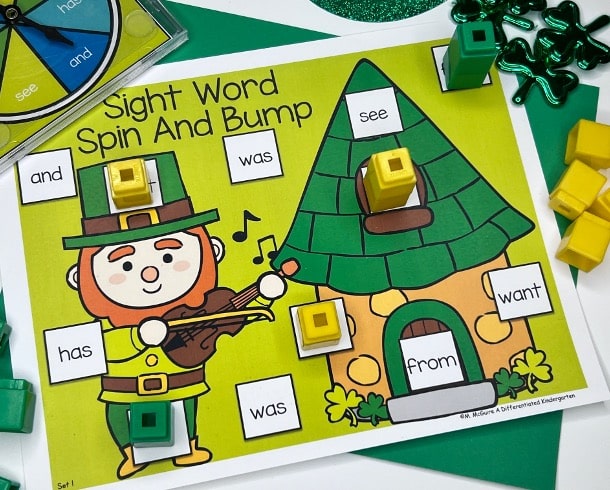 Sight Word Bump is a perfect game for sight word practice. To play, make sure each student has several snap cubes of one color. These pieces will identify the spaces they acquire throughout the game, so they need to be different from the other players.
A student will spin the spinner and read the word, if they read it correctly, they are able to search the 'bump' board for a square with the matching word. If the square is empty, they will place one snap cube on it. When the space is already taken by another player and marked with only one snap cube, then they can 'bump' that player's piece off and place their own on that spot. If the student has already placed one snap cube on the space, they can place one more to make the space 'safe.' Two stacked snap cubes can not be 'bumped.' When all the spaces are filled or when time runs out, the student with the most snap cubes in play wins.
You can also play with a limited number of snap cubes and decide that the player that uses up their snap cubes first is the winner. Bumping your opponents is so fun and gives students the opportunity to practice being good 'losers' and good 'winners.'
'Tricked Ya' Editable Sight Word Game
Similar to 'zapped' or many other 'pick and read' type games, this game has students reading sight word cards correctly while attempting to avoid any 'tricked ya' cards.
Luck of the Irish Hide and Seek Words
Keep this game up the entire month. It's perfect for earlier finishers, literacy centers, or whole group when you have a few extra moments in the day.
Hide and Seek requires students to read sight words in order to find a hidden playing piece. To begin, place a set of sight word cards in a pocket chart. One student takes the small hiding piece and places it behind one of the sight word cards while the other students turn their backs and hide their eyes. Once the card is hidden, students can then turn back and take turns indicating which card they believe the playing piece is hidden behind by reading the sight word. If they find the hiding piece behind the card they identified, they get to hide it next. If they guess incorrectly, it becomes someone else's turn. Somehow, my students never tire of this game. I have a couple of different versions going for literacy and math at any given time. It's so easy, they can play this independently.
Why We Need Classroom Games!
While gameplay isn't meant to teach new skills, it is so valuable for giving students the opportunity to practice and master the skills they are learning. We know that students learn more than they are playing games and their motivation for learning also increases, so why wouldn't we want to include them whenever we can?
If you'd like to include some fun St. Patrick's Day Classroom Games in your own classroom, just click on any of the pictures above to get started.
PIN IT
If you enjoyed this blog post, please consider pinning it so other teachers can see it, too