Before I talk to you a bit about how I tier my activities by color. I always think it's important to preface things with a little review. Some of you have seen some of this so you can just skip over this first part. I never know who is going to stumble upon my differentiated ramblings without having ever seen my previous posts. So, that being said, bear with me for a moment…

When we tier, we are address a student's level of readiness. Readiness is meeting your students where they are. It's recognizing what they know and what their abilities are NOW. Optimal learning takes place when a student is moderately challenged. It provides the means for reinforcement or enrichment depending on the student's mastery of the concept. When a student is neither frustrated from too complex tasks nor bored from too simple tasks, they are more likely to be motivated and feel successful. Too much challenge and a learner will feel frustrated and shut down. Too little challenge and the learner becomes bored. Both situations usually end up in some kind of behavior problem. (I don't know about you, but I do EVERYTHING in my power to avoid THAT.) Brain research tells us that optimal learning takes place when a child is moderately challenged and when the outcome is just beyond the learner's ability.
•Task should be based on an essential concept or skill.
•Levels should be driven by ongoing assessment.
•Utilize various materials and different levels of complexity as wells as learning profiles.
•Regardless of level, tasks should all be meaningful and interesting.
**I like to have these guidelines near me when I'm tiering just to assure I'm on the right track
.
Remember one of the guidelines for tiering is that your instruction is driven by ongoing assessment. You HAVE to know where you students ARE before you can decide how to tier an activity to their ability. You can't just guess. You really need to KNOW. That doesn't mean you spend a lot of time doing formal paper-pencil assessments. I do very little. But through observations…simple games . . . thumbs up thumbs down . . .formative assessments…I always have a very good understanding of the skills my students still need to master and where they are.

NOW YOU CAN START THE PROCESS OF PLANNING A TIERED LESSON
Steps for Tiering an activity:
Below you'll see the steps for tiering an activity along with a simple example.

And the example: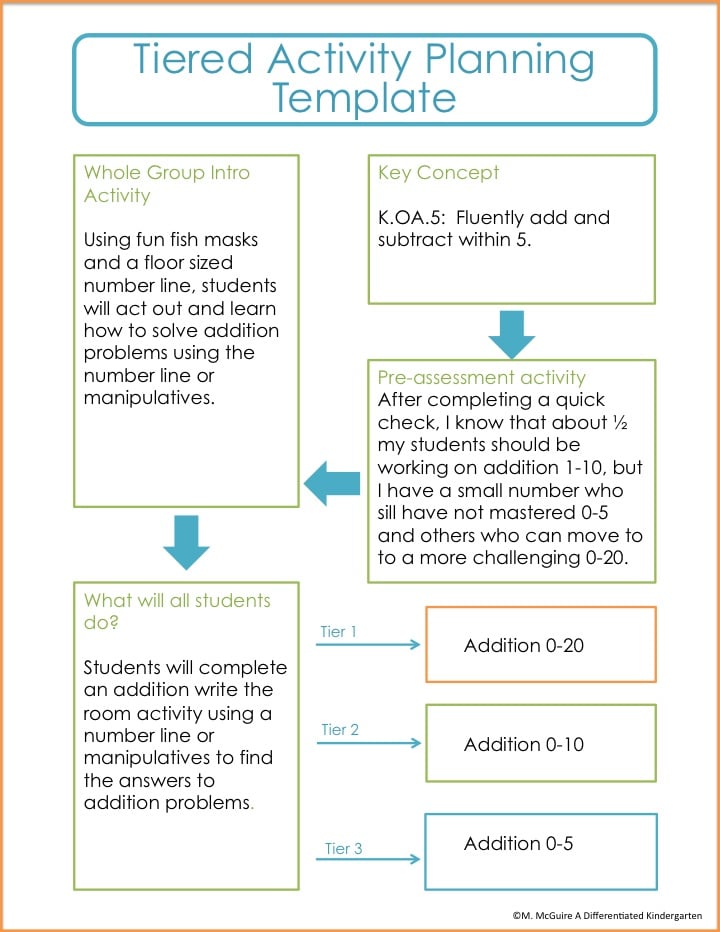 I have had so many people ask me for a blank one of these that I went ahead and made an editable one. It's not very practical to complete one of these for every center or station activity that you do, but actually going through it step by step for a couple of activities may help you get so that it becomes second nature when planning. (Click on the picture if you'd like an editable copy.)


So how does this translate into your lesson plans and eventually your stations? That is the 100,000 dollar question. And I'm going to show you with the Community Helpers Stations. Now I want to preface this a bit because, if these are your first math stations to be used in the school year, of course, you are not going to tier them UNTIL you have had a chance to assess your students. Right? These my Back To School stations are used before these and are designed to help your students become accustomed to the routines and procedures of math stations. That being the said, there will be those students that latch onto those basic routines easily and will be ready for the challenge of learning about the 'color' routine of tiered activities by the second time you go through the stations. For those students, this is how your lesson plans might look as you tier your math stations.


Now if you remember correctly, I have nine stations ready to go, but only 6 stations are being used at any given time. I have no more than four students at a station at a time. Each day that we do stations, we attend two. Each station lasts about 20 minutes. When the 20 minutes are up, we clean up and move to the next station. (Station numbers move down the pocket chart.


Inside each station drawer is an activity that may be tiered (or may not be because we don't tier EVERYTHING…). Remember to start with only a couple of tiered activities to begin with so your students can slowly get accustomed to the routine. My tiered levels are color coded: orange, green and blue. I've been fortunate enough to never have a problem having a child that was color blind or who could not differentiate between the colors (which would be a huge issue), but if I did, I could always tier by patterns (stripes, dots or chevrons) or shapes or whatever was available.
When a student goes to a station, they look in the drawer and, if the activity is tiered, there will be activities stored in a color coded container of some kind. I use poly folders to hold tiered materials and place a small colored sticker or piece of washi tape to indicate the color.




I also use colored pencil bags for smaller items. But really, you could just use a ziploc bag with a colored dot sticker and it would do the same trick.




How does a student know which activity they should use? All they have to do is look for their name tag. If their name is on an orange tag, they use the activity stored in an orange coded container. If they are on a green tag, they use green and so on.




Here's another important thing to note. All my name tags are laminated so that if I need to quickly change a student's tier I can do so by erasing their name for instance on a green tag and placing it on a blue instead.
The other thing is that all the same colored tags need not be in the same group. I never set my groups up for math based only on ability. I can have two colors in the same group although I do like to make sure that everyone has at least on partner with the same color for any partner games.
So for instance, if I had a group of students at the write the room station, even though they are all doing the same highly engaging activity(and desirable…kinders love to write the room), they are each doing it at their own level. Some may just be counting the items while others are counting the items AND then telling me the number that comes before and after.




So let's consider those guidelines again, and ask the important questions:
Were the tasks in my lesson plans based on an essential skill or concept?


Yep. They were all aligned to a common core standard with the exception of patterning. Here's where I am a bit of a rebel, because I think seeing and extending patterns are a precursor for so many other kinder skills that I will always have these kinds of activities at the beginning of the year.
Are the levels (tiers) based on on-going assessment?

They will be. I will use my Common Core Checklist data, observation notes and experiences to make sure all students are working at their readiness level.
Have I addressed different learning profiles and use various materials?




Hmmmm…I think I'm good here. What do you think?
Regardless of the level, are the tasks meaningful and engaging?
Yes. It wasn't just a matter of giving more work to a set of students because their readiness level was higher than others or less work to those who were not as ready. Nor did only the students who were more advanced able to do the 'fun' stations or vice versa. Levels were designed to extend learning while allowing all students to complete the same engaging tasks.
I hope this makes sense. It's always the one question I get over and over so I want to give everyone a little insight as to how I make it work for me. Make sure you leave me your thoughts. I'd love to hear other great ideas for organizing differentiated stations and centers.