It's been a minute since I've posted any new Morning Work Centers, but I have had so many requests for specific themes that I figured it was time to get started on that list. May I present, Morning Work Activities with a Pet Theme. Like always, I am going to show you each and every activity that is included in the set so you know exactly what is included. What makes these themed Morning Work Activities so nice is that you don't have to worry about students who don't celebrate certain holidays which may have been included in my Year Long Bundle.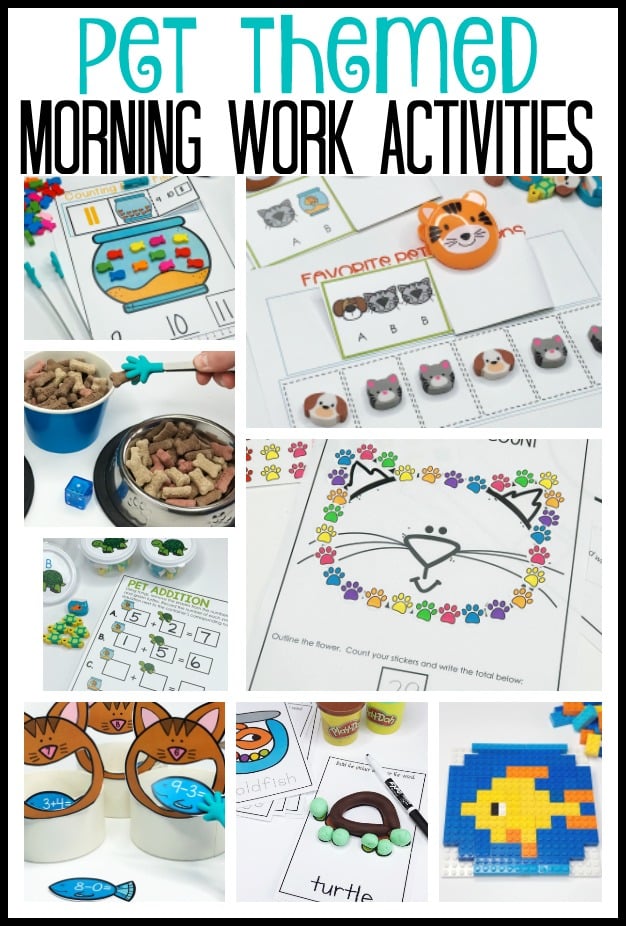 I can't wait to hear what you think of them. If you would like to know where I purchased any of the products used in these stations, I have added a product list after each activity with links that will take you to where I purchase the items. Just click HERE TO SEE SUPPLY DETAILS.
THE MORNING WORK ACTIVITIES
1. DOG GONE SIGHT WORD LINKS
These EDITABLE sight word dog bones and paw prints all students to practice their sight words while working their fingers by manipulating plastic links.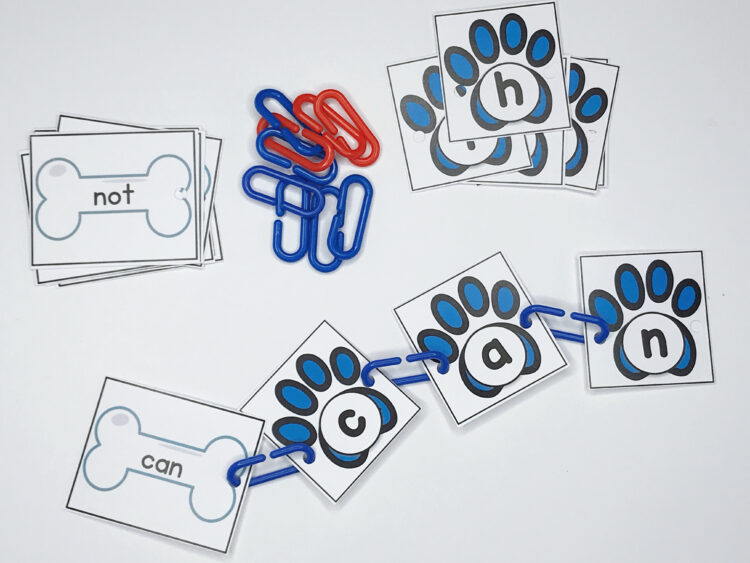 2. DOG GONE CVC SELF-CORRECTING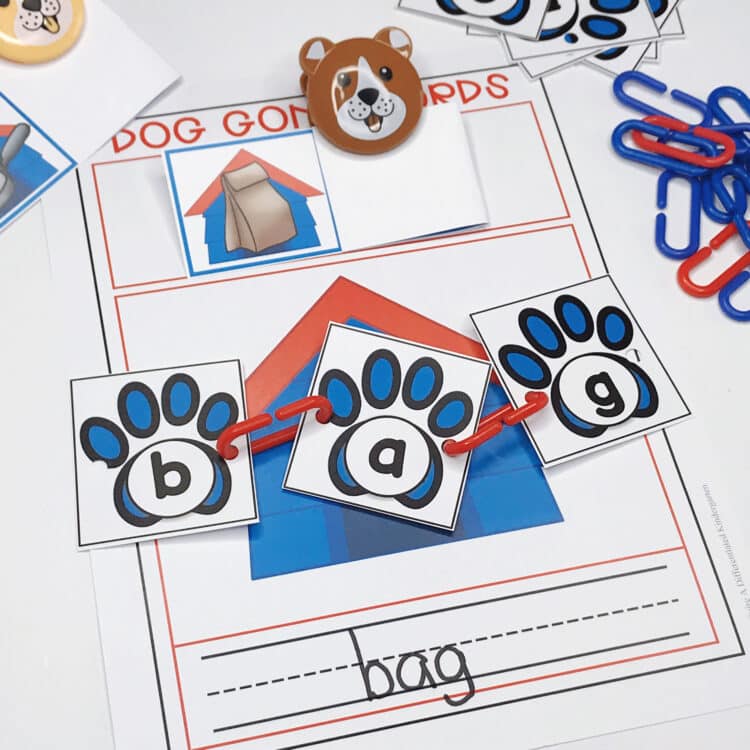 Use those same paw prints to link and produce CVC words shown on the self-correcting card. Once the word is build and written, students will open the card to find out if they did it correctly. I use a ton of self-correcting activities in morning work to make them independent so I can be getting ready for the morning and not micromanaging stations. These are perfect for that.
3. PRECIOUS PET LINKING NUMBERS AND QUANTITIES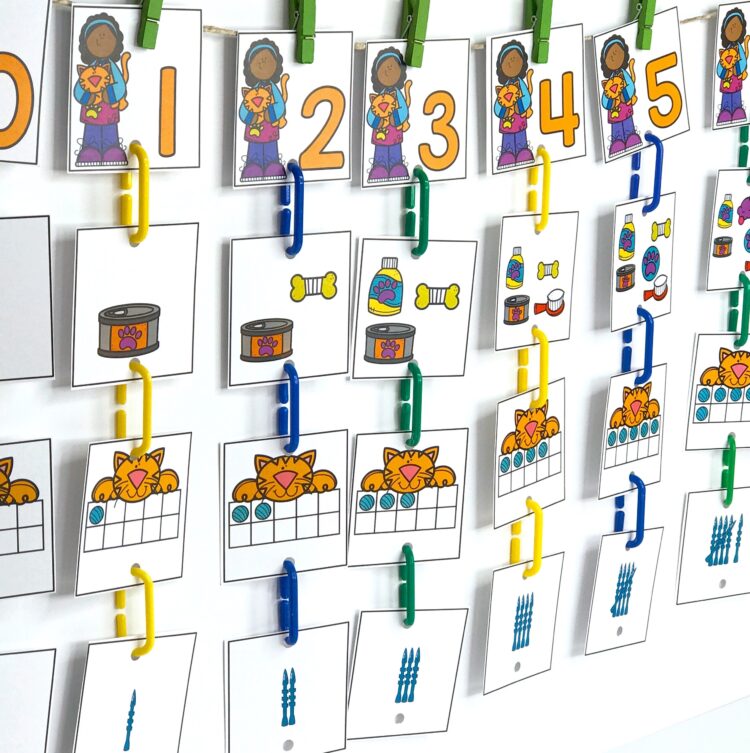 Throw these counting cards and numbers into a sensory bin or just place them in a basket. Students sort the cards and link them based on numbers and quantities.
4. LITTLE BIRDIE PLAY-DOH NUMBERS AND QUANTITIES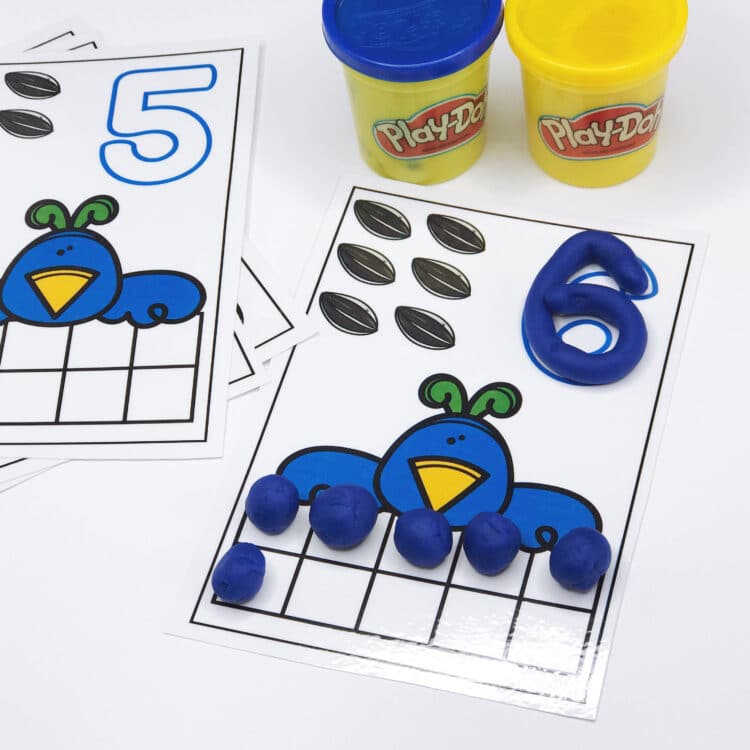 Play-doh is such a great tool for fine motor and our students need it so desperately. This activity has students using play-doh to create a number and then demonstrate the quantity.
5. LITTLE BIRDIE PLAY-DOH HOW MANY MORE TO MAKE TEN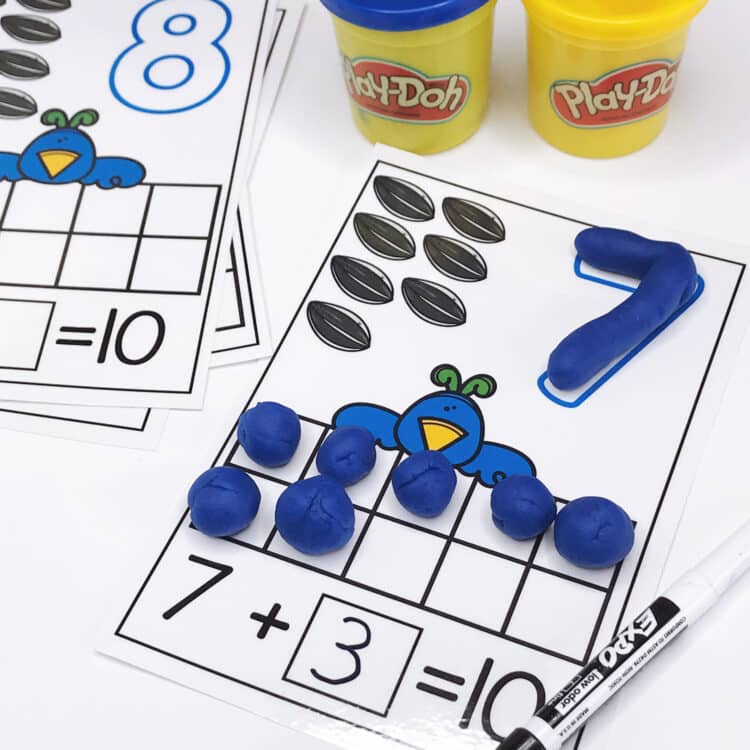 6. PLAY-DOH FILL THE FISHBOWL AND BUILD A BIRD MATS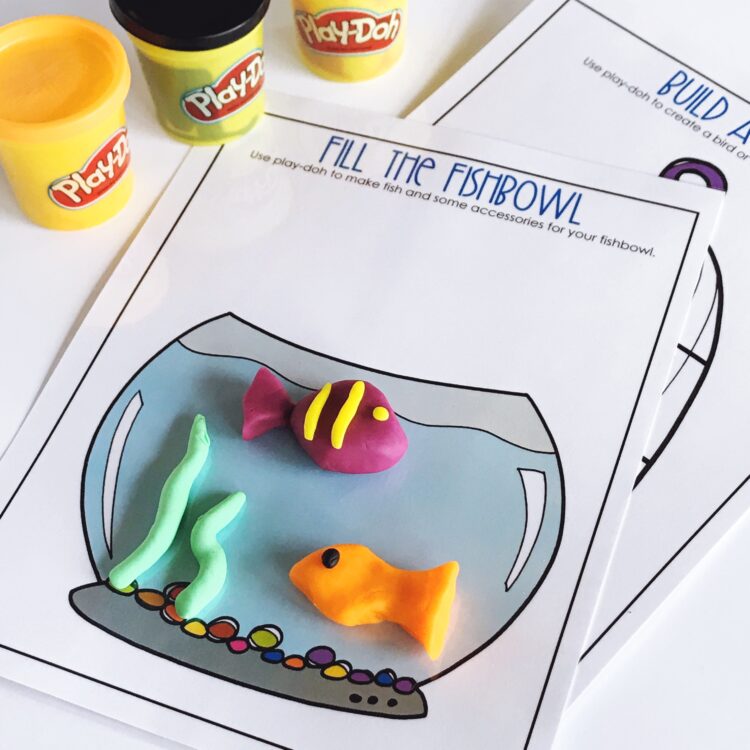 I find that, while my students love using play-doh, they sometimes need a little push for inspiration. These pads give them a place to start. Students use their imagination and their fingers to create fish and birds.
7. PET STORE FUN PLAYDOH ITEMS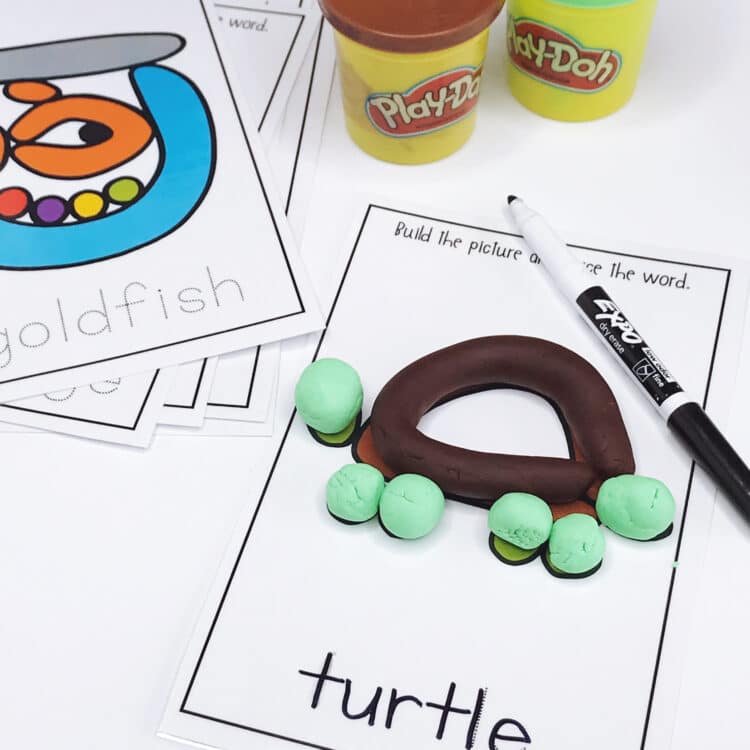 Have you notice how difficult it is for little ones to roll a play-doh snake. It just goes to show you how little strength they have in those hands. So, by having them make play-doh 'snakes' to create various pet items, they can work at building those little muscles and become stronger writers.
8. PET FUN Q-TIP PAINTING (CATS, GOLDFISH, BIRD AND SNAKE)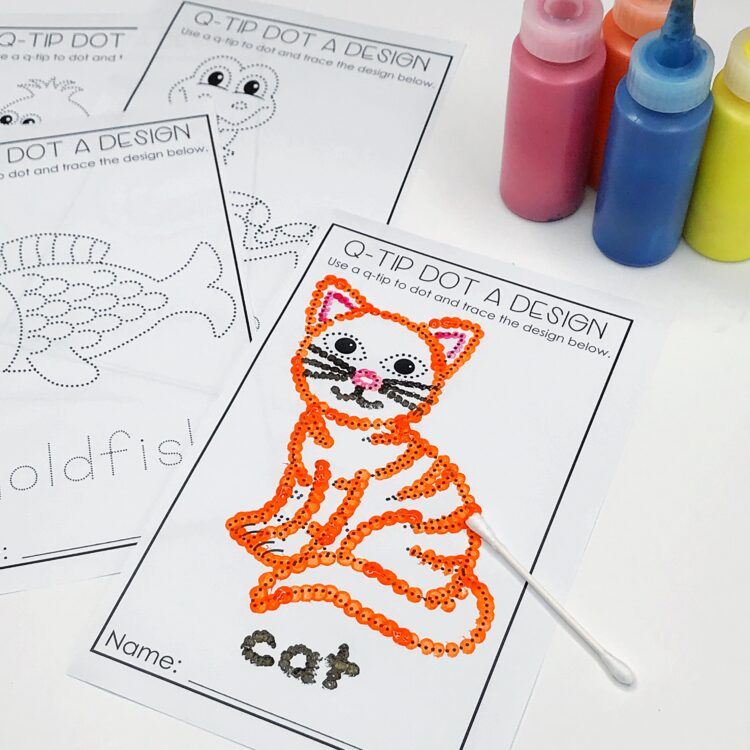 Always a favorite station and a way for me to reach my artistic, spatial learners, q-tip painting offers a variety of pages from which students can choose and create the image by dotting the lines with paint.
9. DIGGIN' UP BONES FIND AND GRAPH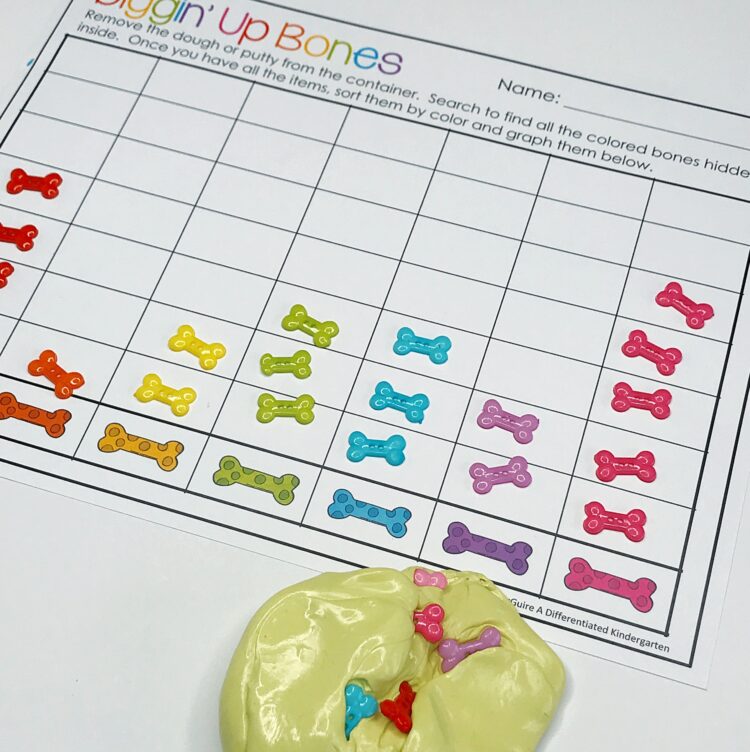 If you don't own therapy putty, this is a perfect time to give it a try. It's different than play-doh. It's what OT specialists use and comes in different strengths. I use it to hide buttons, beads, or whatever is small and will hide well and create a challenge for my students. This time it's little bone buttons. Students dig through the putty for the bones and graph them on the mat.
10. DIGGIN' UP BONES COLOR SORT, GRAPH, AND COUNT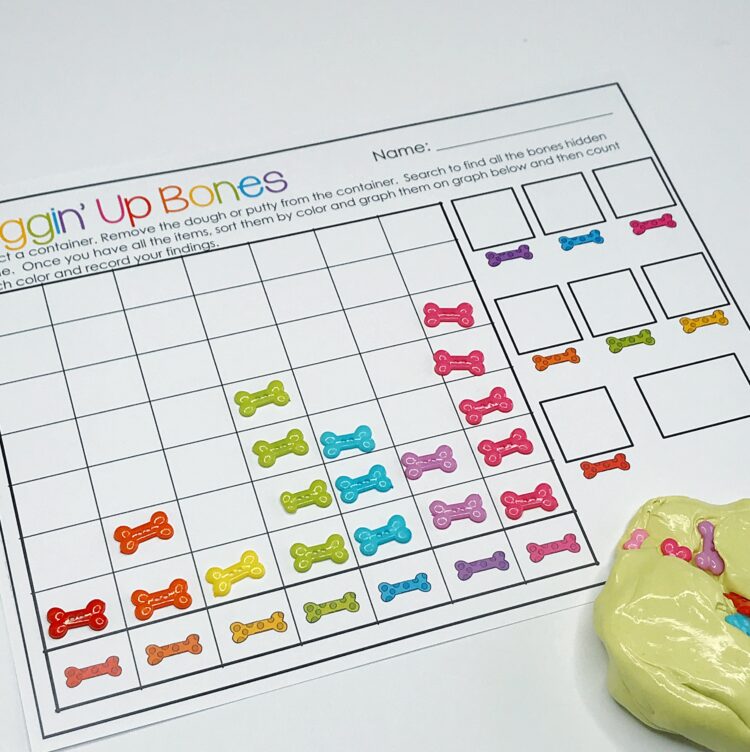 You can extend this activity for students who need a bit more challenge and have them count how many of each color they find.
11. COLLECTING DOG BONES – COUNTING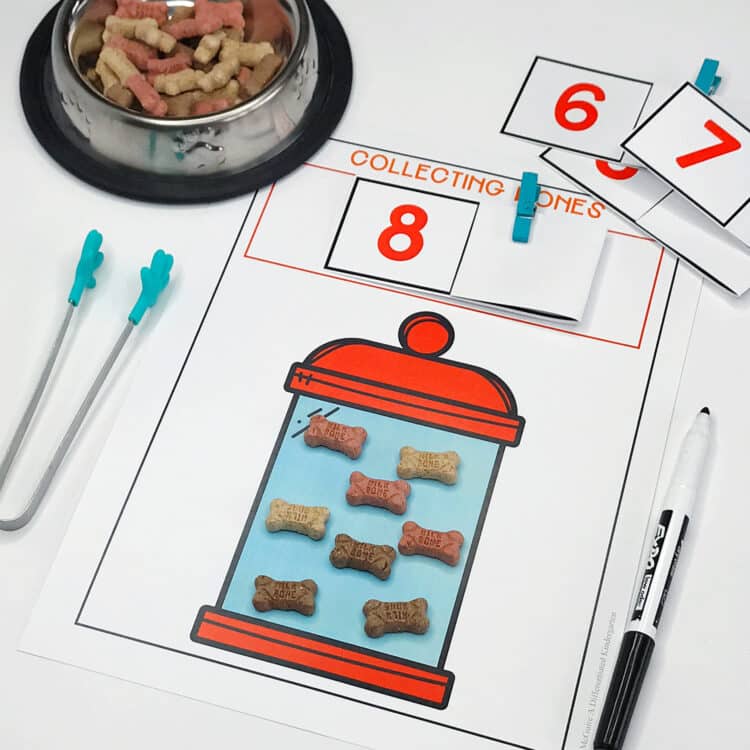 Miniature dog bones make a perfect little manipulative to 'do math.' In this station, students are simply counting to represent a number. They open the card after they have created the number and check to see if they are correct. Love that self-correcting, independent work.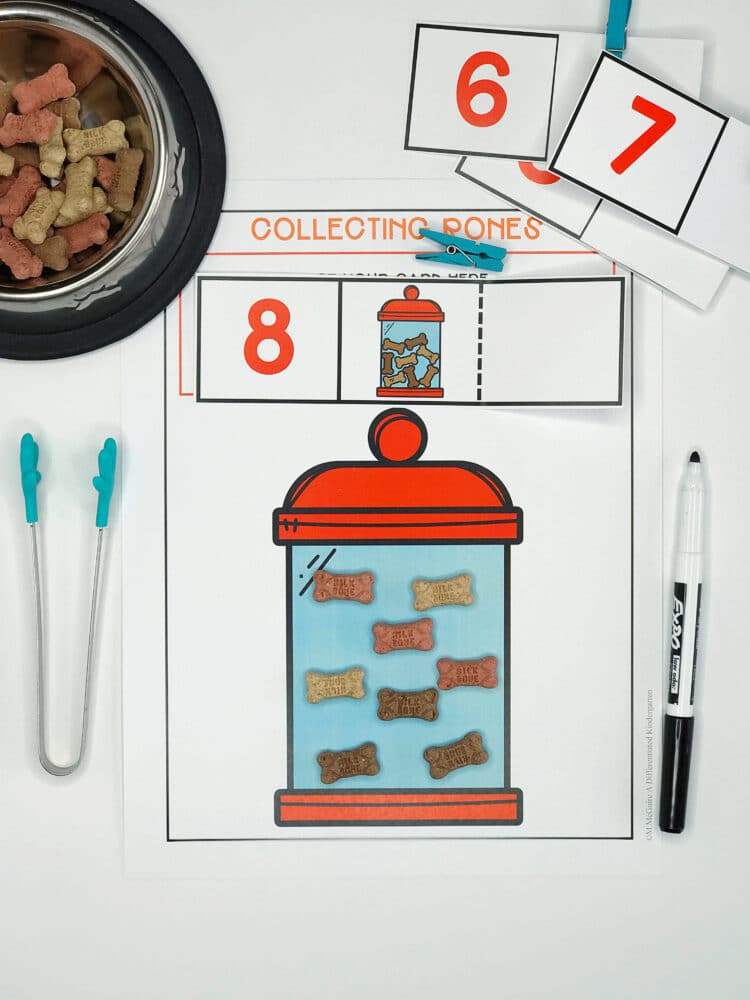 12. ONE MORE BONE – PLUS ONE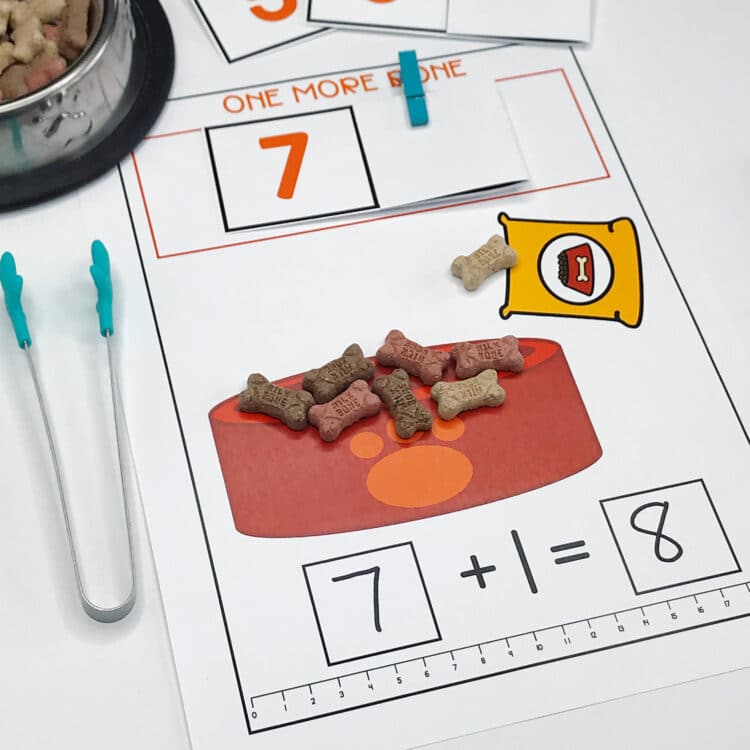 Using those same bones, students represent a number and use manipulatives to demonstrate one more and complete the equation. Self-correcting cards make it independent practice you can't beat.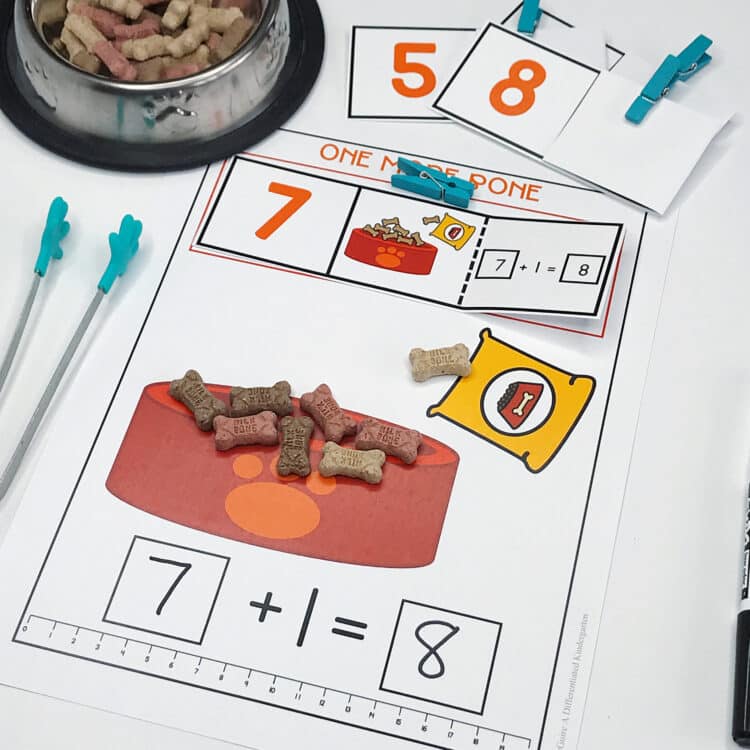 13. GIVE THE DOG A BONE – MINUS ONE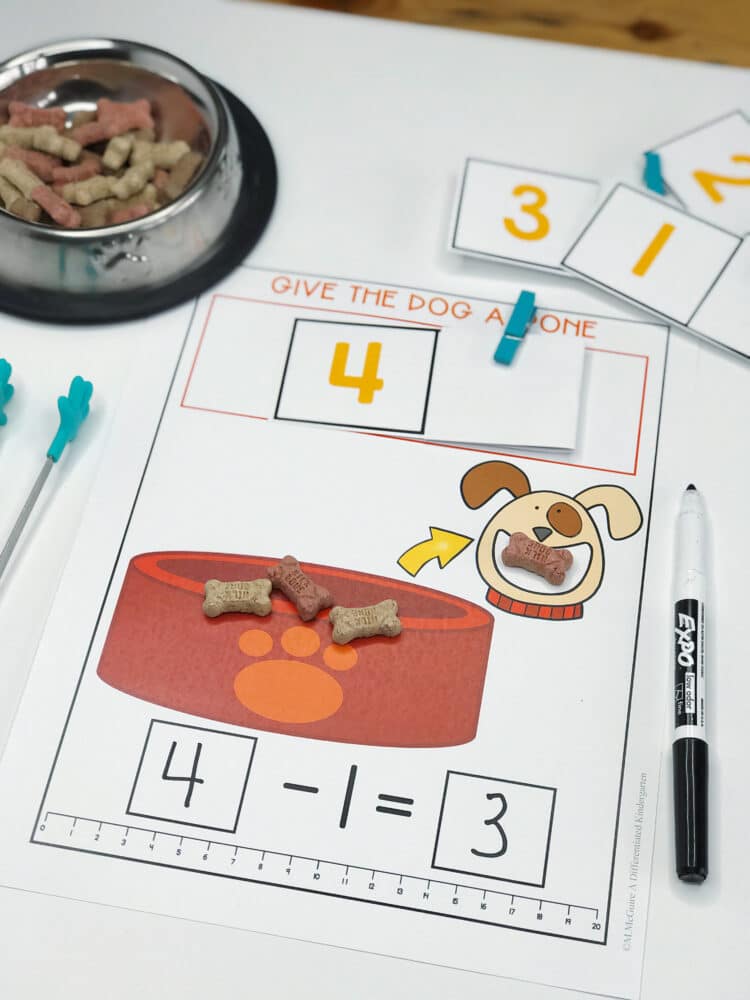 If they have already mastered, plus one, how about working on minus one. Students use those same bones and practice take away one equations.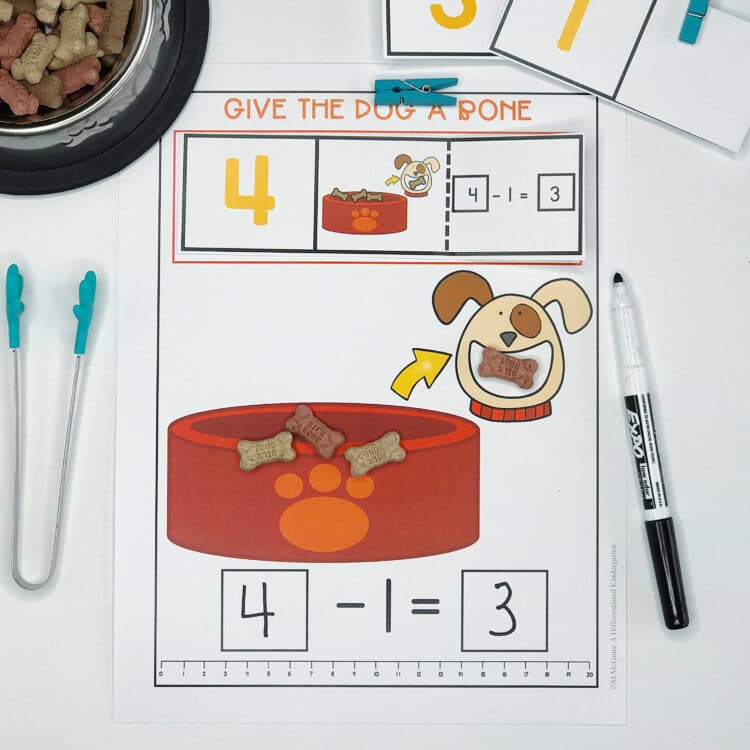 14. SPIN TO WIN PERFECT PAWS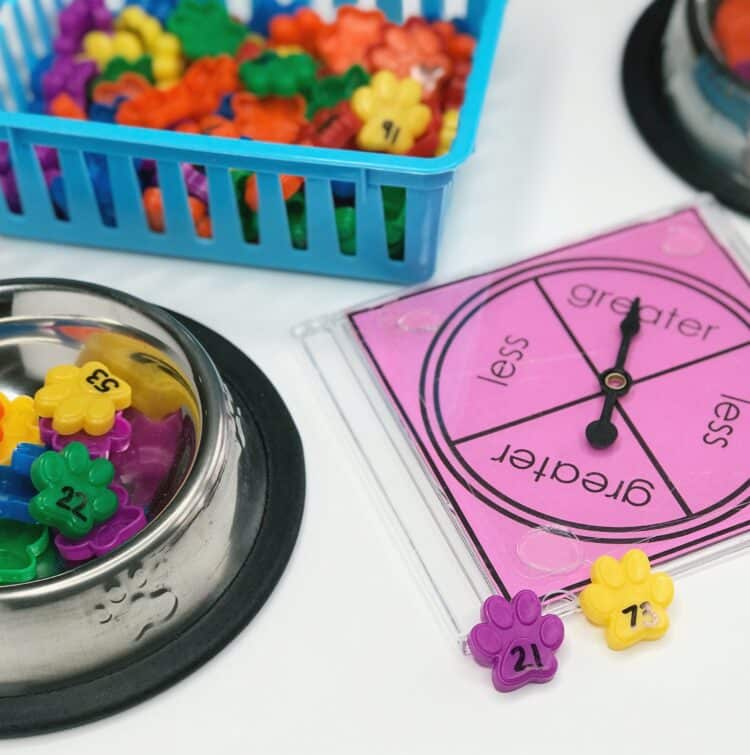 I found these plastic manipulative paw prints and just knew they would be a perfect game for this pet set. I simply wrote numbers with a sharpie on the front and placed them in a dish. Students each have their own small pet dish for collecting their winnings. Using a tong of some kind, students select a paw print and compare it to their partner. Then someone spins the spinner to determine if the greater or less than number is the winner. The winner collects both paw prints and places them in their dish. When all the paw prints are gone, students count up their paw prints and spin the spinner one last time to determine if the person with the greatest amount or least amount is the winner.
15. COUNTING ON FISH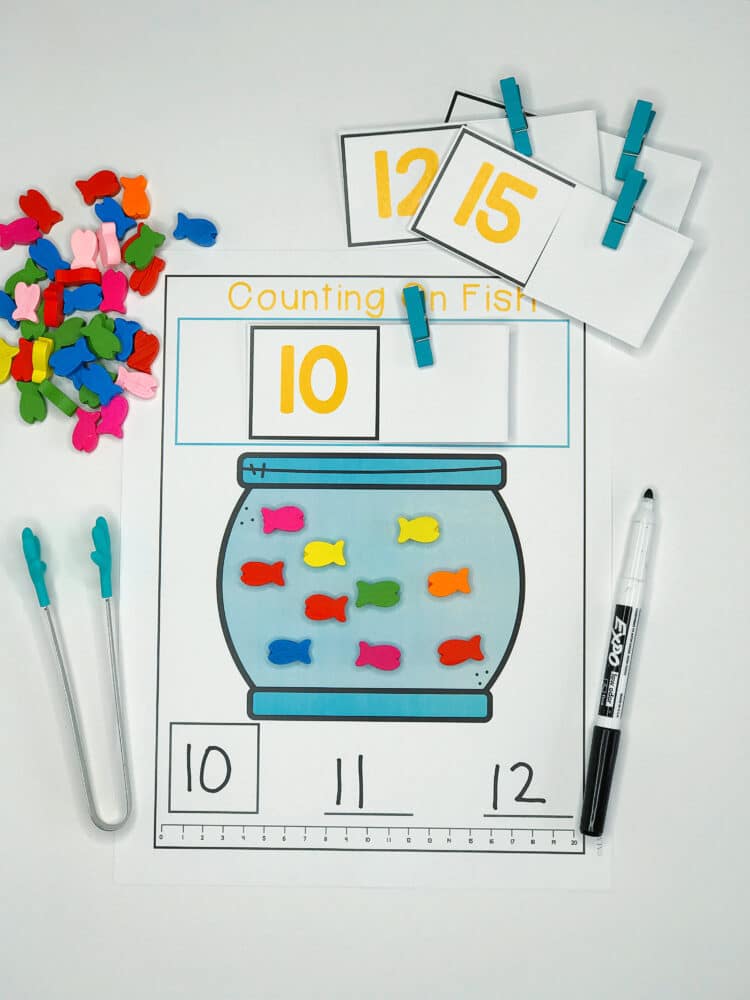 For this activity, you can use Swedish Fish, fish crackers, fish buttons or something like these little wooden beads that I have had for a while. Students make the number shown on the self-correcting card and then count on and write the numbers that come after. They will check their work when they are done by opening the self-correcting card.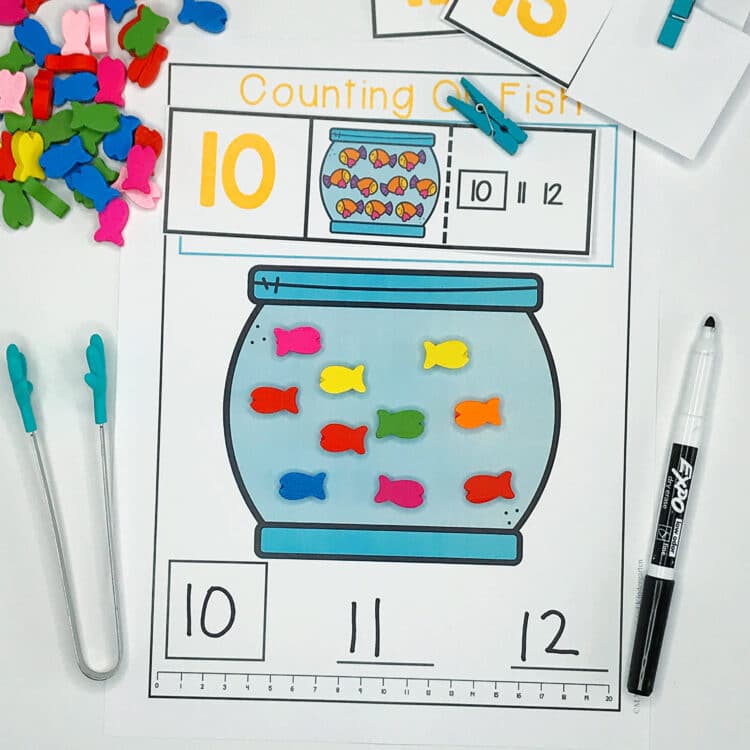 16. COUNTING BACK FISH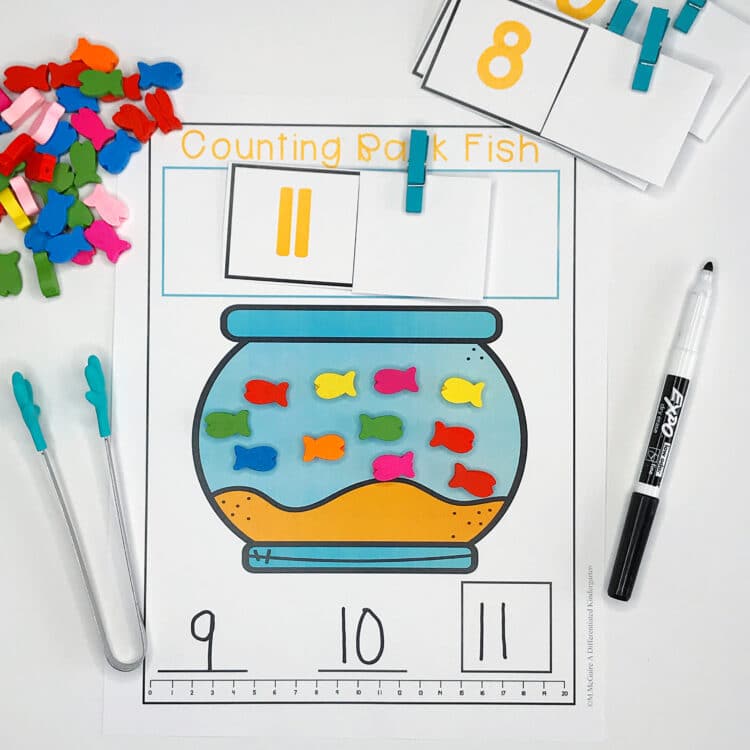 Same idea as Counting On Fish but his time they are counting back. This counting forward and backward numbers is going to be so helpful with adding and subtracting so we practice is a bunch.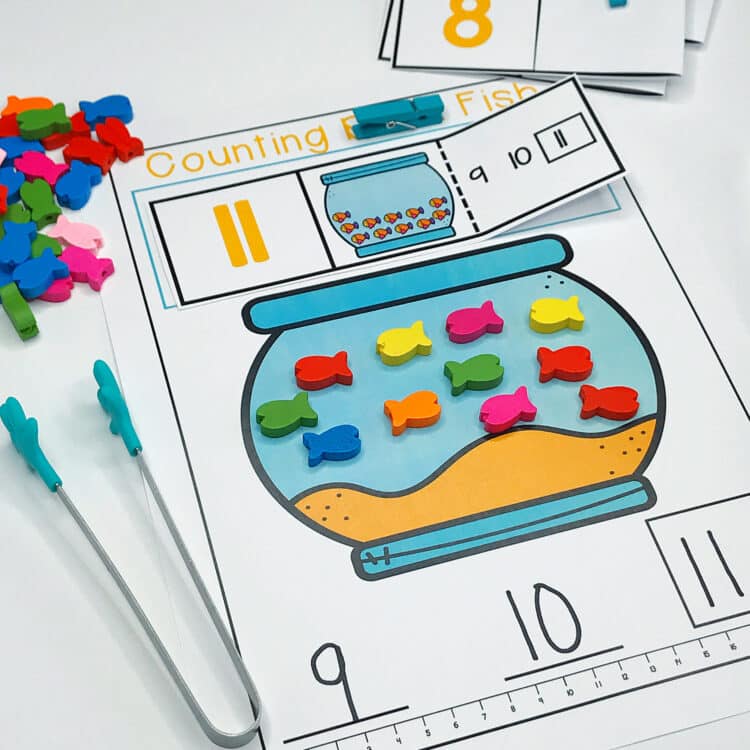 17. PLENTY OF PETS STICKER COUNT FUN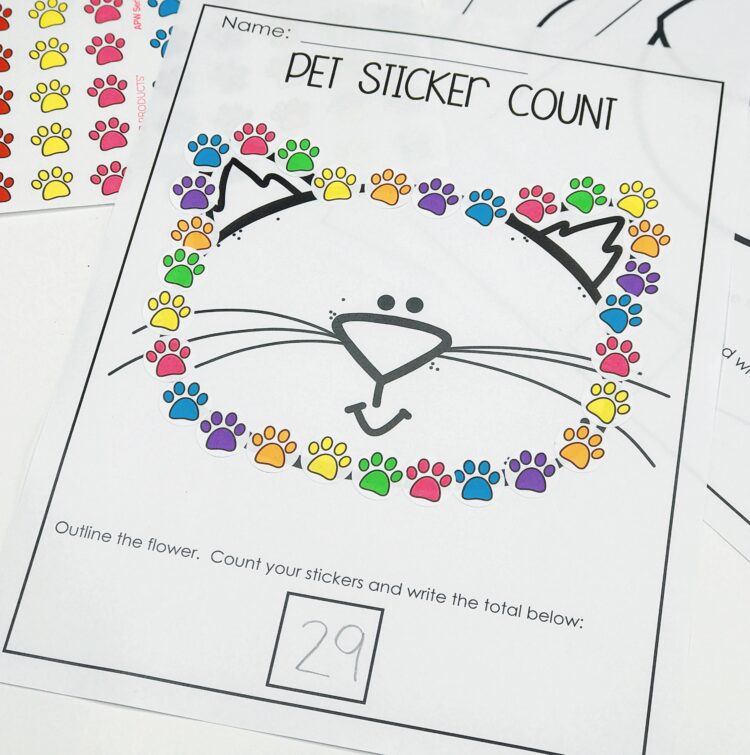 Stickers are naturally engaging for little folks and they are great for fine motor practice. With this activity, students use whatever stickers you have available and outline the picture. They then count how many stickers they used and record the number. I allow my students to color the picture after. They love it. I found these paw print stickers which are kind of perfect don't you think?
18. PET LEGO CHALLENGE: FISH, TURTLE, CAT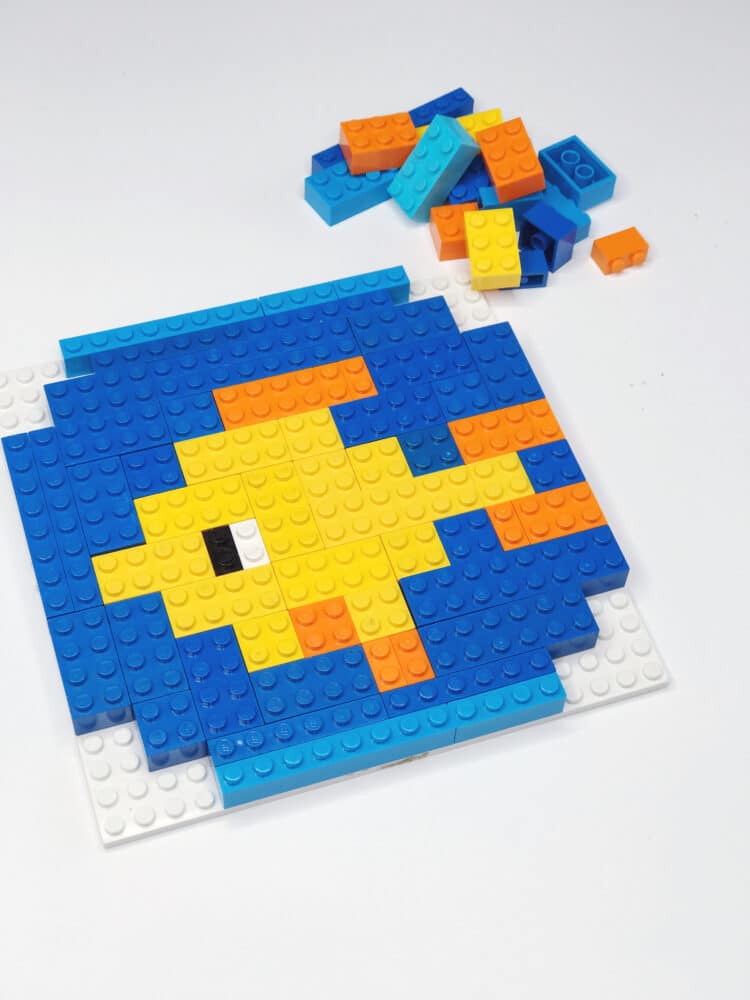 Students love using Legos but sometimes they need a little inspiration to get them started. These mats are great for doing that. I always encourage my students to do their best. It doesn't have to look exactly like the mat and they don't have to use the exact same colors. Sometimes they surprise themselves.
19. PURR-FECT PETS CONSTRUCTING LETTERS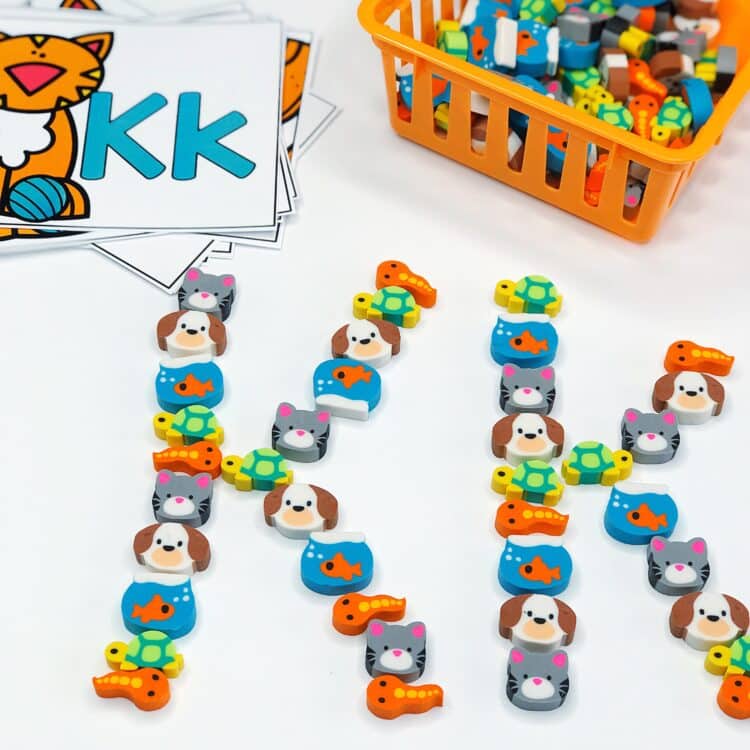 Mini erasers! How we love them. Am I right? These pet erasers are so perfect so many activities in their morning work set. They are from Oriental Trading but you can also get them from Amazon if you prefer. In this activity, students use the eraser to build letters shown on the cards.
20. PURR-FECT PETS CONSTRUCTING WORDS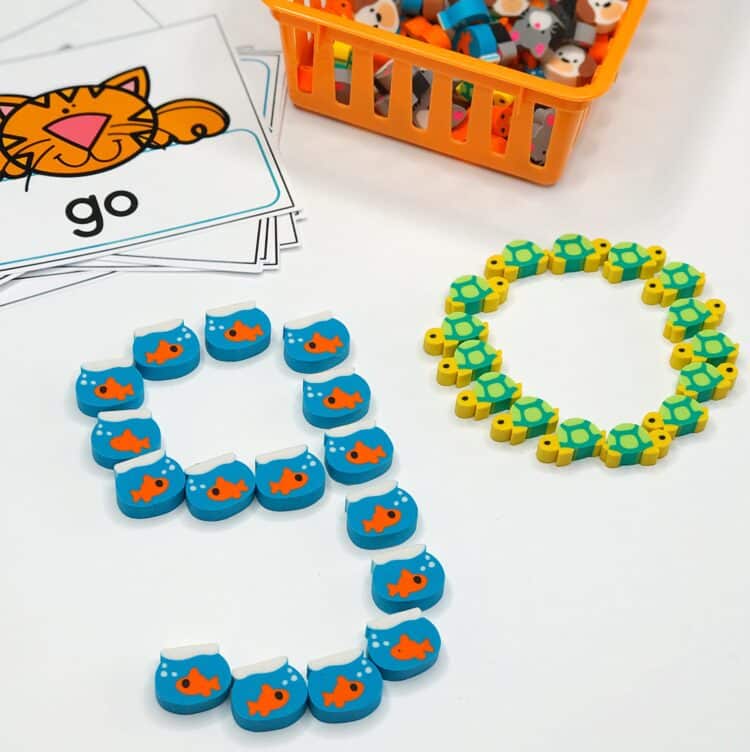 For students who have moved on from letters, use these EDITABLE sight word cards to practice creating sight words and reading them.
21. PET CARRIER COUNT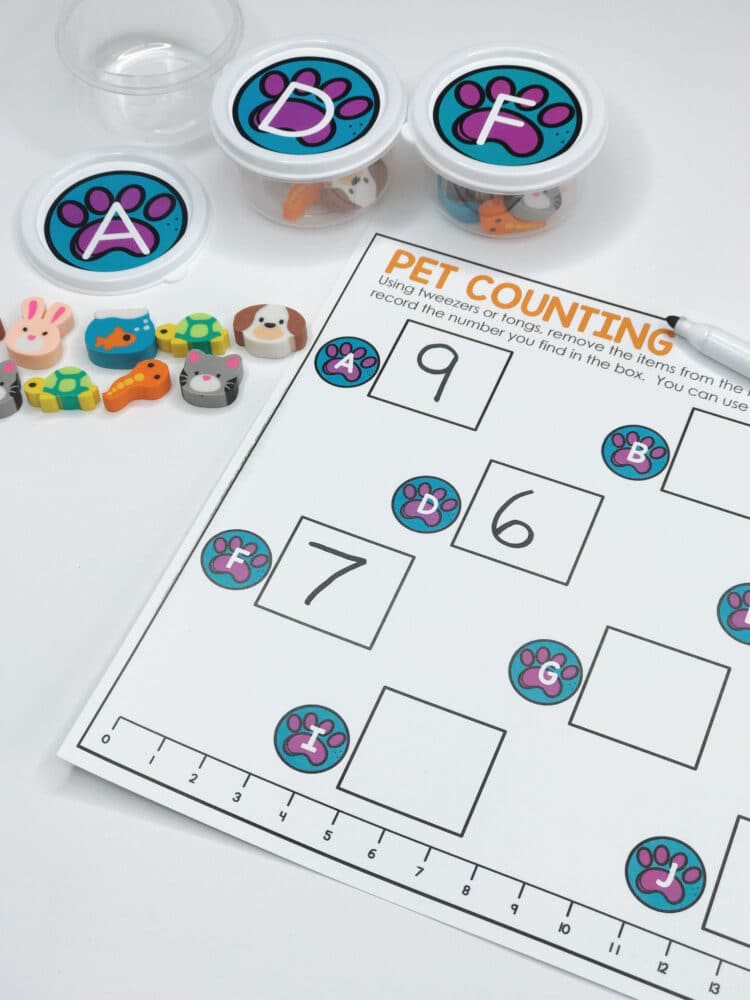 If you have used my morning work station activities in the past or have read my blog post about counting cups, you know how much I love using these little containers from the Dollar Tree. You can paint a label on with a little pet face or use the labels I've included in this set to label your cups. I've talked about these labels in the past when I posted about my counting cups. (You can see that post here.) You can get them in solid colors or printable sheets. It makes it pretty convenient. Students select a cup and count the number of erasers they find inside and then record the number on their recording mat next to the corresponding letter.
22. PET CARRIER ADDITION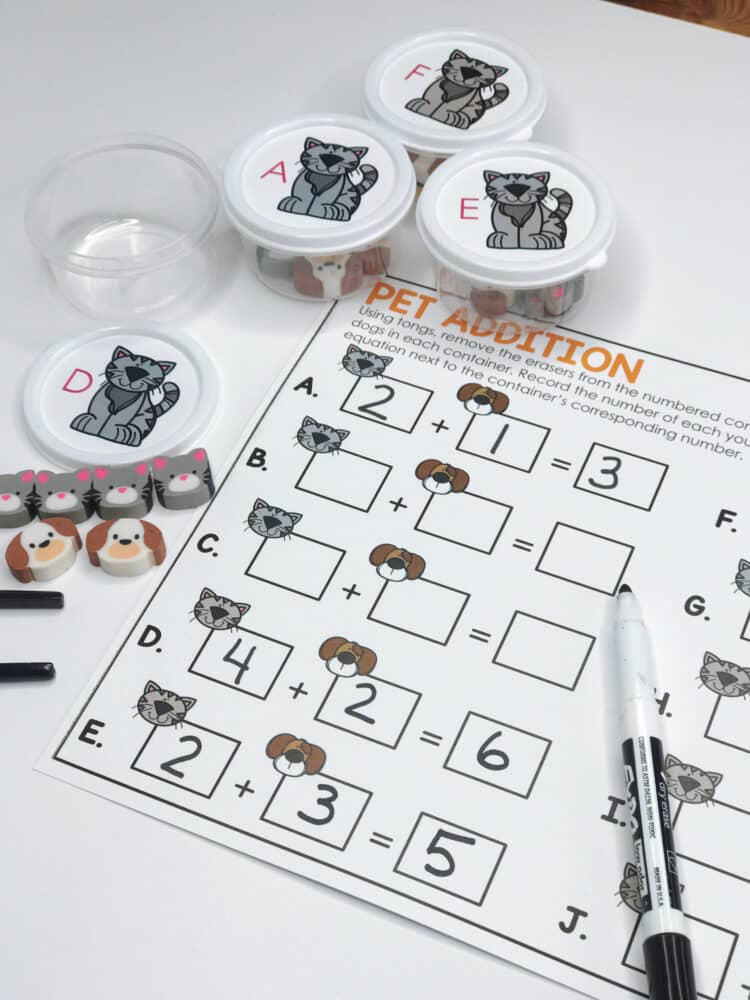 If your students are beyond counting, use two different kinds of erasers and have them practice addition. I have supplied two different recording sheets and two different labeling options so you can pick and choose.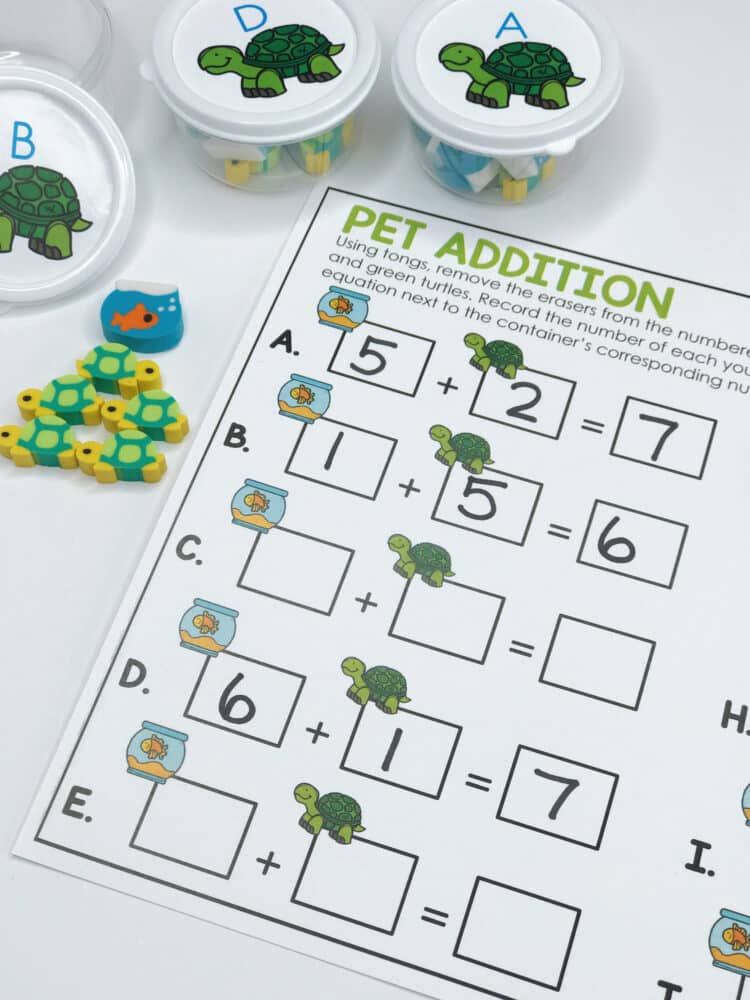 23. FISHY LOWERCASE/CAPITAL MATCHING PUZZLES
I love using a sensory tub whenever possible so I may have a couple going just in my morning stations. This is a great one because you will see it can easily be differentiated. This set has students matching capital letters to lowercase.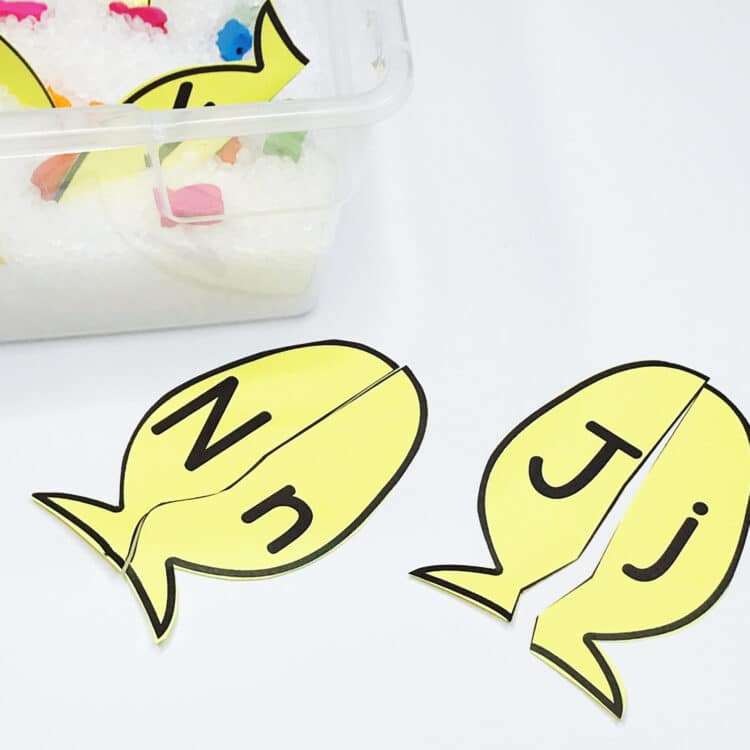 24. FISHY LETTER/SOUND MATCHING PUZZLES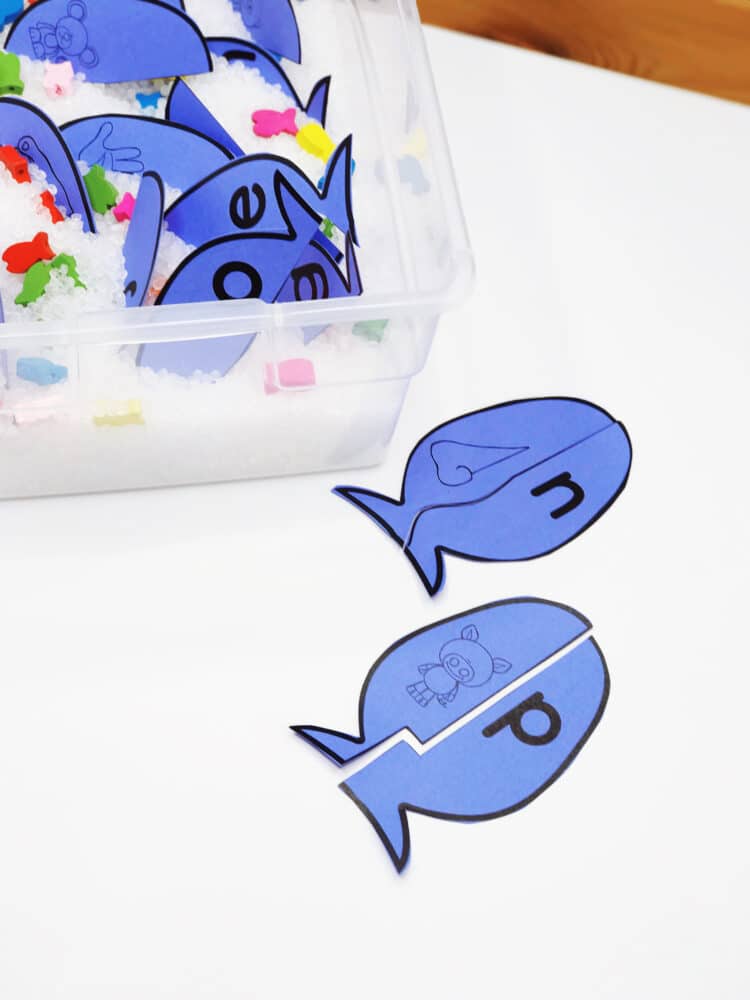 This set of cards has students matching letters and sounds.
25. FISHY CVC WORDS MATCHING PUZZLES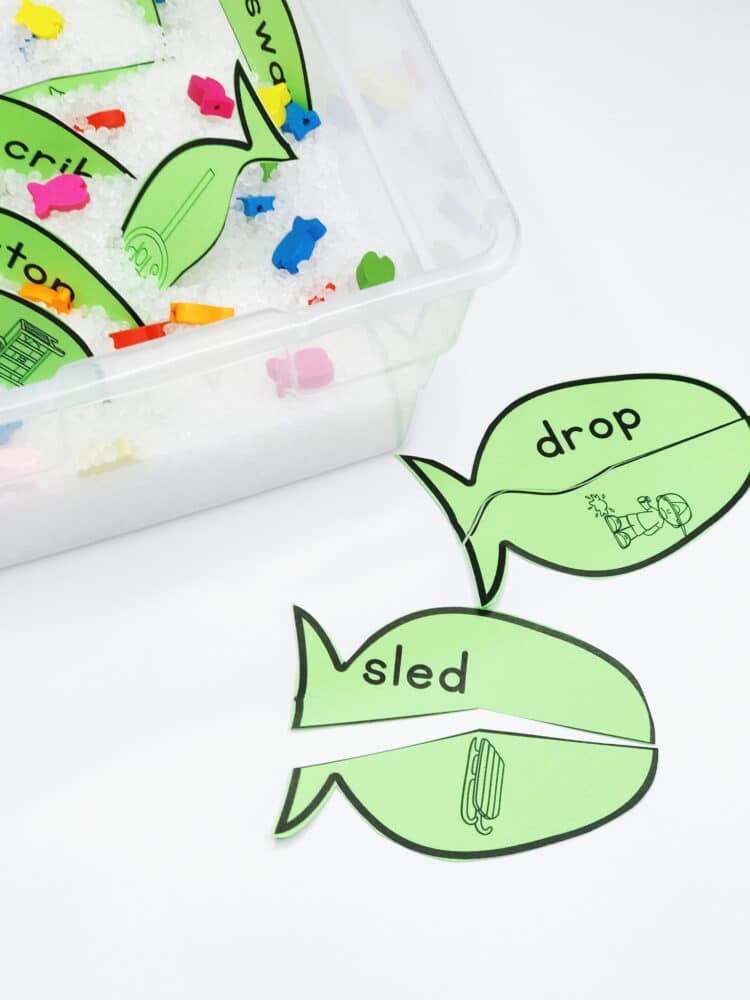 This set is matching CVC words and pictures.
26. FISHY BLENDS MATCHING PUZZLES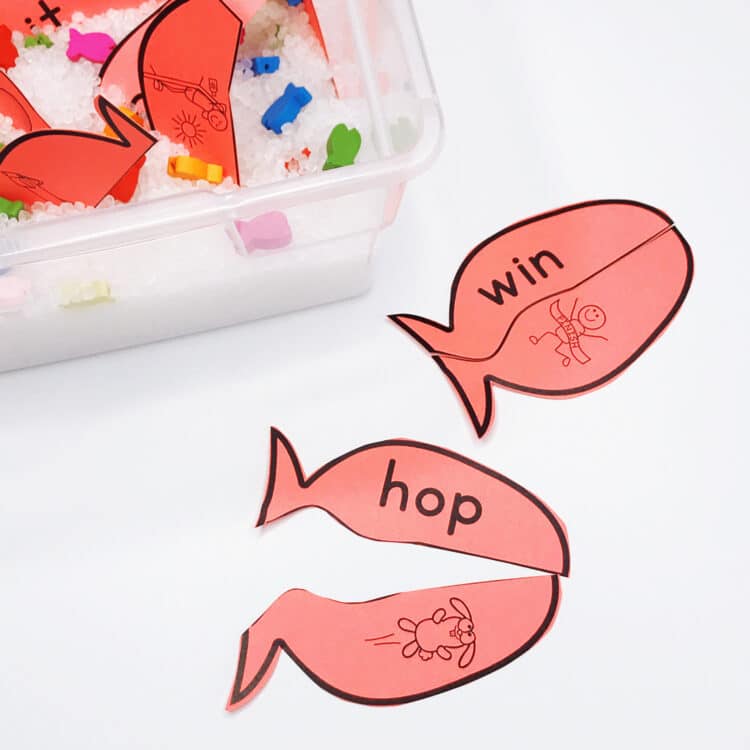 And this last set matches blends and pictures.
27. FAVORITE PET SELF-CORRECTING PATTERNS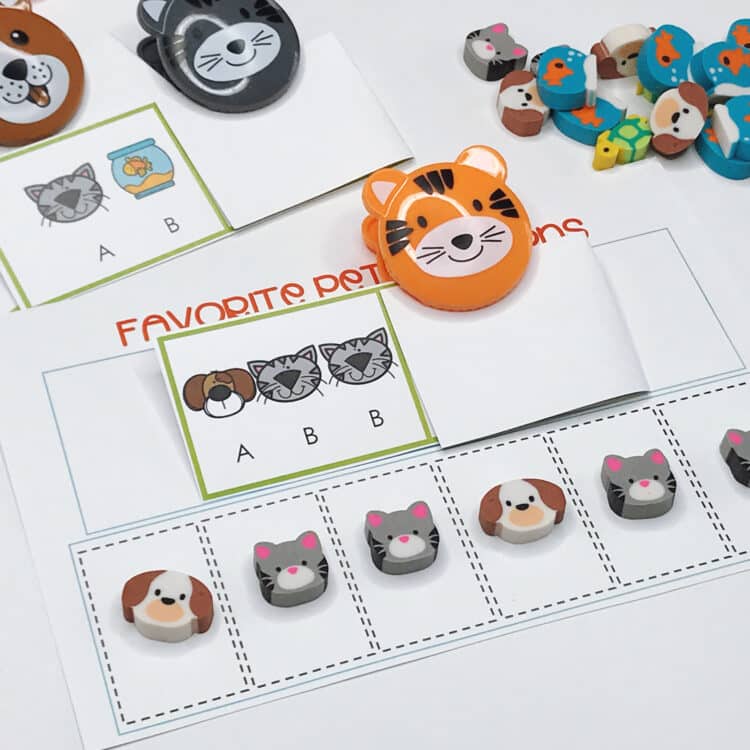 Because they are so darn cute, this next station also uses pet erasers. This time we are working on patterns. I know that patterns are not technically a kindergarten common core standard, but any kindergarten teacher will tell you that their students need to be able to recognize and repeat patterns in order to read and work with math. So we practice patterns. The self-correcting cards make this activity especially nice as a teacher because I don't have to micromanage. Students know immediately if they created the pattern correctly or not.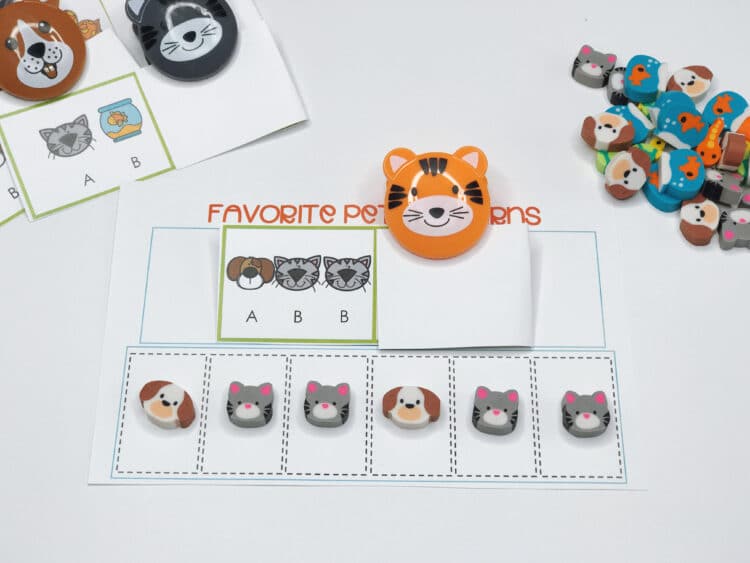 28. UNLOCKING PERFECT PETS SENSORY FUN LETTERS-CVC WORDS AND BLENDS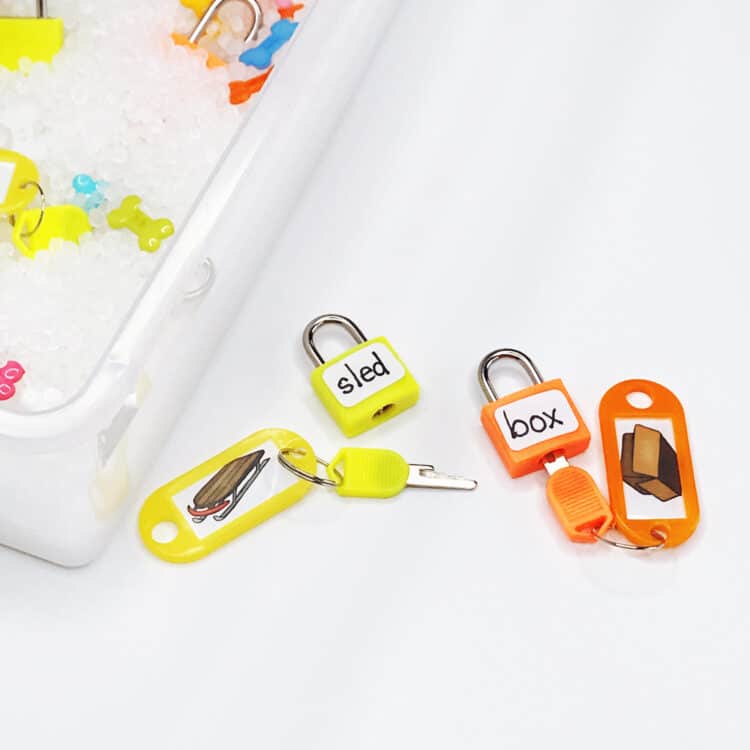 Just by adding some fun small doodads and manipulatives, you can totally change your sensory bin to make it match your them. But why not add a little something that will also give them some fine motor and word work practice as well with these locks and keys. Because they are all keyed differently, the keys and locks act as self-correcting. Students understand that if the CVC word, for example, is a match to the picture, the lock will open, and what they read as being the word is correct. Plus who doesn't love playing with locks and keys. You can easily differentiate this activity by making different colored locks have different leveled activities. These locks that I have are differently keyed so they work perfectly.
29. CAT SNACK MATH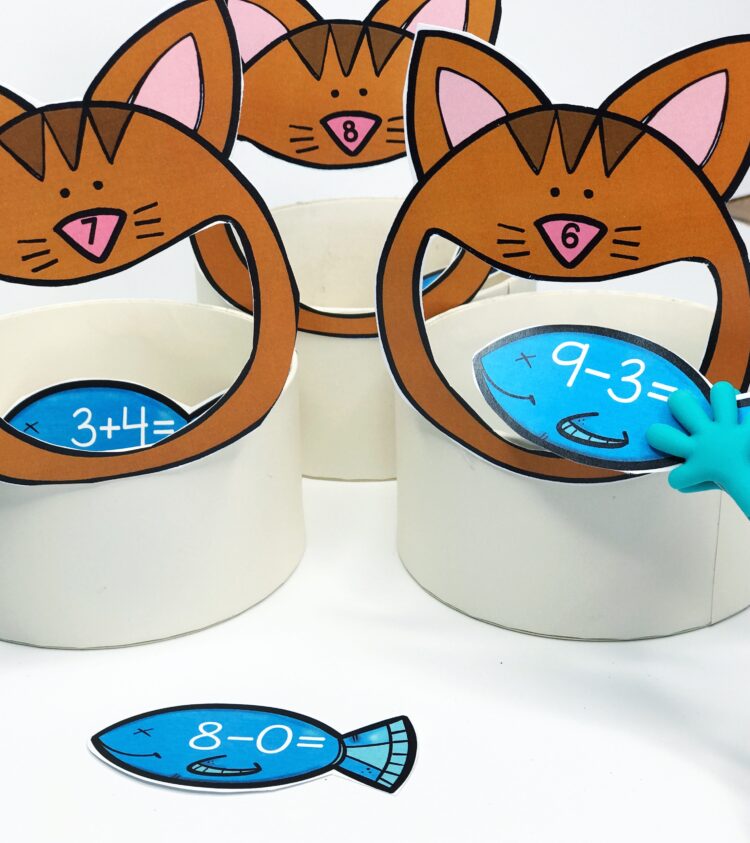 Cut these cat faces out and either attach them to a box or bucket. Students use the equation fish to feed their cats the correct number. My students like to use tongs to feed the animals just in case they nip their fingers by mistake.
30. TINY TURTLE SELF-CORRECTING ADDITION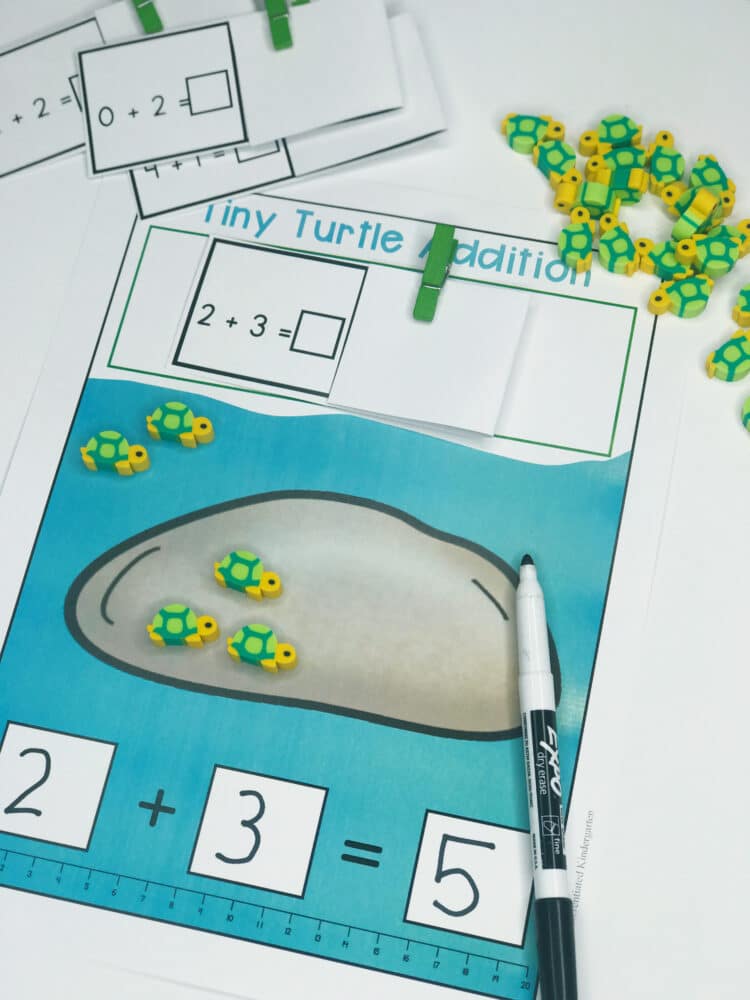 Tiny turtle erasers are a perfect manipulative for demonstrating addition and subtraction equations. These self-correcting cards address the addition side.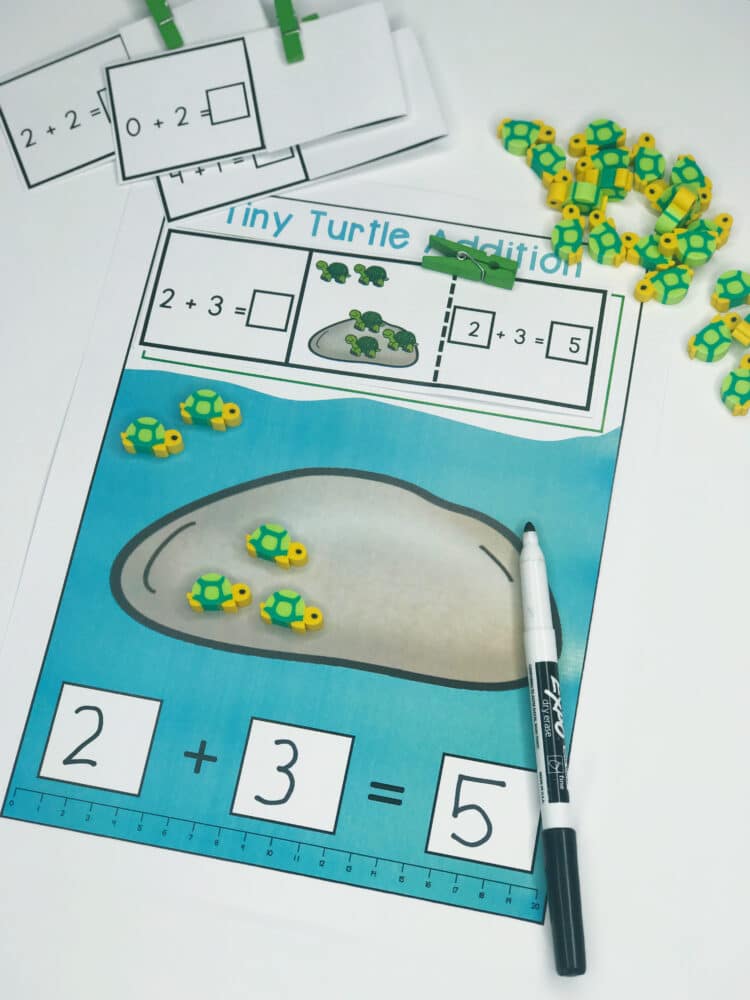 31. TINY TURTLE SELF-CORRECTING SUBTRACTION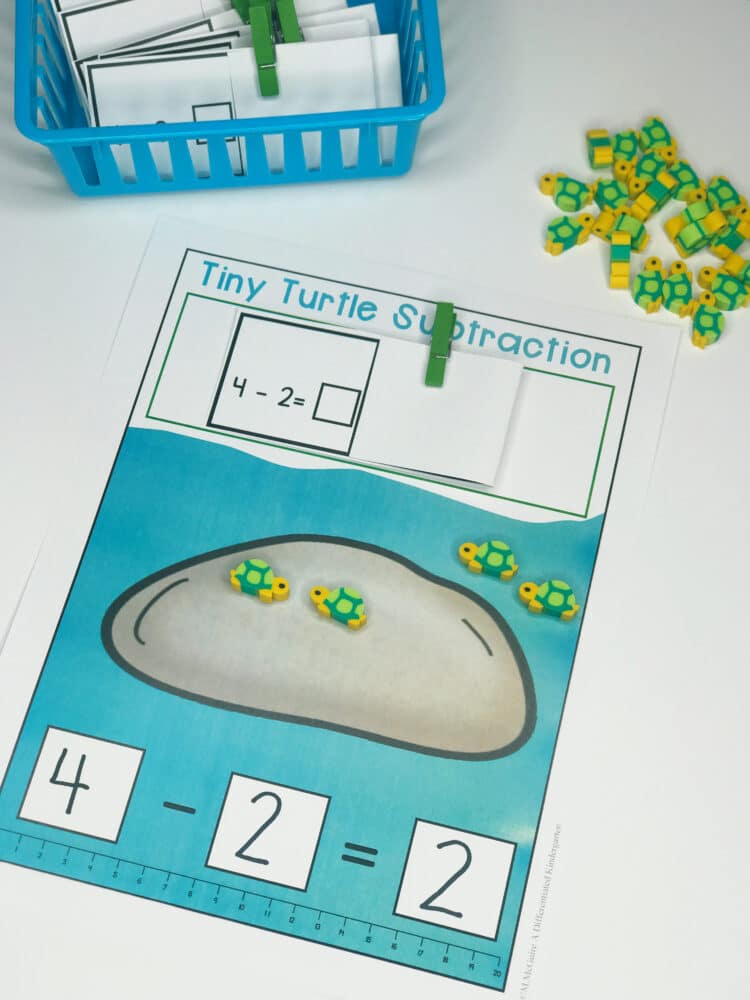 These cards and mats allow students to demonstrate subtraction.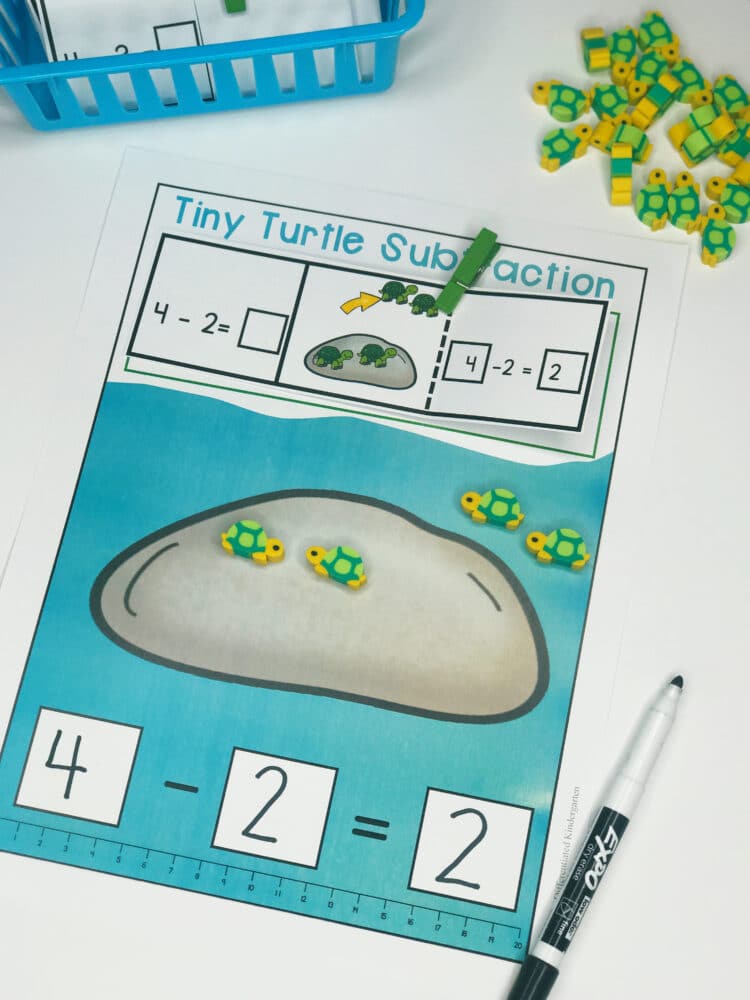 32. PET SHOP SELF-CORRECTING ADDITION TO TEN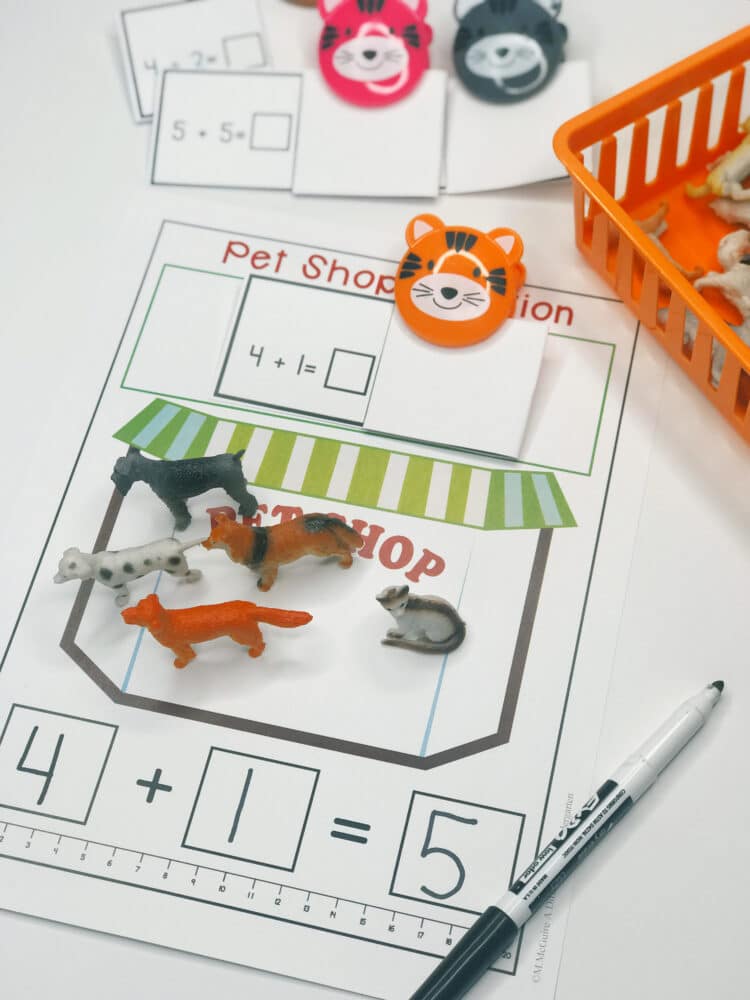 And because I have those students that are just so good at math, these mats are for addition to ten. You can use these cute little miniature cat and dog figurines that I have or the erasers. Either would work.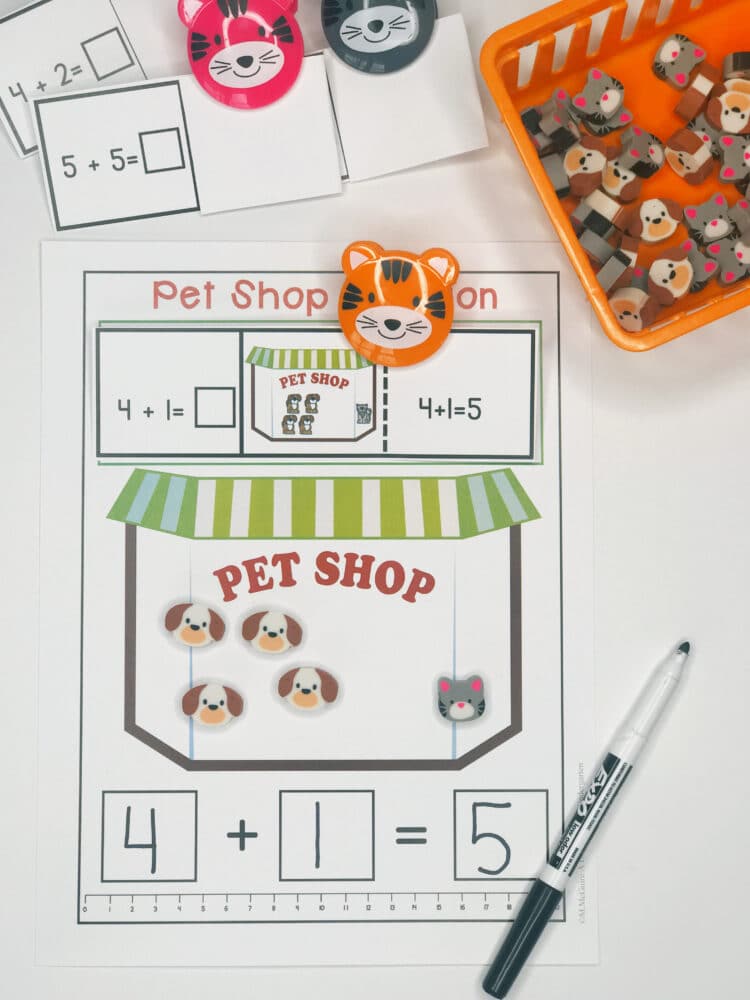 33. RACE TO FEED YOUR PET – DICE GAME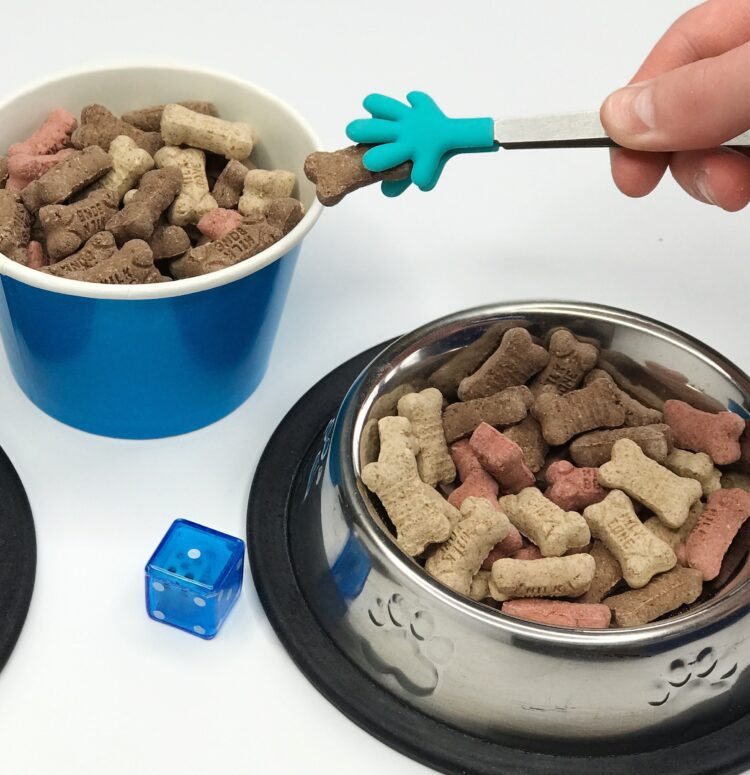 And finally, another dog bone game. . . place your bones in the middle of a table. Students roll a dice and place that many bones in their dish. When the bones are gone, students count up how many they have to see who has the most.
If you'd like to learn more about this packet of morning work activities, you can check it out in my blog store by clicking the picture below. Or you can see them in my TpT store HERE.
Each activity also comes with an I Can card to promote independence as well.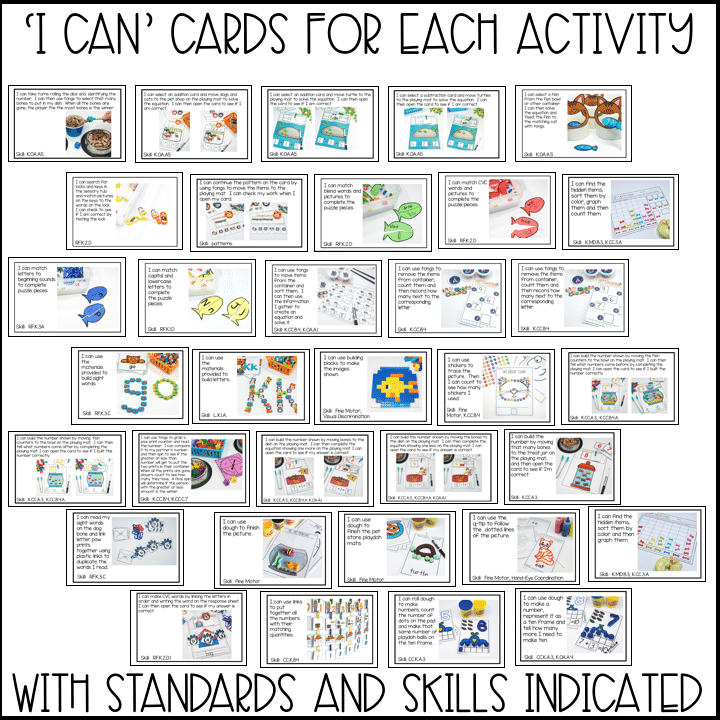 If you'd like some additional Pet Themed Fine Motor and Editable Sight Word Work, check out these other resources.
ADDITIONAL RESOURCES YOU MAY LIKE
Just click on any of the pictures below to learn more about these items.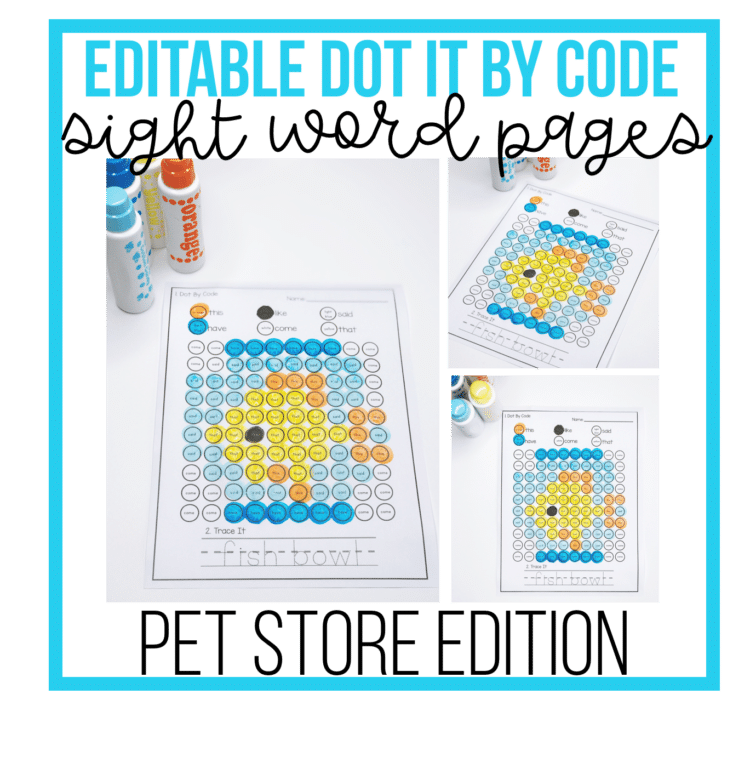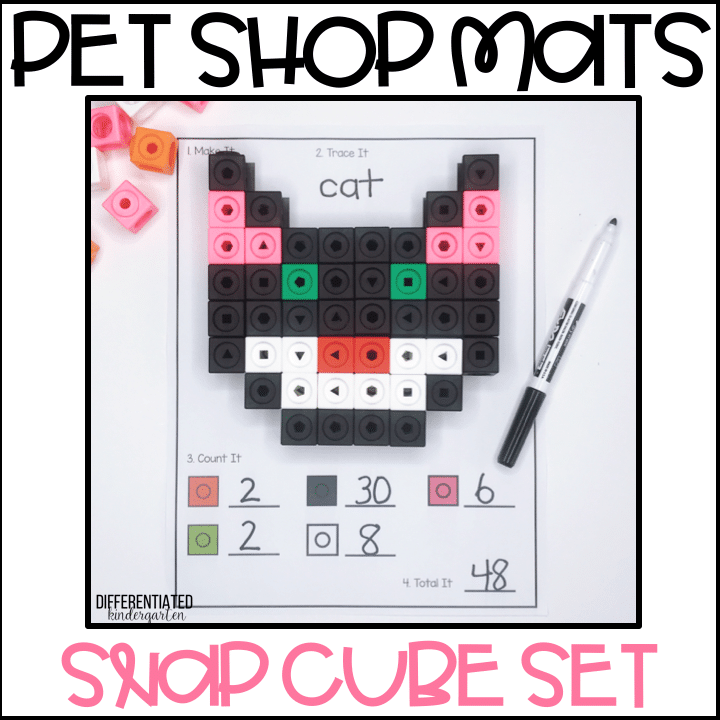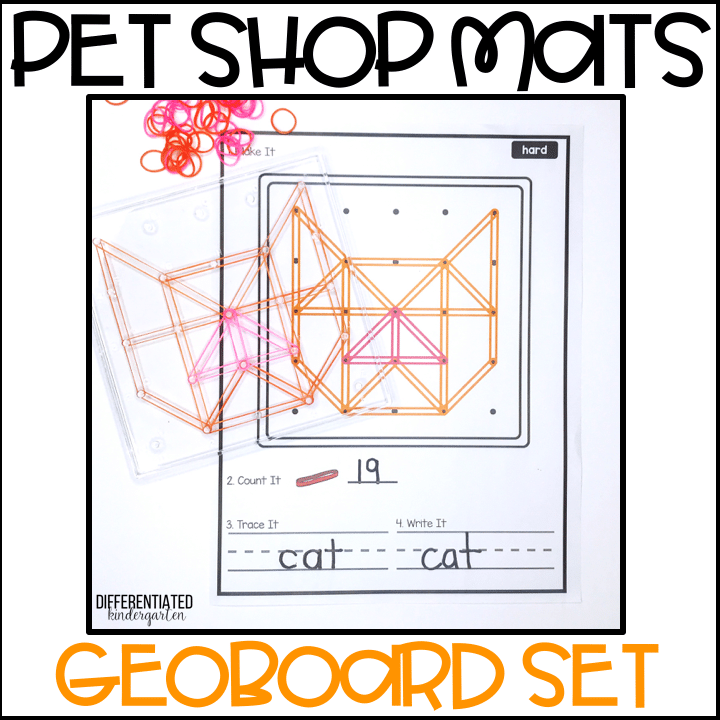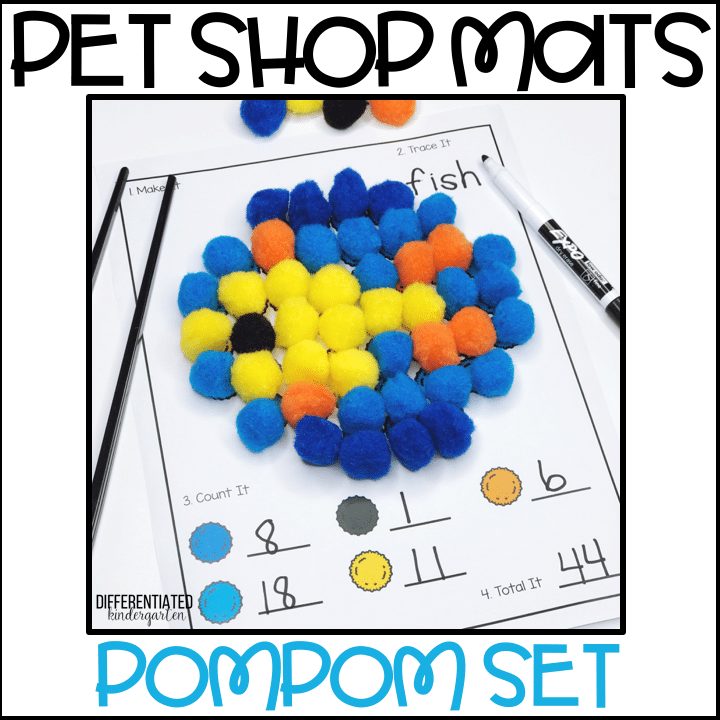 GRAB YOUR FREEBIE!!!
And try this Pet Themed activity for FREE!!! Just click on the picture below to take you there!