I've told you before how much I dislike paper/pencil morning work. Blah! I mean, like anything, if it works for you, GREAT! But it has never really been an effective or engaging activity for my students. I needed something that would provide hands-on practice but give them a chance to work cooperatively.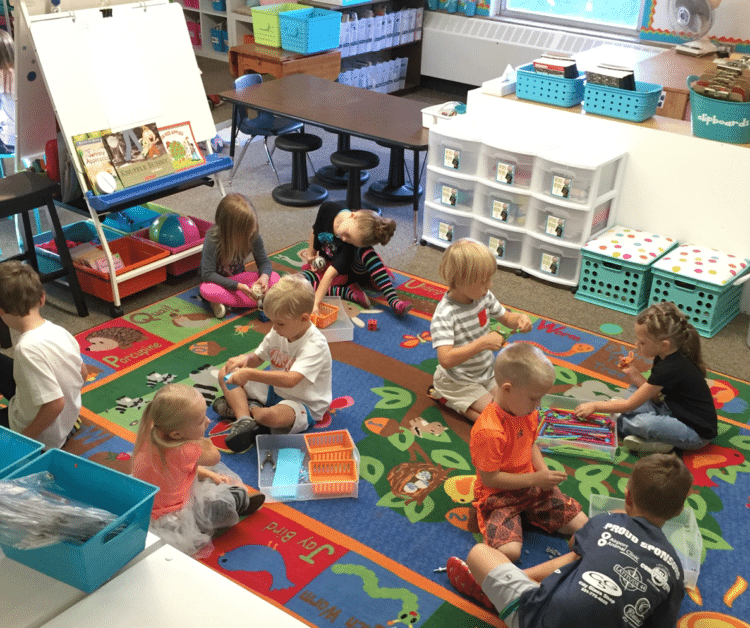 Morning Work Stations are THE BEST thing to happen to my mornings. Seriously. Students used to come in, dragging their feet and wasting time. Today, they are on time, ready to get to work and anxious about what they will find in their drawer.
Morning Work Stations/Tubs at the beginning of the year will look very different than what they will look like later in the year. These first stations are meant to get your students comfortable with materials and activities that will build as the year progresses. By setting the stage and giving them lots of time to explore with tools, you will find that these stations become super independent as you expand skills and difficulty.
You know, what I need them to work on now is very different from what they will be doing later in the year. But we have to start them somewhere, we have to get them from HERE today–the today where they can't hold a pencil or write their name or cut on a straight line–to the tomorrow when they are reading and writing and adding and subtracting. It doesn't happen overnight, so we have to take advantage of every opportunity to strengthen those little fine motor muscles–morning work is perfect for that! (If you're interested in checking out how activities are built upon month after month, check out my monthly posts on Fine Motor Morning Work Stations, just click HERE.)
Last year my district made the decision to discontinue our Junior Kindergarten program. (That's a debate for another time, and nothing I have control over.) While we have an amazing pre-k readiness program, what we have seen is an influx of children who have never been to preschool and have very little exposure to basic kindergarten skills. They have very little previous experience with a classroom setting let alone writing their name or letters or numbers. So starting at the beginning for these little ones is a MUST. And for the ones coming in a bit more prepared, they have been on summer vacation hiatus and need to re-ignite those fine motor muscles as well. It's because of this, that my morning work is strictly geared toward fine motor activities the first few weeks of the year. They lay the foundation for writing and many of the tools they use I will integrate later into more academic activities to keep them building and working those fingers.
This post does contain some affiliate links for your shopping convenience. I do receive a small commission when someone purchases an item after clicking on a link. These commissions help with the cost of maintaining this blog and allow me to continue bringing you valuable content, activities, and ideas.
HOW IT WORKS?
When I was planning on the set up for these morning work bins a couple of years ago, I knew that I would have one very LARGE mountain that I needed to conquer–SPACE. My classroom is very very small. So whatever I was going to use to house my activities, it needed to take up minimal space.
That's why I chose this 12 drawer unit. I knew that if I had around 24 students, I could assign 2 to a drawer and there would be plenty of activities for everyone. You can choose more or less drawers, it's really whatever works for you.
Each drawer as you can see has a number.
Those numbers also correspond to the pocket chart I have hanging on my cupboard above the drawers. Ideally, I would have these lower, but I just didn't have space. So this is where they live for now.
So when students arrive in the morning, they look to see which number is next to their's and their partner's name. Let's say it's number 1.
They simply pull the drawer completely out, carry the drawer to a location of their choosing in the room and start the activity. It's super simple. I let them choose where to sit–unless it's an activity that needs to be at a table because it will destroy the carpet. (If you're eyeing my numbers and want to get a set of your own, just click HERE and they are available in that post.)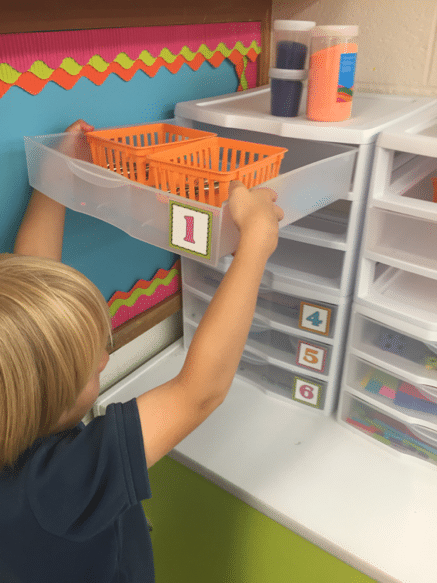 While they are practicing with their activities, I can herd late children through the door, gather notes and lunch money and take attendance. They get to practice, they get to visit with their friends while they work and I don't have to worry about collecting unfinished work or correcting papers. Woohoo.
MAKING MORNINGS INDEPENDENT
By keeping activities and materials familiar, your students will become accustomed to expectations and how activities work. But also, I always feel like it's so beneficial to have a visual 'I Can' card included in each drawer to my students a little picture cue to remind them of what the station work should look like. It helps SO much. I make sure there is one including with each activity in my sets. The other thing I add to these little cards are the skills or standards that each activity addresses.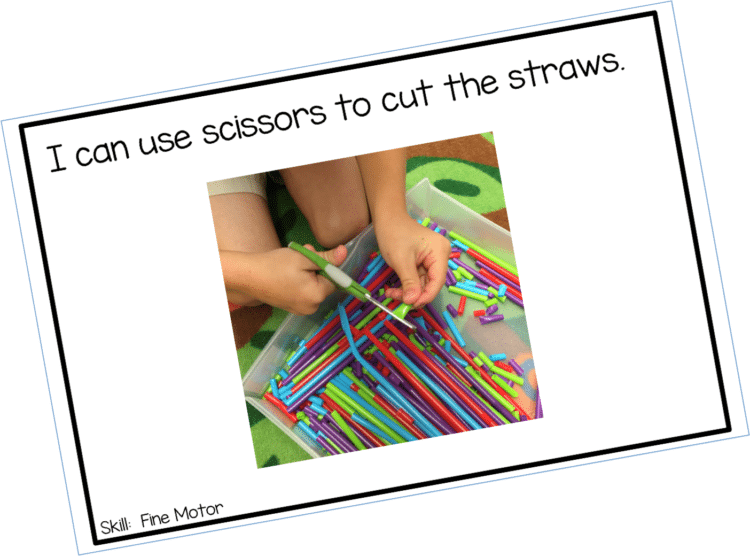 Each month, I include an 'I Can' card for each activity in that set.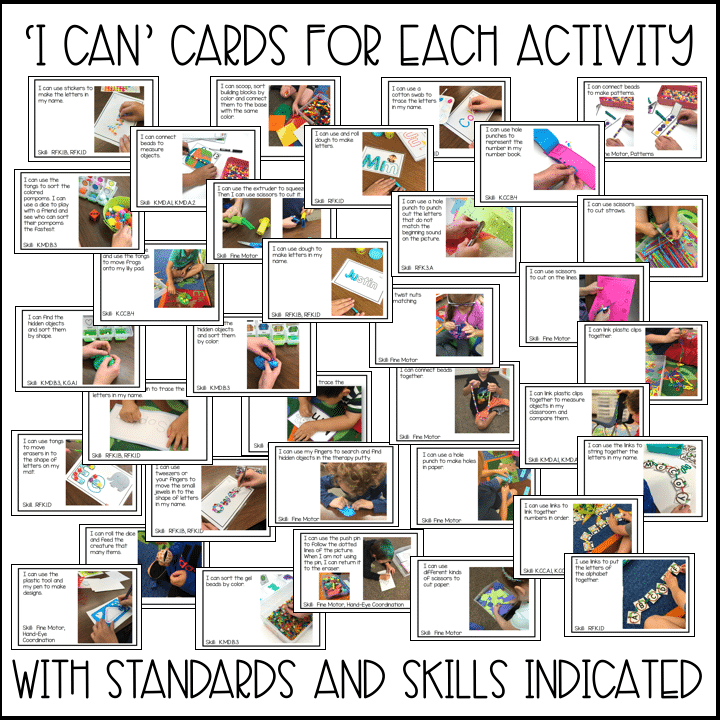 WHAT'S INSIDE?
Twelve drawers work perfectly for my classroom. But after talking about morning work stations over the last several years and presenting to teachers across the country, I have heard loud and clear that some teachers want more than 12 or maybe just need more choices. So let give me a whole load of ideas . . . A couple of these ideas are freebies and others are included in my Getting Started with Morning Work Stations set on my store. I figure the more choices you have the better you are able to scrounge around your own classroom to see what you already have available to make them work best for you. So let's take a look at all that is included in Getting Started With Morning Work Stations
1 – Paper Punches and Bright Paper
Now I know you've seen my FREEBIE for letter/sound recognition paper punches, but before I can get them to that skill, they first need to be able to actually use a paper punch. This station is just punching. They punch to their little hearts content and then the added bonus is that they have to pick up all the little holes that have fallen with their pincer fingers and put them in the little baskets.
These Astrobrights colored papers are perfect for projects later on down the road so I collect the circles to use at a different time. This is absolutely the quietest activity EVER. They concentrate so hard when they are here. It's tough and it is definitely a challenge and engaging for those needing to build some hand muscles. And if you're interested in a letter/sound hole punch freebie for later, it's available on the sidebar of my blog.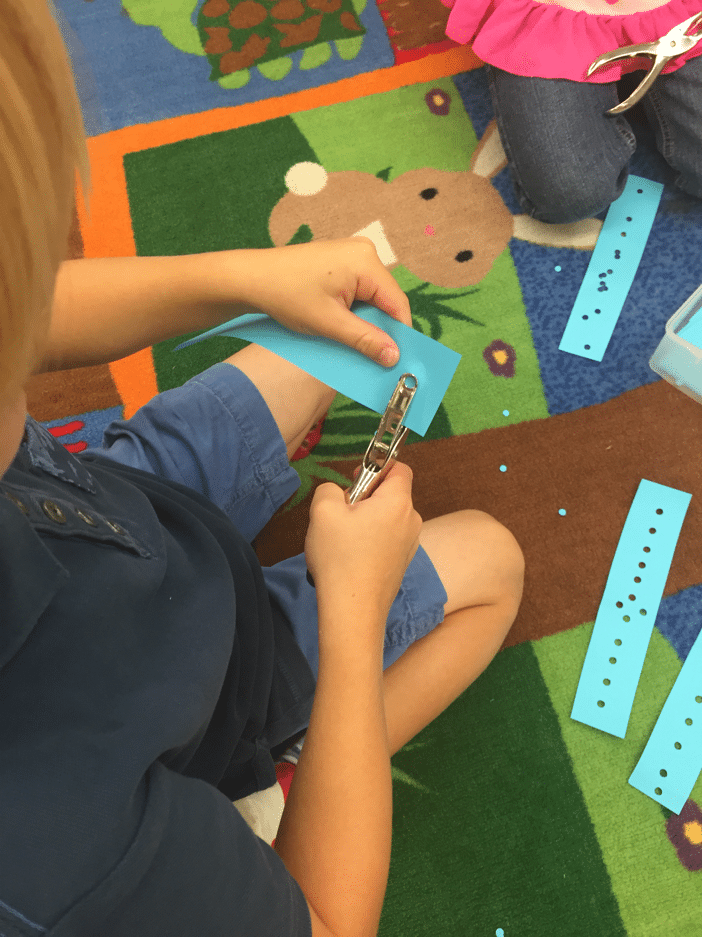 Extend the use of hole punches by offering a different kind of punch to represent numbers in a number book. Small little button punches in different themes are great for this activity.
Offering different paper punches works different muscles in the hand and keeps the activity engaging and interesting.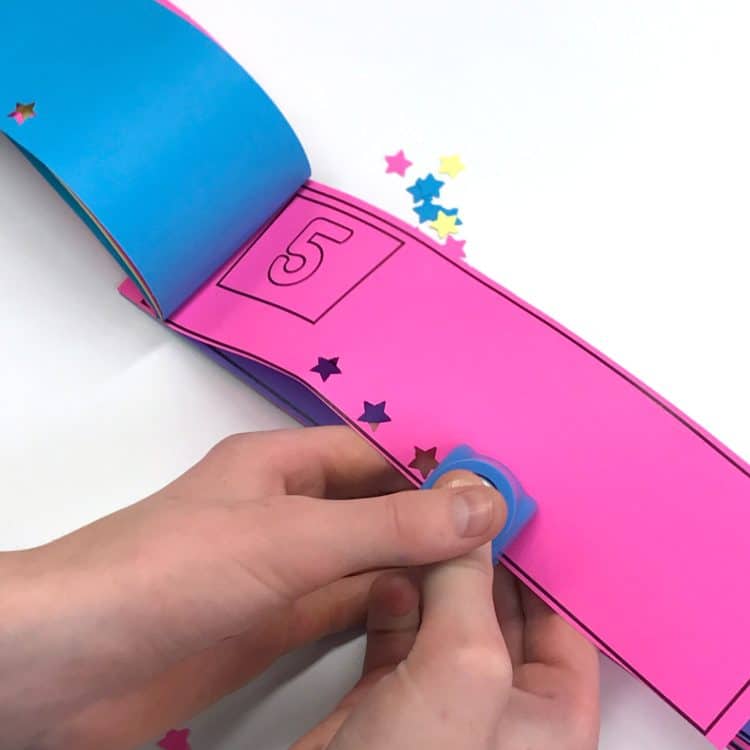 3 – Hole Punch Out Letter Sounds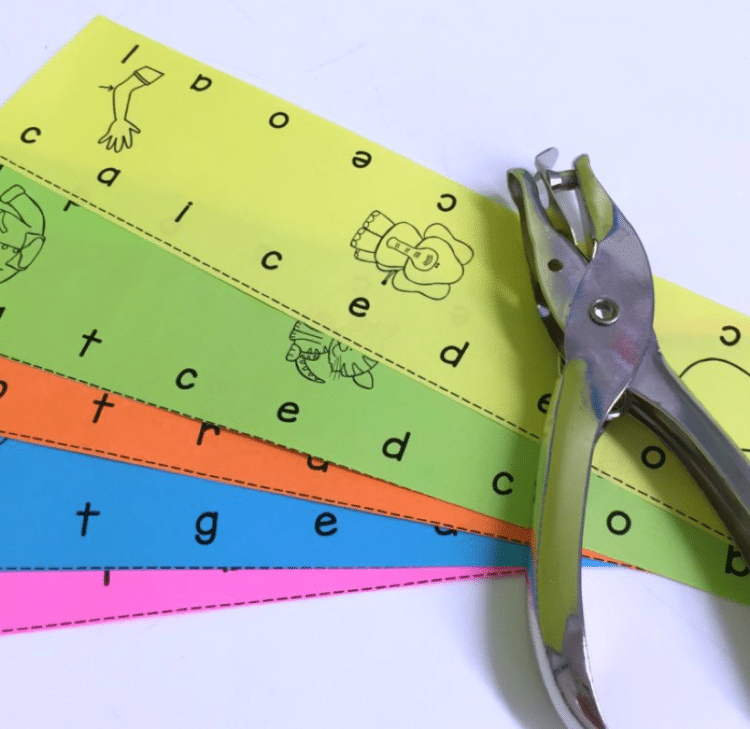 This activity is actually a FREE item you can collect by checking out THIS blog post of mine. Students identify the beginning letter sound of the picture and punch out any letters that do not match the beginning letter sound. So only matching letters sounds remain.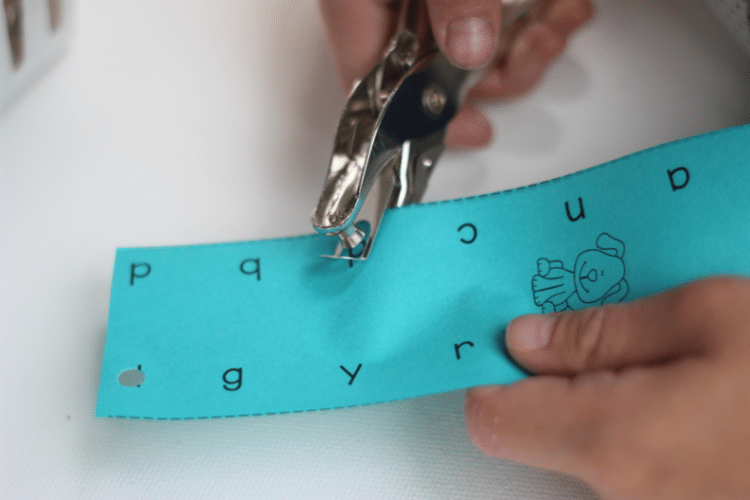 Pop beads are a class favorite for fine motor every time. My kinders like to make patterns and see how long they can make their 'chains.' These are so versatile. You can add a die and make them a game.
But for this first station, I just want them to explore with them and use them to build those tiny finger muscles.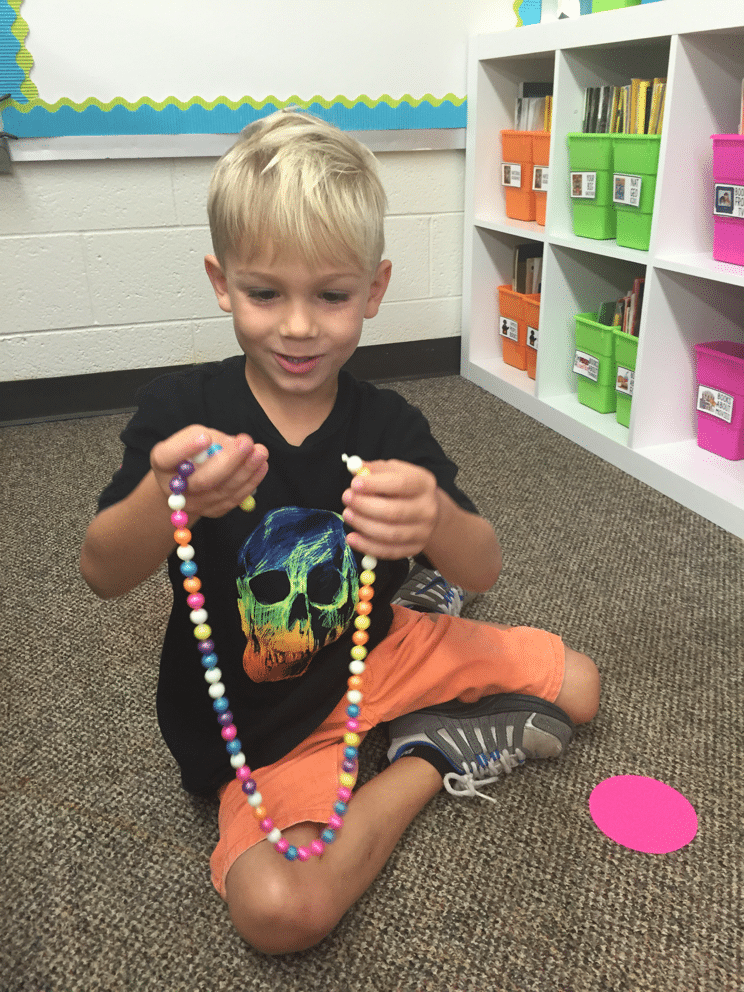 Later, we'll be using letter pop beads to build words. A reader found them and I can't wait to use them. My set is on back order and can't get here soon enough.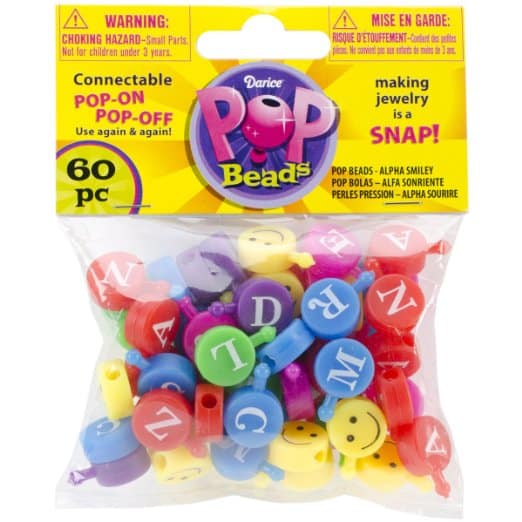 5 – Pop Bead Measuring
When your students have mastered these tools, you can move on and extend the activity. Use the beads for nonstandard measurement. I have these laminated cards that they can measure and record their answers.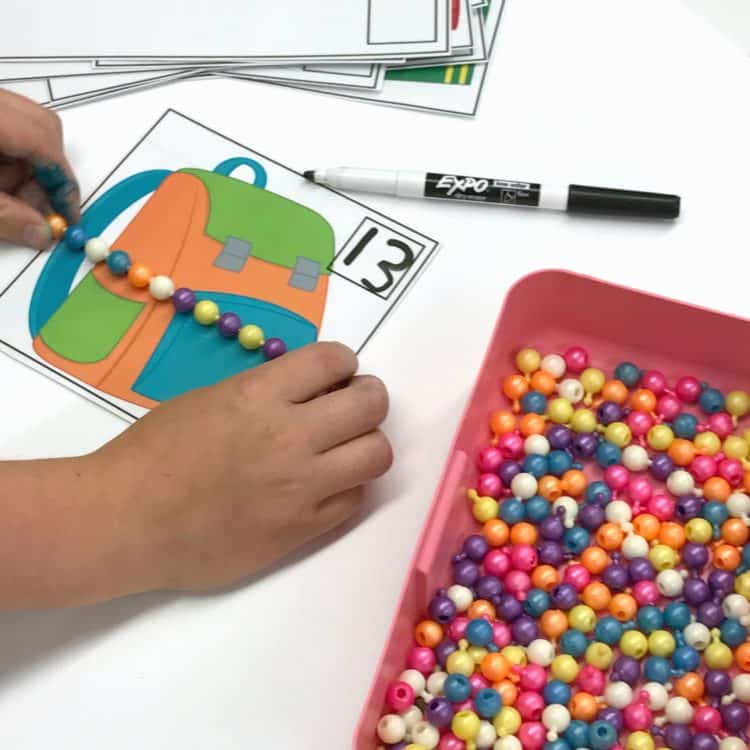 6. Pop Bead Patterns
Using these self-correcting patterning cards makes it simple for students to continue a pattern and then . . .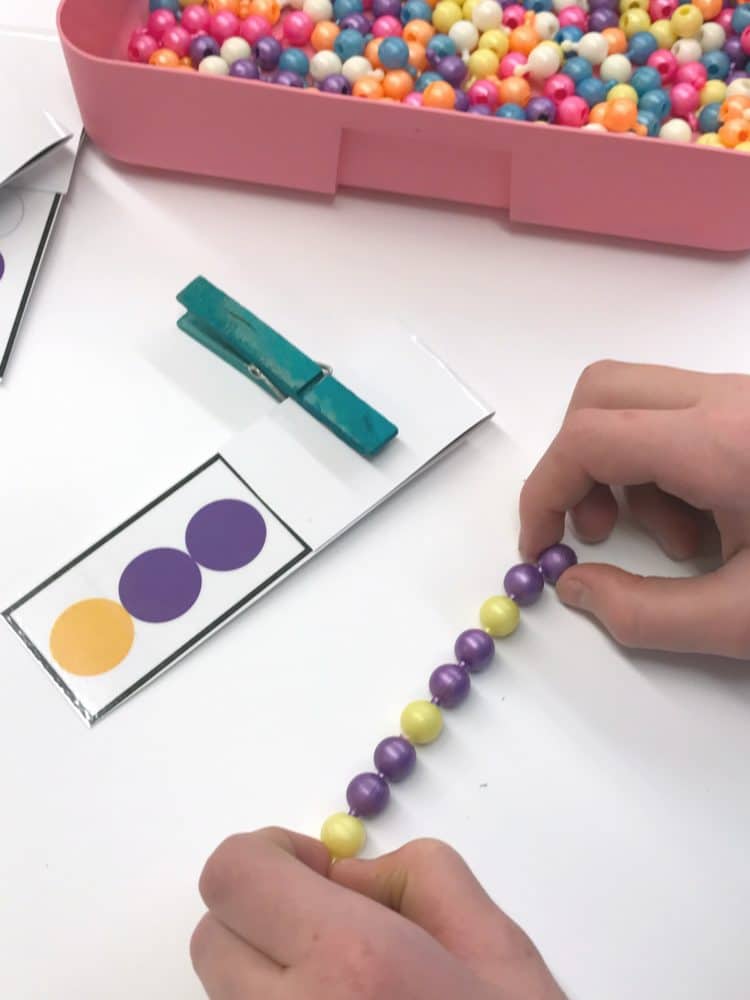 simple open the card to see if they did it correctly.
7 – Mini Spirograph and Stencils
It takes great hand-eye coordination and dexterity to work these spiral drawing tools. I love stencils for the same reason. The added bonus for this little activity is that it is especially appealing to those artistic learners who only get to Art class one time a week.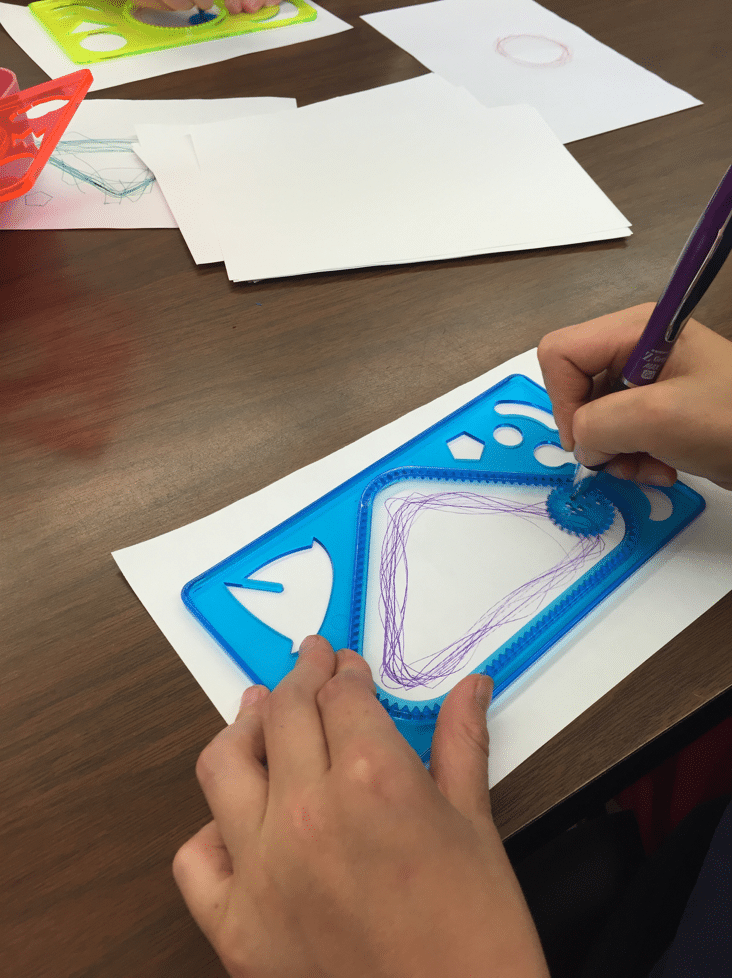 8. Find the objects hidden in therapy putty
Therapy putty is different from your traditional play-doh. It has more resistance . . . almost like Silly Putty. I have several containers of it as I use it for Take-Home Fine Motor Kits, but I also like to include it in these drawers as well. You can simple beads or other plasticacrylic trinkets, pennies or buttons for your students to find.
9 – Find objects hidden in putty and sort them by shape
To extend this activity, you can use shape buttons or rhinestones like the ones I have here. Students sort the items they find by shape.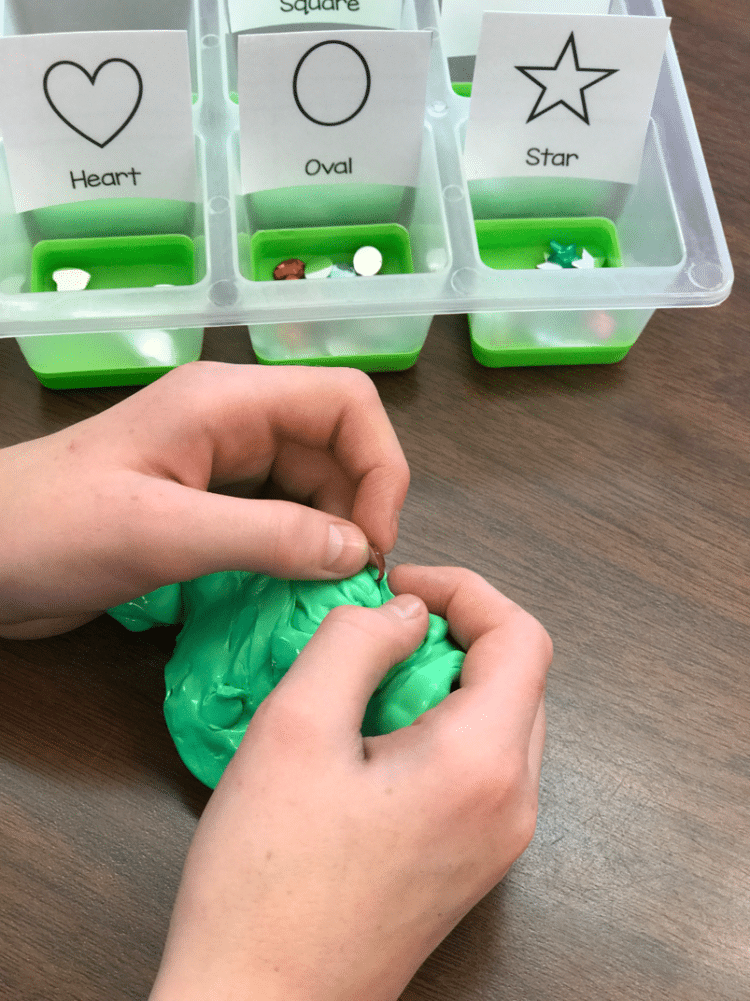 10 – Fine objects hidden in putty and sort by color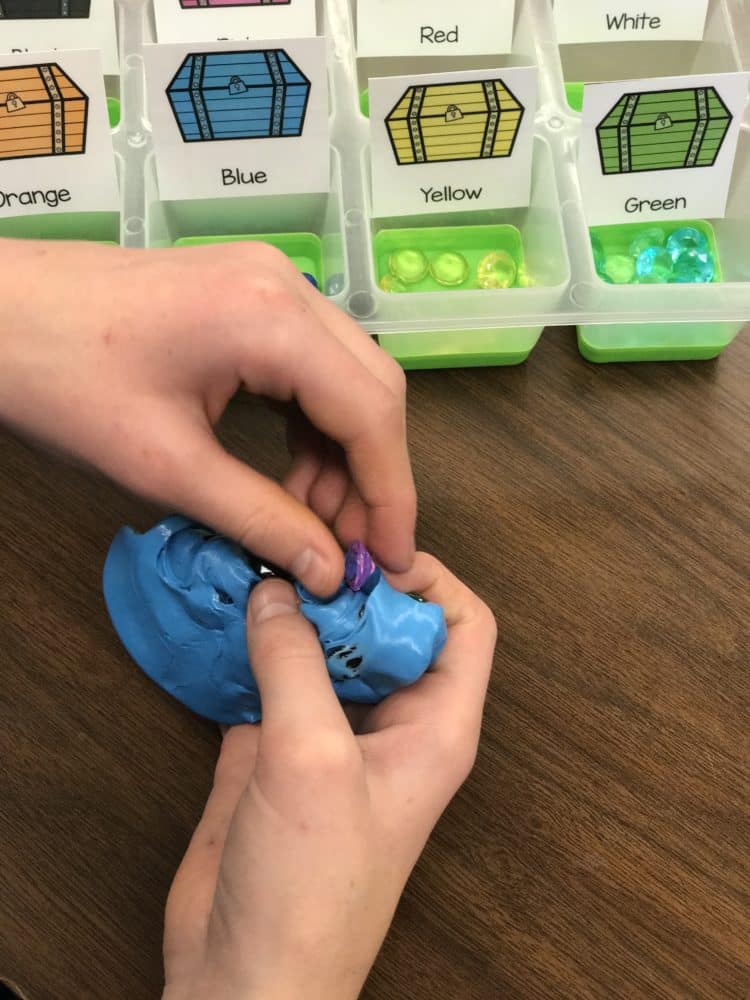 Or you can have them sort items by color.
11 – Nuts and Bolts
While these are available in a large plastic version, I prefer to use the real thing.
My students always seem more engage with 'real' items so when possible, that's what I'll use. With these, students work to see who can get the most matched nuts and bolts and get them one all the way. Once all of them are on, then they race to see who can get the most taken apart the fastest.
If you want to really provide some resistance for your students when they work with play-doh, throw some dough extruders into the mix. My students LOVE working the extruder to see what shape will come out the other end once they push it through.
After it's out, I have them cut the extruded dough into tiny little bits of play-doh, work it back into a snake shape and start all over with a new extruder.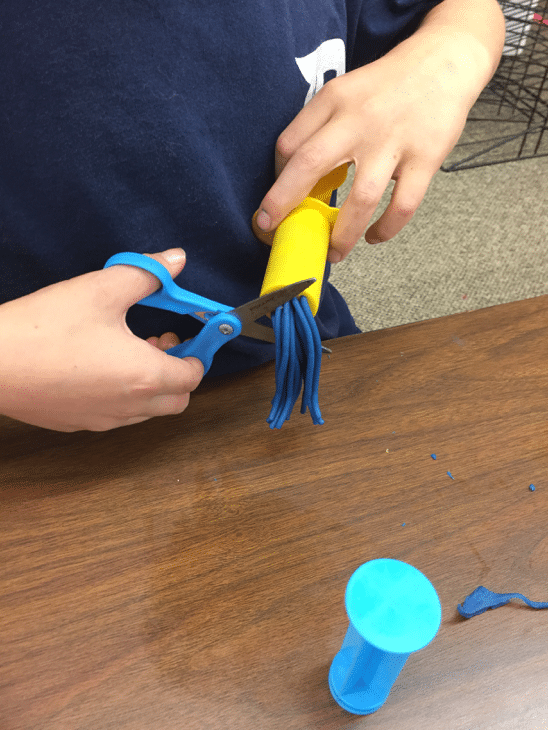 14 -Use dough to make letters
Because you're going to have kids that are ready for a bit more challenge with play-doh, I always have a set of letter cards for them to practice making a snack with the dough and then creating the letter.
15 – Use dough to make letters in my name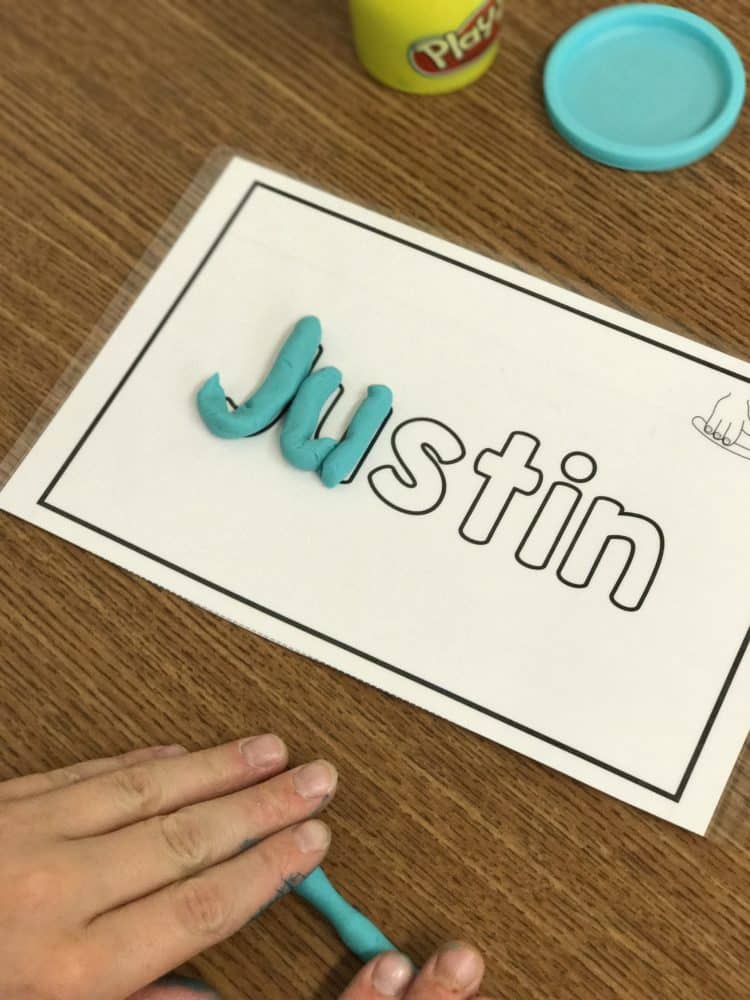 I have also included in my Getting Ready for Morning Work Stations, the option to use these EDITABLE dough name mats as well. I know my students need a ton of practice forming the letters in their names and just recognizing their name at the beginning of the year. Making these editable gives everyone the ability to personalize their morning work stations.
16 – Munchy Mouth Characters
This simple game is made from a tennis ball, a couple of google eyes, beads or any other small manipulative and dice. My students roll a die and count that many beads, mini erasers or whatever manipulative you choose to use and 'feed' them to their munch mouth monster. You make the monster by cutting a small slit in the tennis ball and hot gluing his eyes on. Then students can pinch the monster with one hand to open his mouth and feed him. The first student to feed all his beads to his monster is the winner.
People always ask me where I go my animal pattern tennis balls, and, while I can't remember the exact place, I do know it was in a discount department store's pet department. That's where I would check if you're wanting this exact type.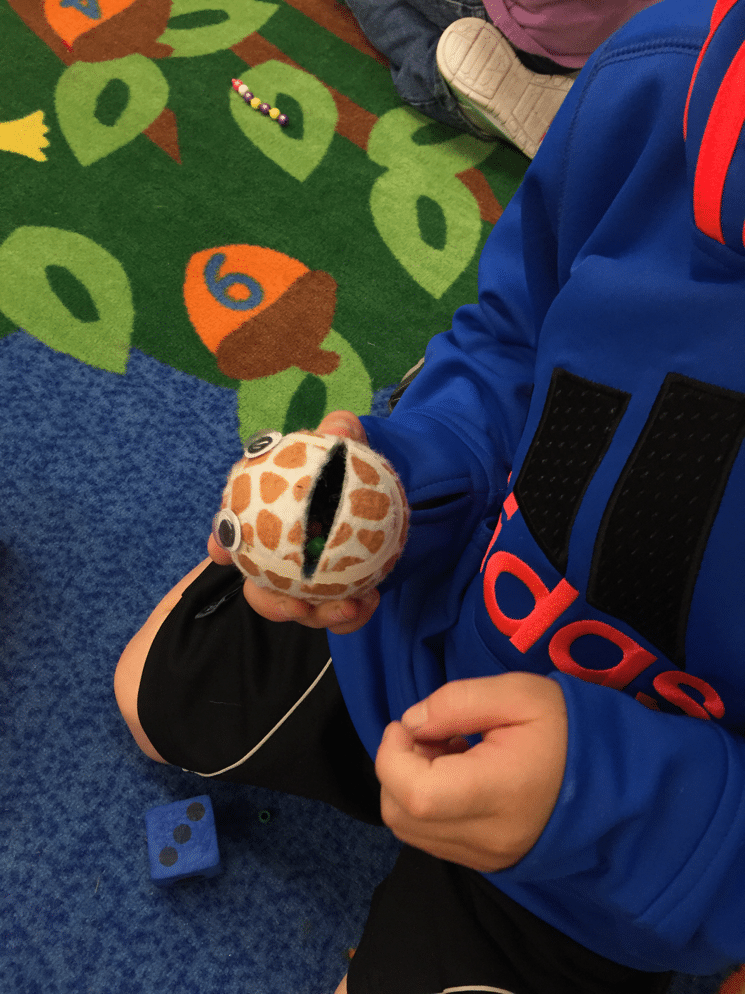 A regular tennis ball works just fine, but there is something about opening up that drawer and seeing this little buddy smiling back at me.
Simple plastic links. For new kinders, these things are like magic. They love to make patterns with them, see how long they get their chains or just sit there and quietly 'link.' Since I will be using these for the whole year in a variety of activities, it's great for them to get used to how they work and build that experience with them.
Working those little fingers is a bonus.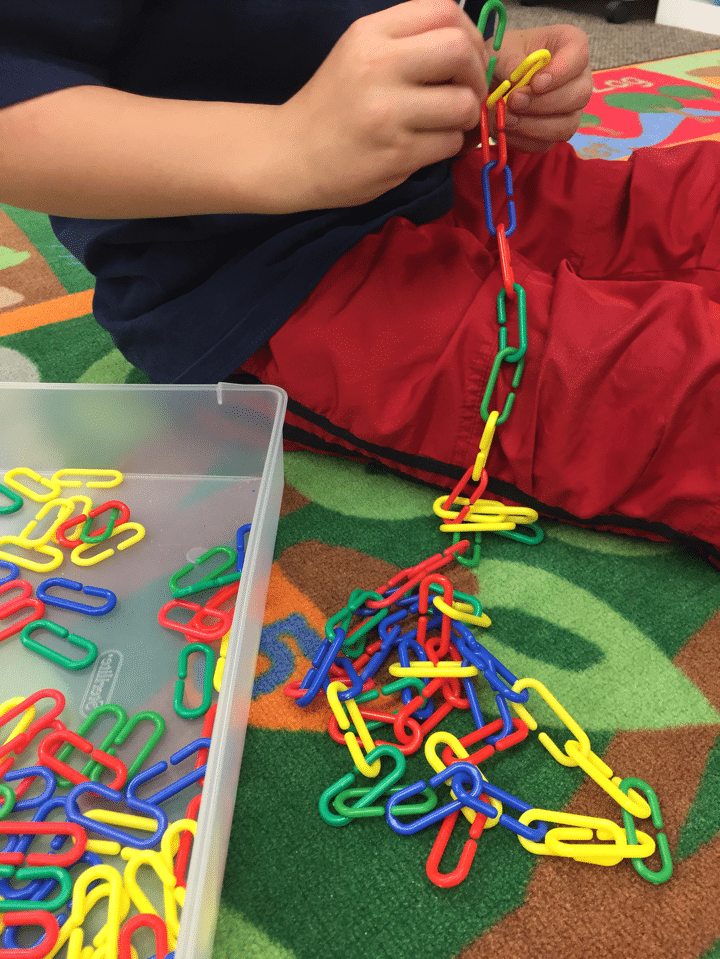 18 – Measuring with links
Extending your skills using these links, in my Getting Ready for Morning Work packet, I also suggest measuring with links
19 – Using links to link letters in your name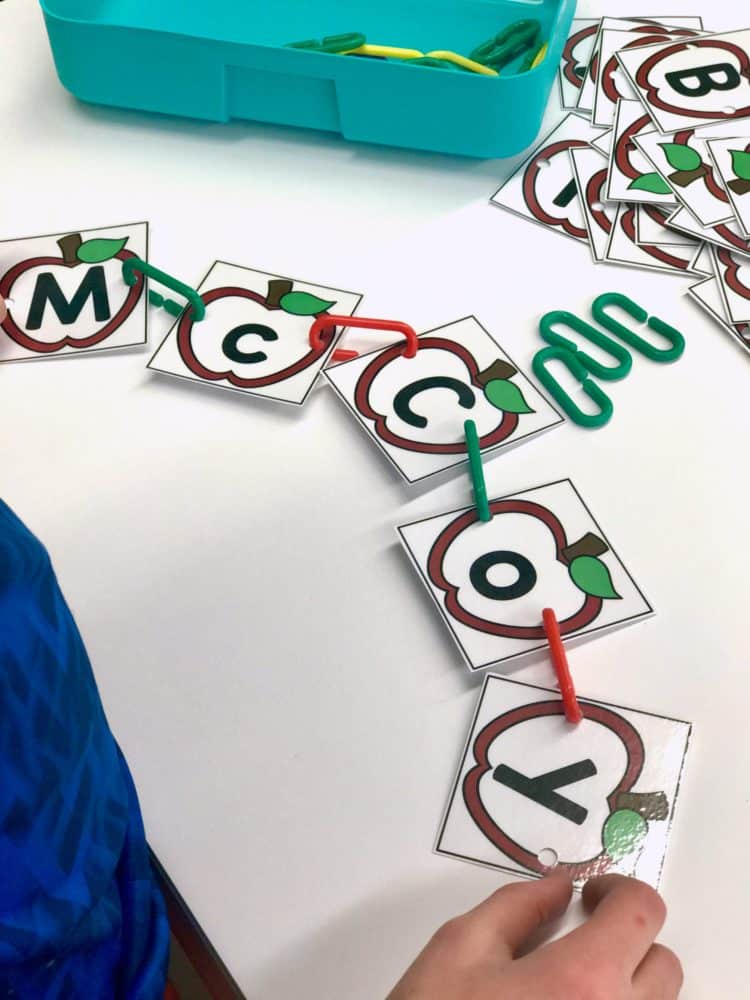 You can use the letters I include in my packet, hole punch and have students link them together to make their name.
20 – Use links to link numbers in order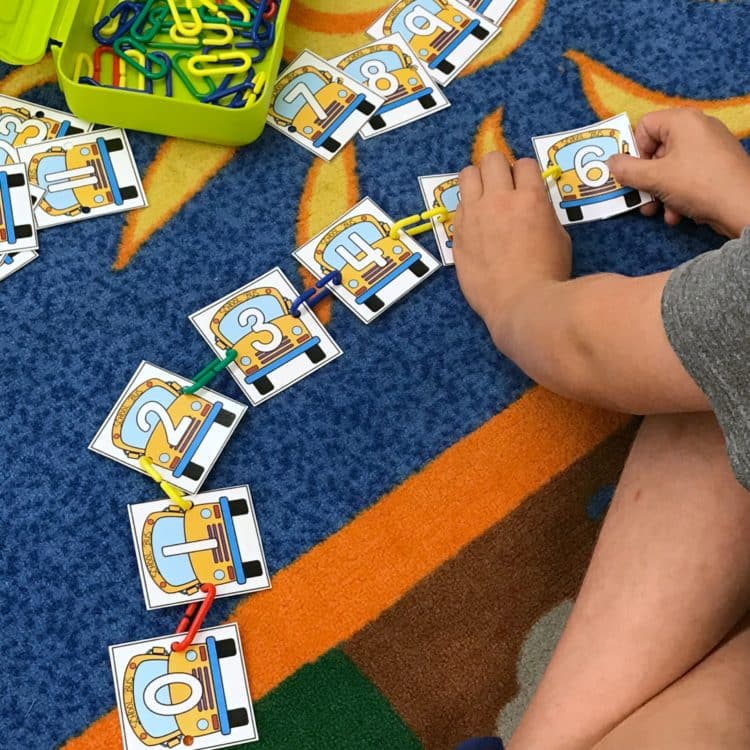 They can link the included number cards the same way for number order practice.
21 – Use links to link together letters in order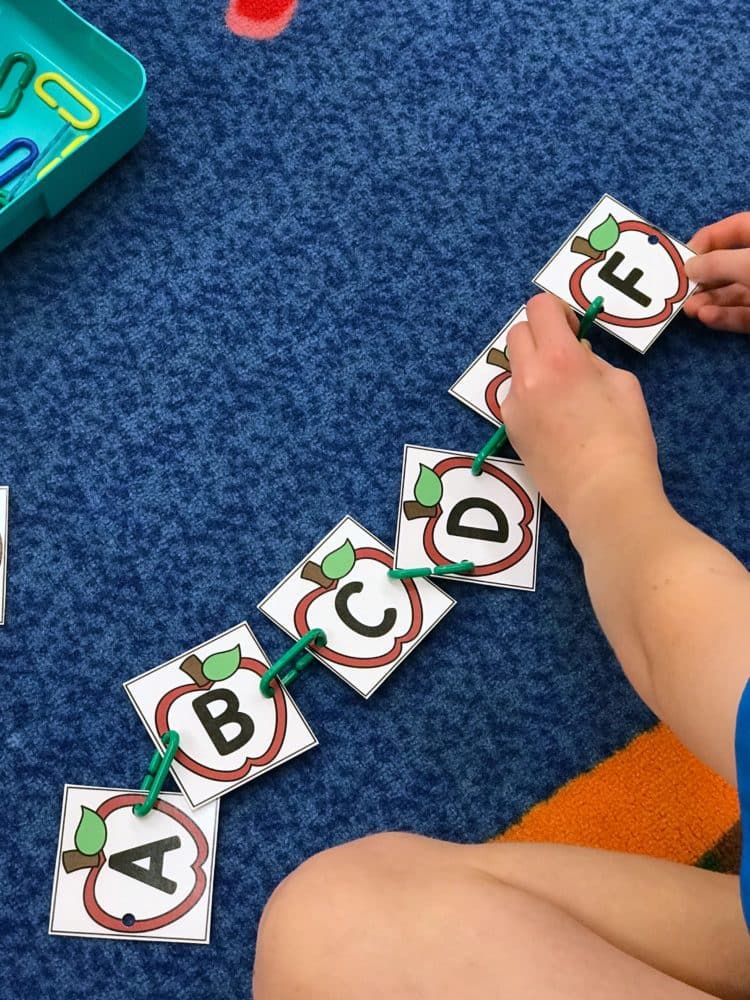 Plus linking letters together will allow them to practice organizing the alphabet. Links are really amazingly versatile.
22 – Fill Your Lily Pad
I love using these tiny frogs just to have students pick them up with their pincer fingers. However, when I get them to use a tong to pick them up one at a time, then I'm able to give them a bit more of a challenge. In this game, each student has a lily pad. They take turns rolling the die and then placing that many frogs on their lily pad.
They must pick up frogs one at a time, and, if a frog falls off their pad while they are placing other frogs on it, they must put that frog back in the 'water.' When all the frogs have been placed on a pad, students count to see who has the most. You can imagine, this is a class favorite.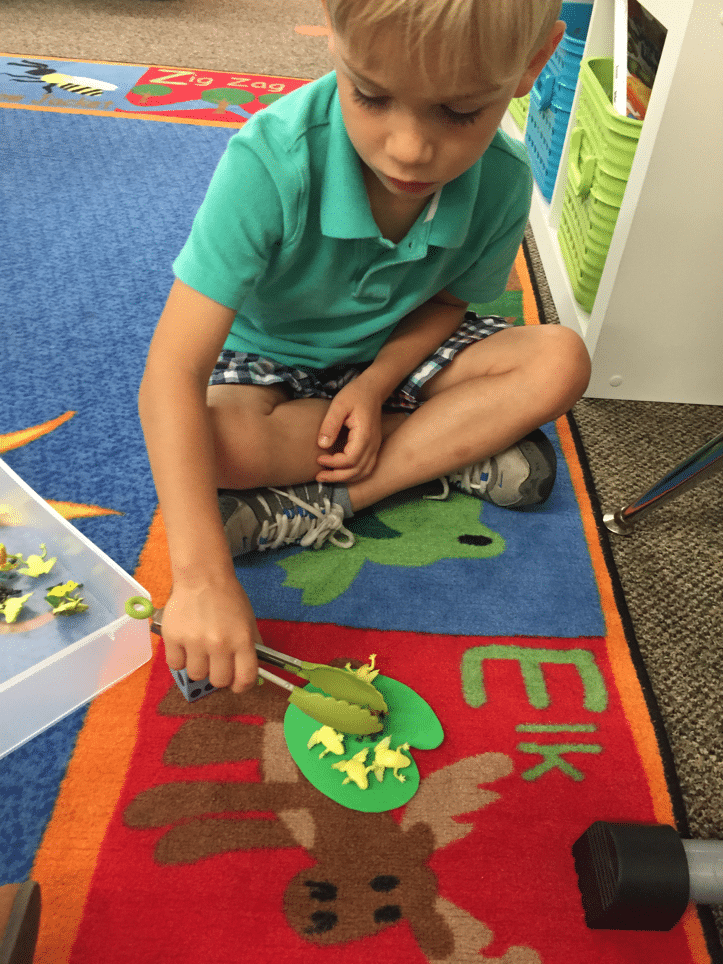 23 – Fancy Scissors and Astrobrights Papers
The only thing that could possibly make fancy scissors more fun would be bright papers to cut. Astrobrights papers fits that description. My goal is to get them engaged with cutting. They have such little practice and they absolutely love the different shapes and patterns that my 'fancy' scissors can make. I let them cut to their heart's content asking only that they make their final pieces smaller than a coin. I use these pieces for a project for later on.
24-Straws and Scissors
Want to know what makes a really great sensory filler? Little pieces of cut up straws. Guess how I get them? You're right! I have my kinders do it. It is great practice to use their scissors to cut up straws. The straws offer more resistance than a simple piece of paper, and I love telling my student how they are 'helping' me by creating sensory filler. It's an important job and they are more than happy to help me out. I never feel bad asking my parents if they can maybe help out our class by donating a bag of straws, especially when I can use them for my morning bins plus use them later for sensory bin activities. They are always more than willing to help me out if they can.
25 – Cutting On Lines
If some of your students already have strong scissor skills, you can challenge them a little bit with some cutting on lines activities like these samples included in the Getting Ready packet. I like to print them on bright Astrobrights paper to make them a bit more engaging and fun.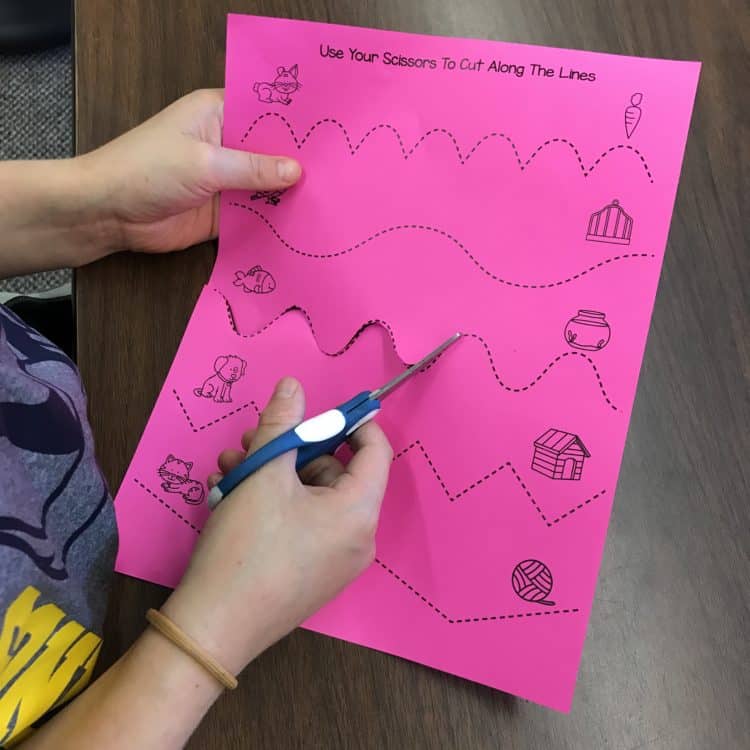 26 – Use tongs to sort pompoms by color
Because we will be using tongs throughout the year, I like to offer my students a lot of practice with these early on so they know how to care for them and use them correctly. Giving them simple tasks like sorting helps with this. Here they sort pompoms by color using labels from the Getting Read packet.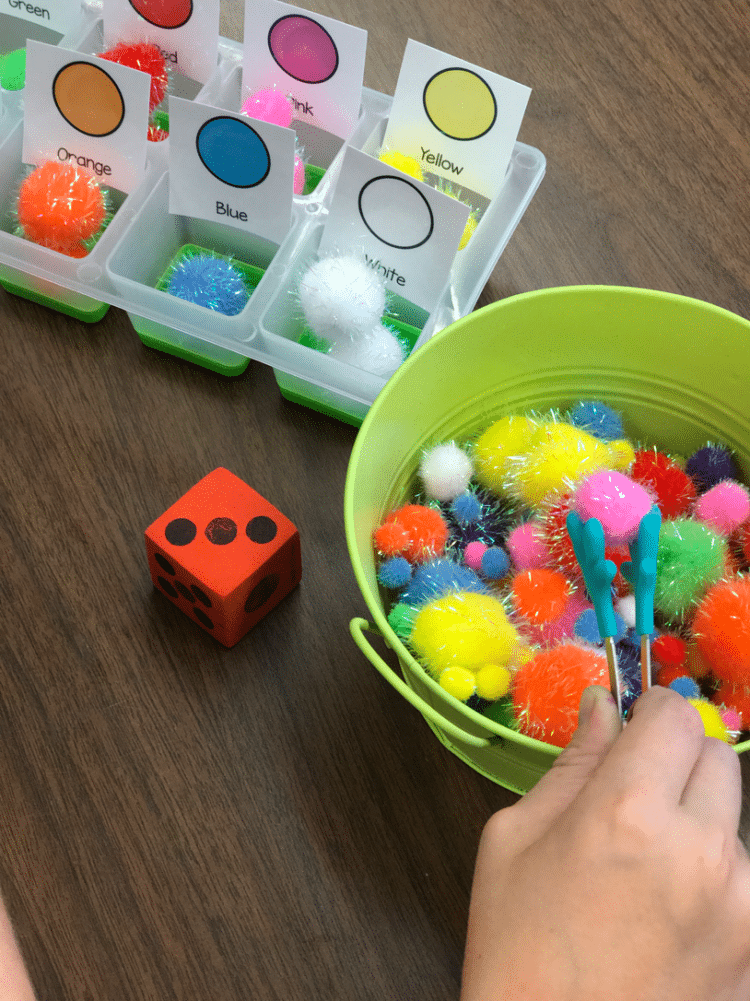 27 – Use tongs to make the letters on the letter mat
They can also use tongs to move small manipulatives like erasers, beads or buttons to make letters.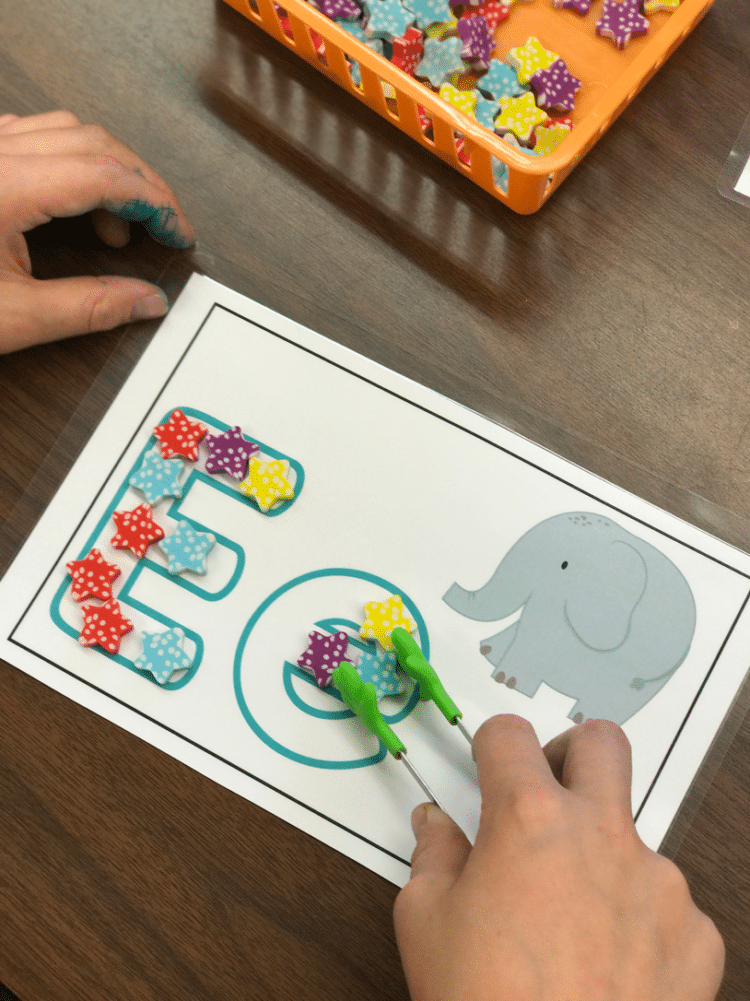 28 – Use tongs to move erasers to make letters in your name
There are EDITABLE pages in this pack that also give teachers to write students' names for tong practice. (Notice the little picture in the corner of the name mat. It reminds students to use tongs for this activity.)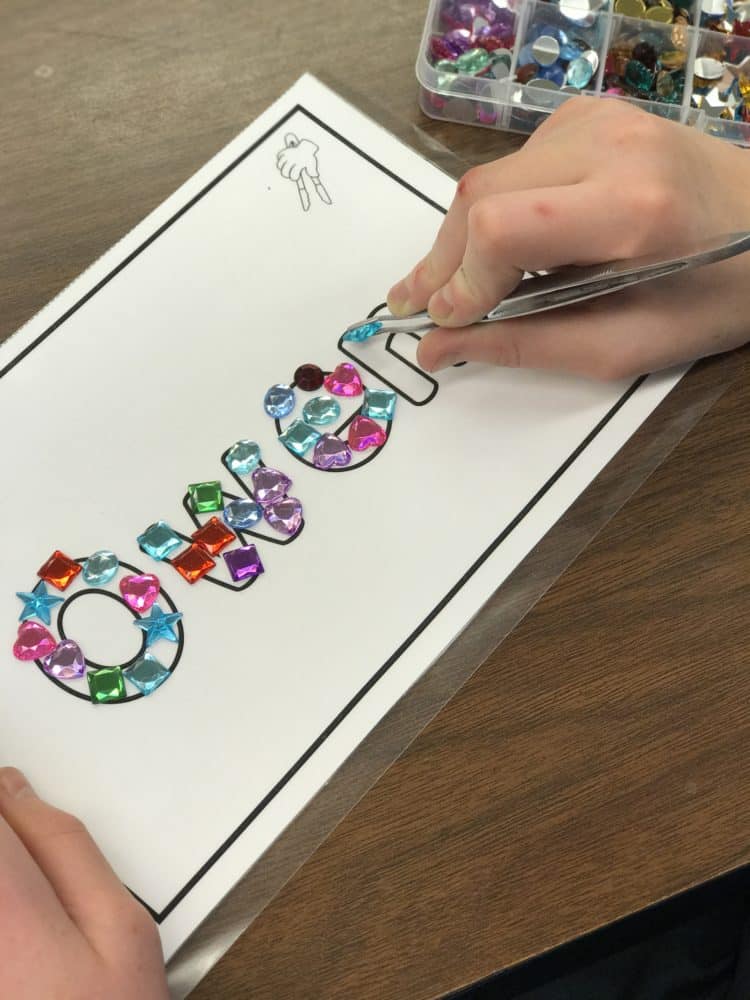 29 – Use a cotton swab to trace the letters in my name
One of the most favored activities in this pack is using paint and a cotton swab. I will use this activity throughout the year in many ways to extend practice and skills. So it's important that I start early. I want to be able to reinforce name recognition, so for this activity, I have EDITABLE name sheets for students to dab and dot.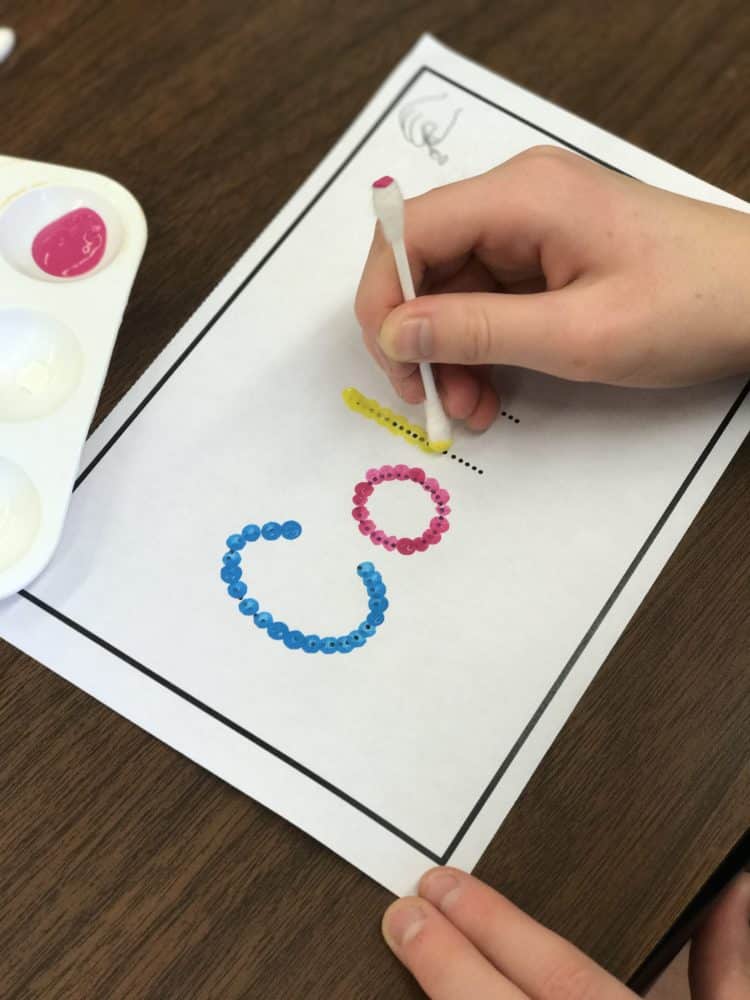 30 – Use stickers to make the letters in your name
Stickers are another tool we will use throughout the year in many ways. The EDITABLE name sheets in this pack allow students to practice producing their name by placing small stickers on the lines.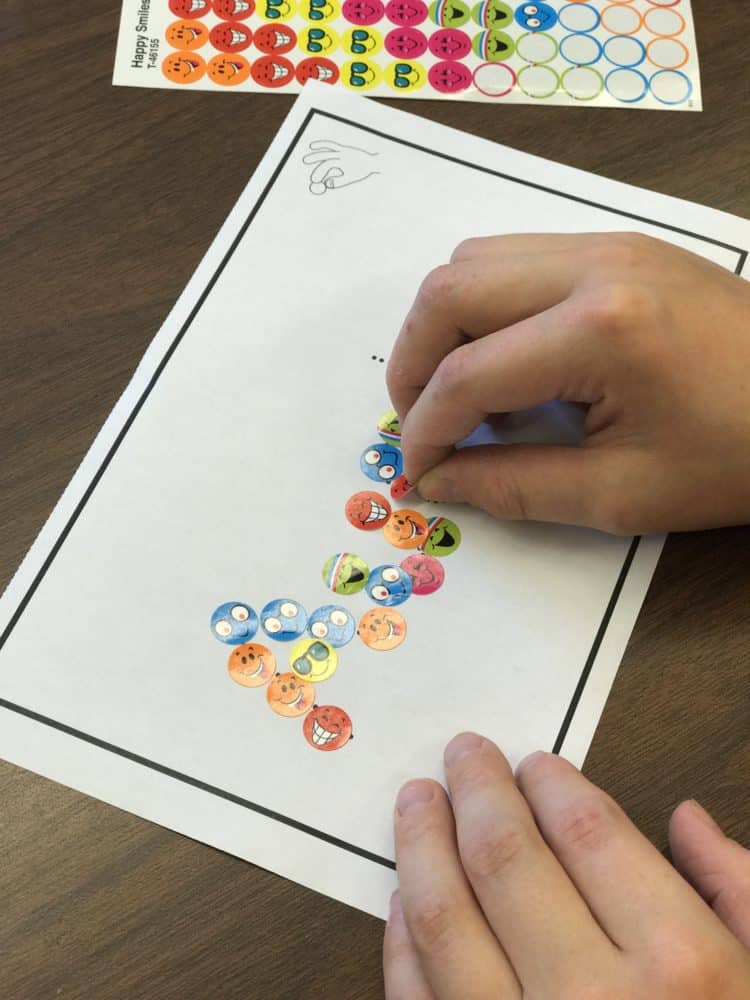 31 – Sort gel beads by color
If you haven't tried water gel beads in your classroom, let me be the first to tell you they are fabulous and amazing for fine motor work. I give my students an introduction to this tool in the first month of school, and they will continue to use these throughout the year for many math activities. To start with however, we just sort them using some small Dollar Tree relish trays and color labels from my Morning Work pack. They never tire of them.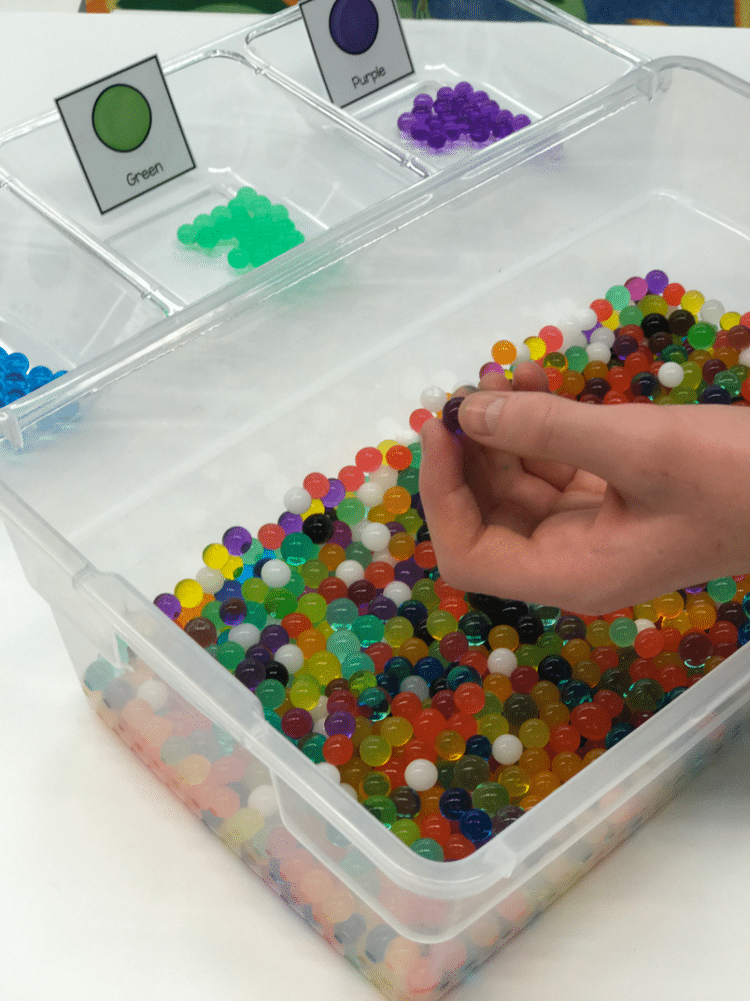 To make them even more engaging, place them in a tote and set them on top of a light table. The colors are fabulous.
32 – Scoop, sort and connect blocks to matching base color
Finally, building blocks (i.e. Legos)! For fine motor, there's nothing better. At the beginning of the year, I'm just getting routines and expectations established with these fabulous building blocks. Students scoop and sort them by color.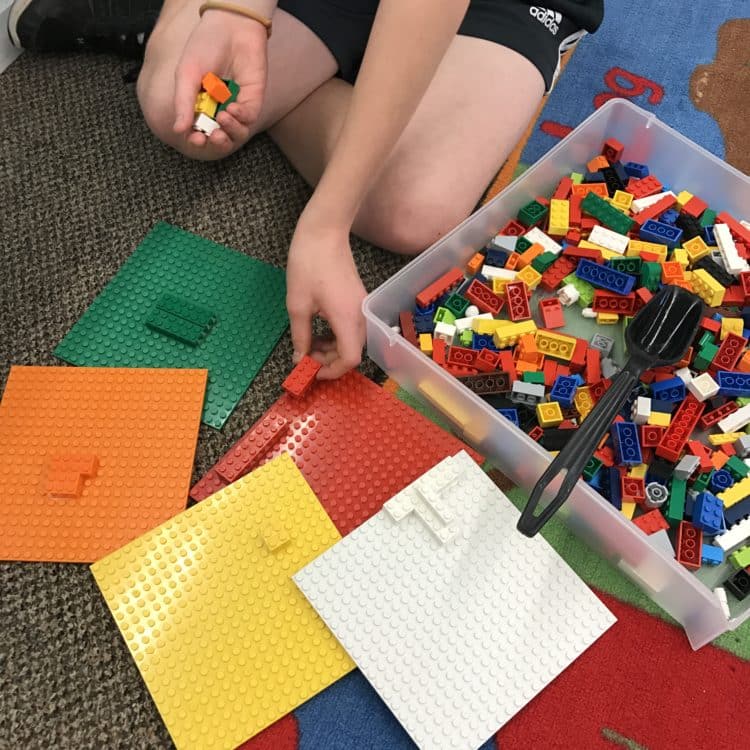 But as the year goes on, they will be challenged to develop visual perception and dexterity that will allow them to produce all kinds of patterned objects like the one below. Plus, they're just FUN.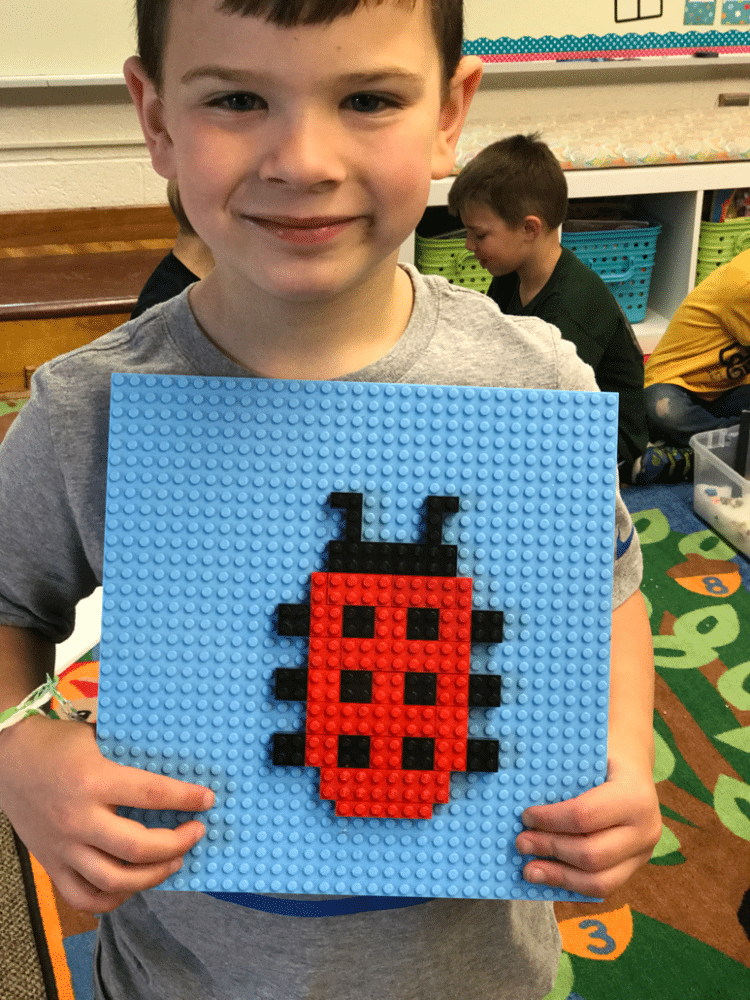 These are the activities that you will find along with" I Can cards," set-up materials, numbers and name cards to get you started with Morning Work Stations/Tubs in your own classroom.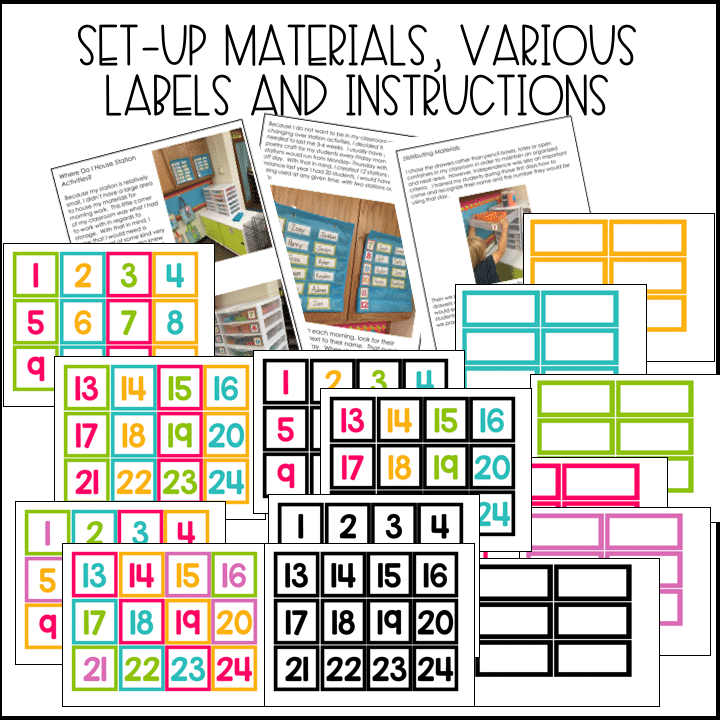 If you'd like to find out more about them, just click on the picture below or HERE.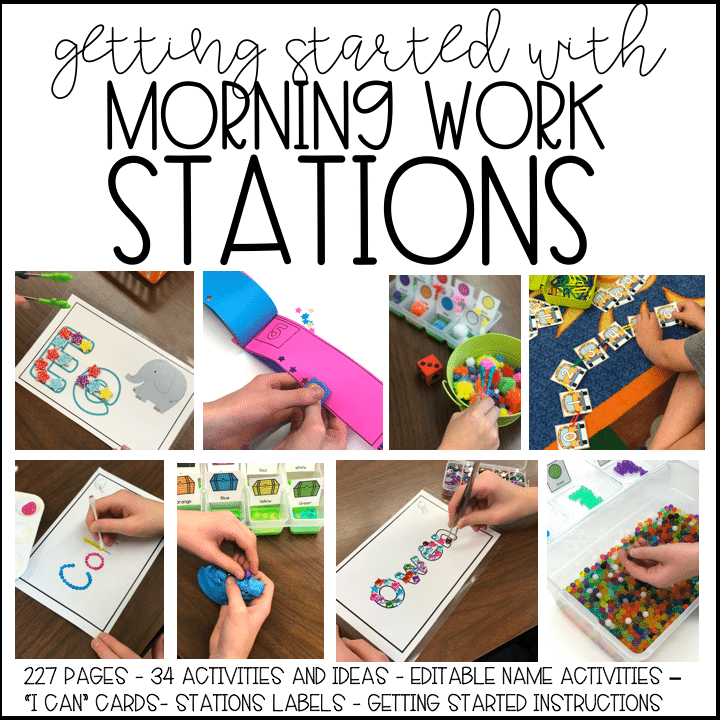 To see a list of each month's activities, click on any of the pictures below. I have a detailed blog post for each month. Links to Materials used in these actvities can be found by clicking HERE.
Or check out the bundle HERE.
Strong fine motor control does not happen over-night, but by giving them lots of opportunities to pinch, squeeze, twist and cut, they will build those muscles. It's important to build these kinds of activities into our curriculum and squeeze them in where ever we can. Morning work gives those muscles a wake-up call for the day. But sometimes you need a little help from home as well.
I like to send this little brochure home to give parents some simple ideas on how they can help their child and why fine motor work is so important. For those cases where you could really use an extra 10 minutes of practice at home, I also provide take home kits for some of my students as a means of getting additional practice at home. Check out this post HERE to get a copy of my brochure and free take home kit printables for your own class.
Pin It!
If you found this blog post helpful, please consider pinning it for others to enjoy!